Hello, my lovely munchkins!
Welcome to an overdue What I Ate Wednesday! I mentioned that last week was my hiatus from blogging, so for all you guys know, I could've been eating sticks and weeds. But…I wasn't. And if you're really curious, see my post recapping my hiatus week, featuring a few foods I consumed. 😉
In life news, I saw The Script in concert yesterday with Georgetown Bestie, and it was phenomenal! Literally one of the top 2 concerts I've ever been to (the other being TSwift, duh).
The lead singer was so energetic and somehow managed to connect with every single audience member on a deep soulful level. It was obvious that he lives for every one of the songs he performs and that he was deeply enjoying performing, and I think that's so important to make an amazing show. I was also just head over heels in love with him from the moment he started strumming his guitar, but I'm afraid he's not all too attainable. :p
But enough about sexy guitar players, eh? Let's hop into the eats.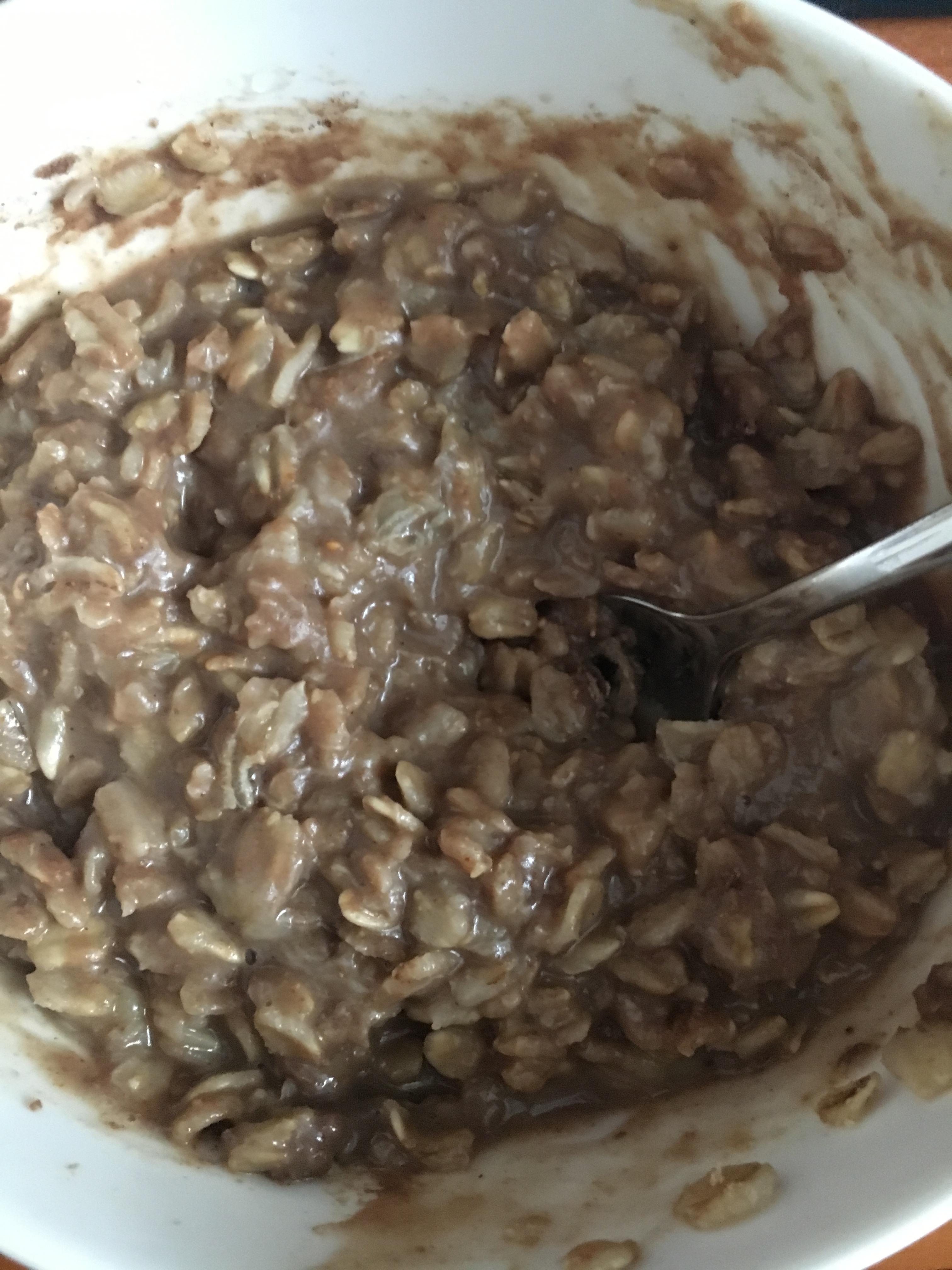 Breakfast was my standard chocolate oatmeal that's a facet of my dorm breakfast rotations (btw, lemme know if you want me to put together a post with all my usual college dorm breakfasts!).
This had 1/3 cup oats, ½ cup almond milk, ½ a banana, ½ scoop Vega chocolate protein powder, a teaspoon of maca powder, and a small spoonful of peanut butter. Definitely hits the spot. I had some of my favorite green tea along with this.
I have an hour and 45 minutes between classes on Tuesdays and Thursdays so I usually go to our neighborhood coffee shop and do some blog work. I LOVE the vibe there when I'm blogging. They play great tunes, the people watching is great, and the brick wall aesthetic awakens my creativity. Or something like that 😉
I hopped into Sweetgreen before coming to the coffeeshop, and I ate my salad with my soy iced coffee as I worked on this post.
The salad had kale, chickpeas, sweet potatoes, tomatoes, carrots, tofu, and portabella mushrooms. And balsamic vinaigrette. Literally my go-to salad. Sometimes I switch up one or two ingredients, but for the most part, this is all it is.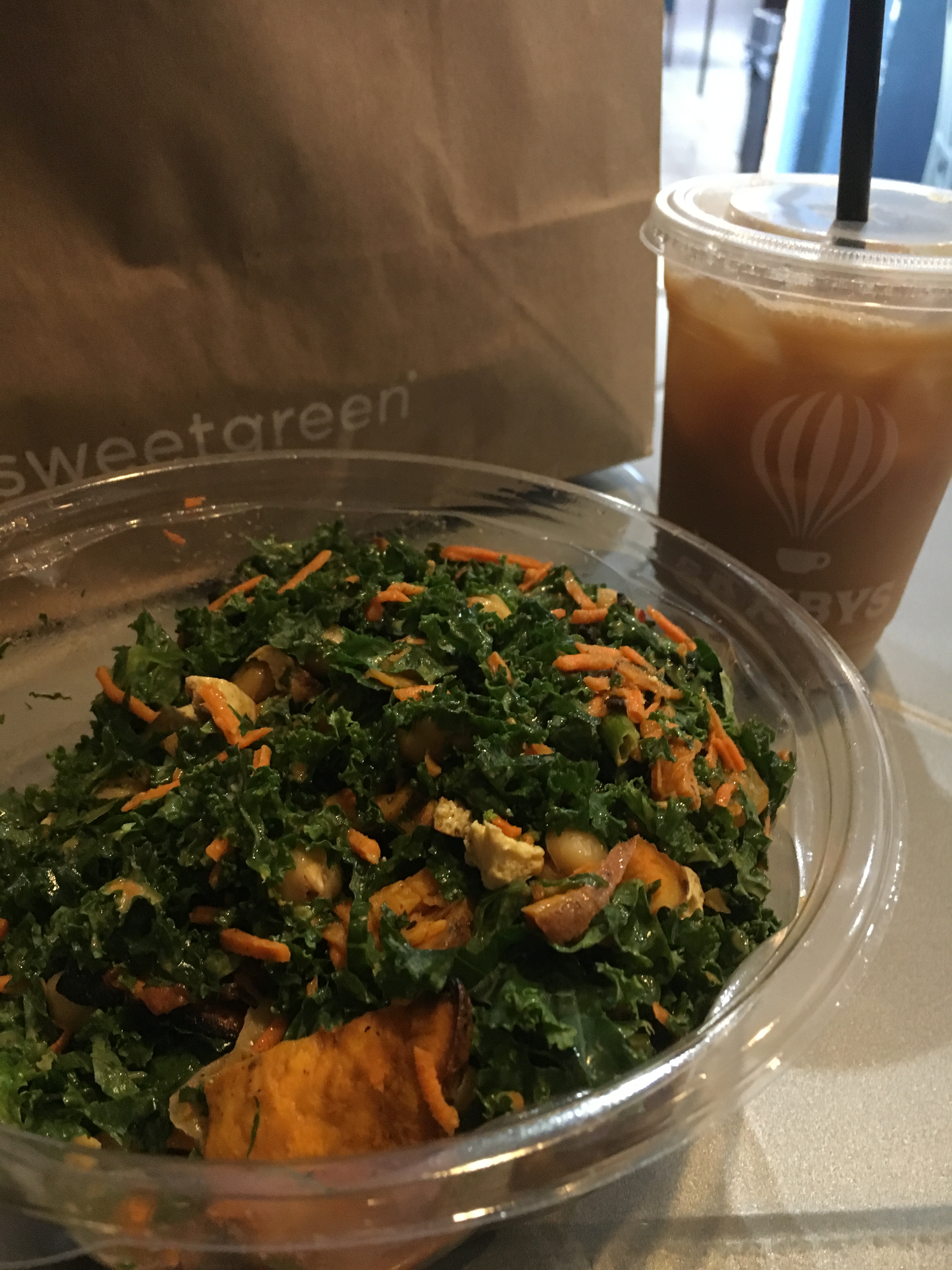 Then during my Stats lecture, I chomped down on this oatmeal Redd bar while learning all about probability and conditional percents. Fun stuff!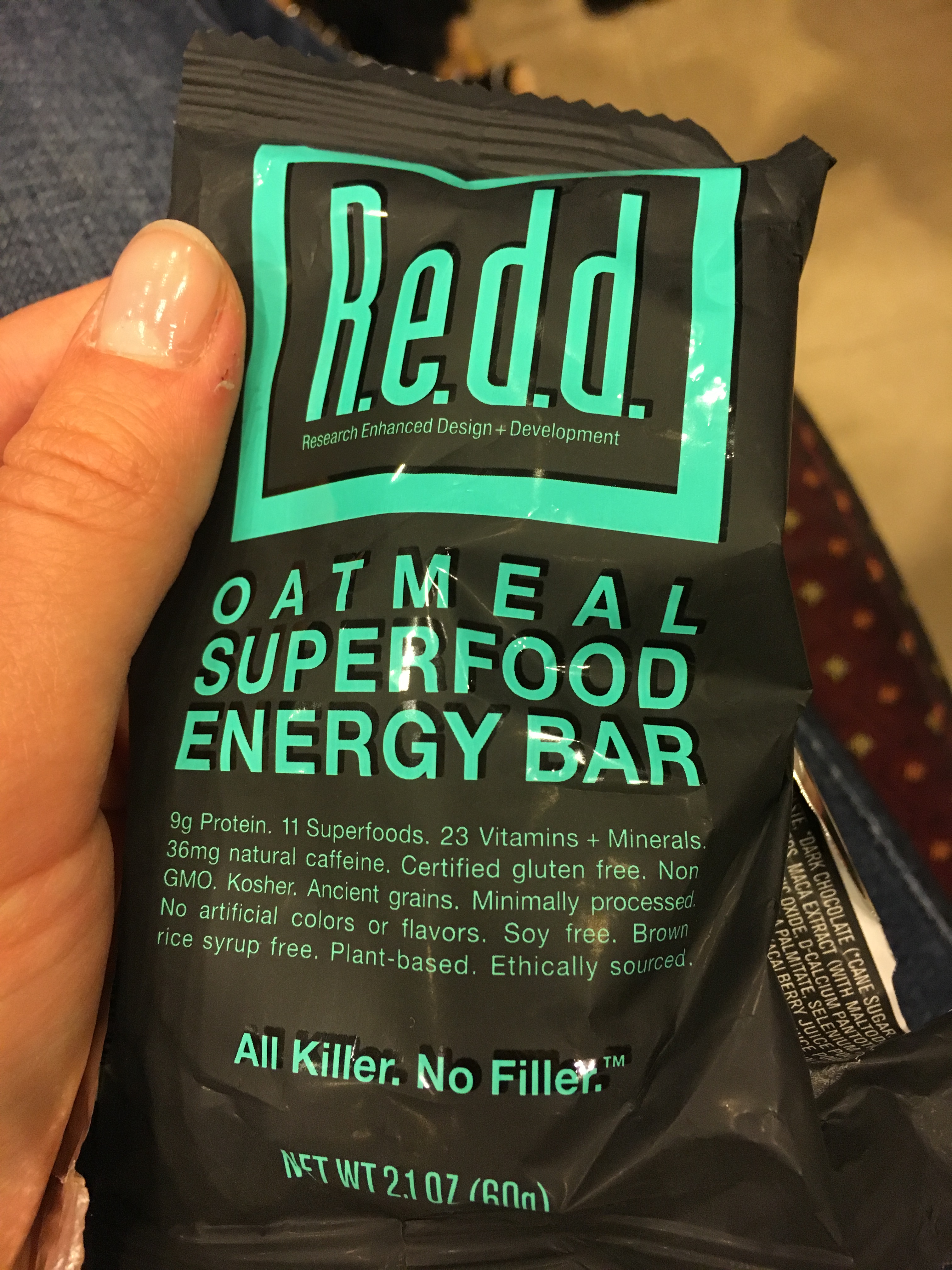 A couple hours later, I scarfed down some baby carrots and hummus before running off to work. Somehow, I always arrive at work exactly one minute late, and I really need to fix that. I just have so little time between class and work, and I'm always scrambling to do far too many things in that short span of time.
I also made myself a matcha tea because #priorities.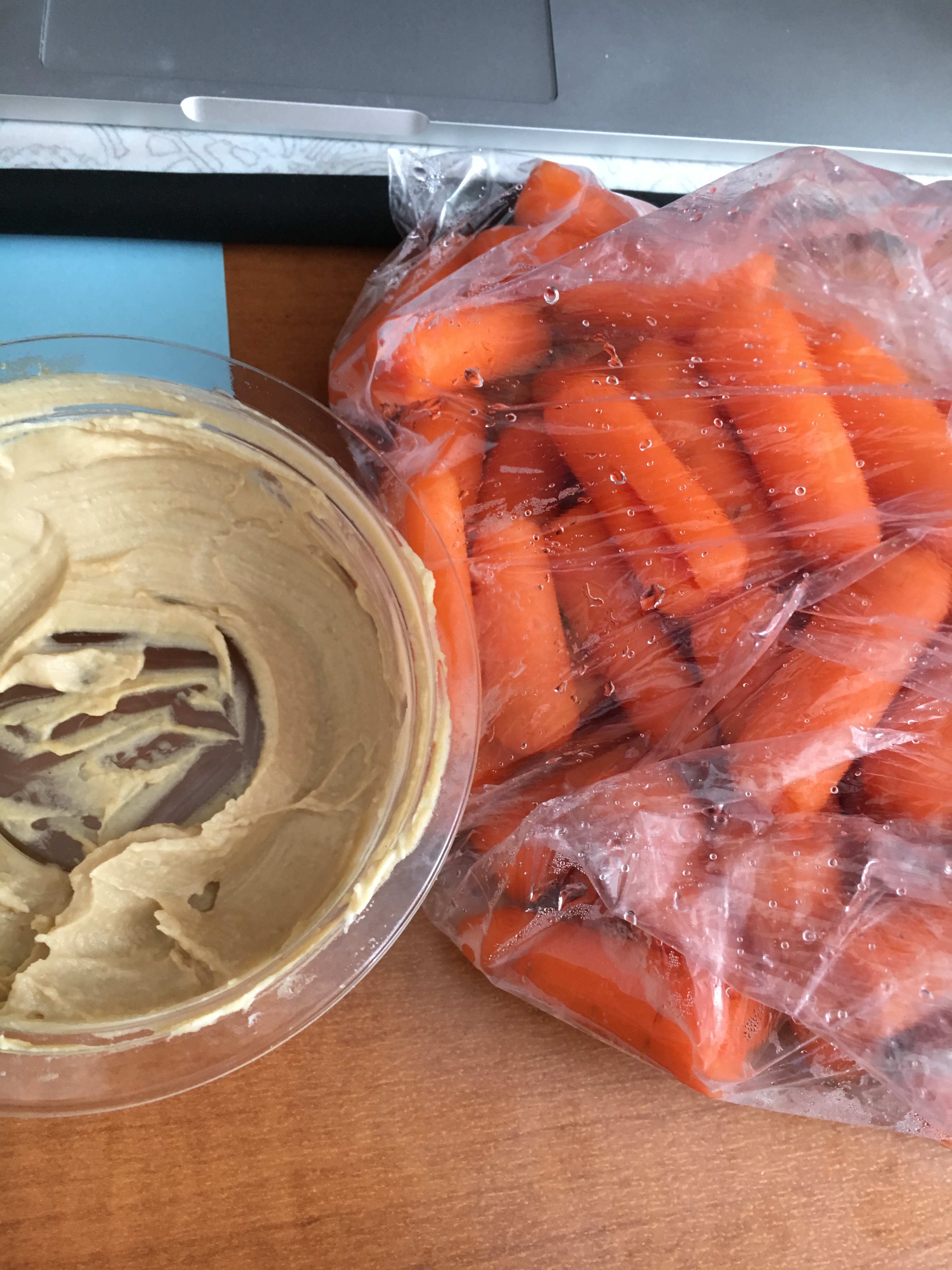 After work, I ate a serving of one of my favorite granolas and some (unpictured) grapes to fuel my workout.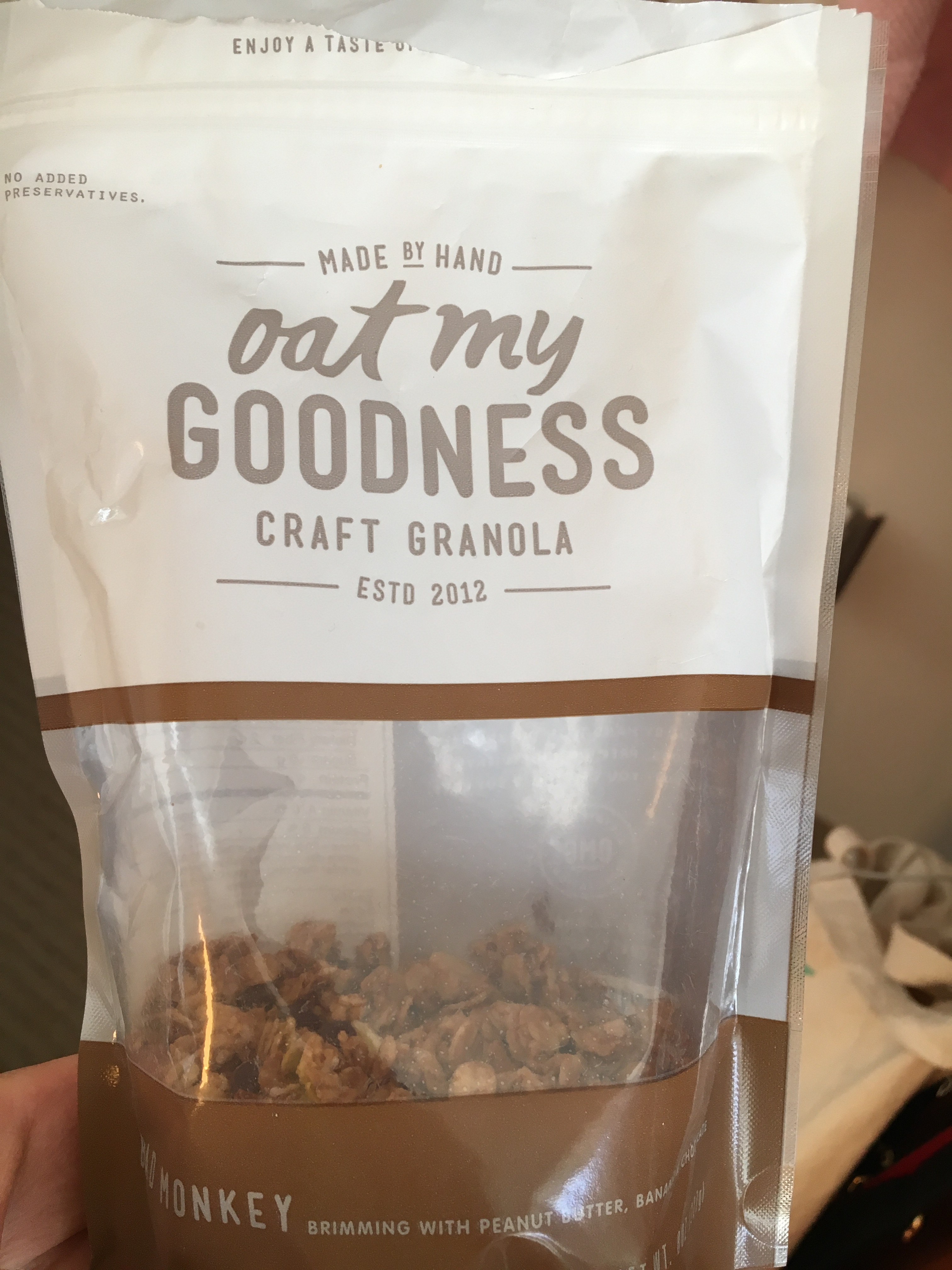 After the workout, I met some friends for a dining hall dinner, which included black beans, plantains, and chicken. Sorry for the lack of picture; I felt awkward whipping my phone out in that group. 🙂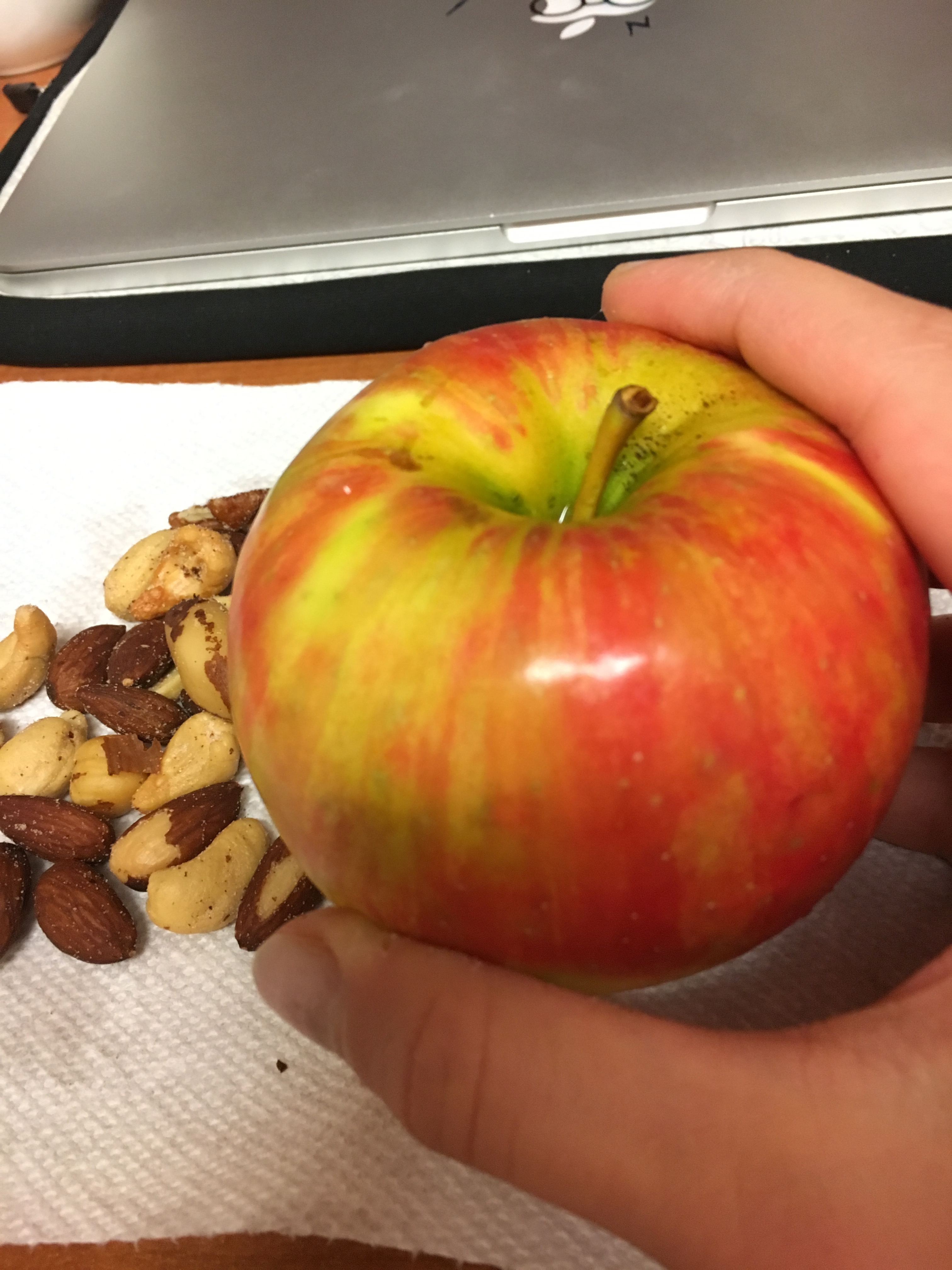 In the evening I snacked on an apple with a handful of mixed nuts.
And then, a bottomless pit basically replaced my stomach for a little while, so the next few hours were me basically eating small amounts of a variety of foods to attempt to fill the hole. In the mix were dried edamame, some 85% dark chocolate, and some peanut butter.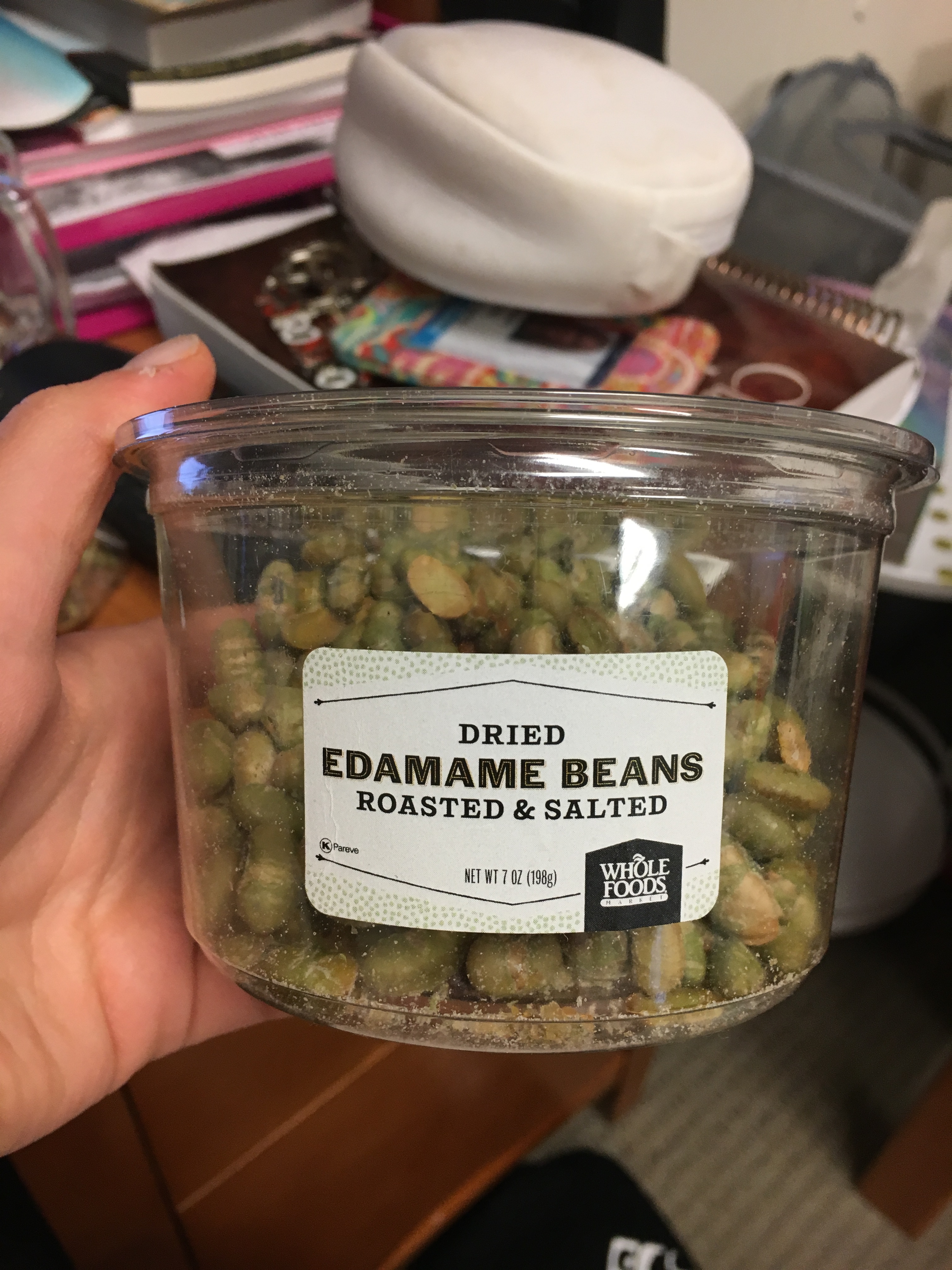 Can you tell that I REALLY can't tolerate being hungry?
Just a few thoughts on that. Some days I'm like this, basically starving all day no matter how much I eat. And then other days, I'm fine eating just three light meals and don't even need a snack. There's honestly no rhyme or reason to it.
I did notice that for the past week, I've had quite a few bottomless pit days, but all that means to me is that my body has just been needing a little more food for whatever reason.
I try to be very conscious of the signals my body is sending me, and though I always eat if I'm hungry, I also take a second to consider some other possibilities. Have I drank enough water today or could this just be thirst? Am I eating out of boredom or am I actually hungry?
Sometimes after going through this mental process, I realize I just need to down a glass of water, and then I don't even want food anymore.
But sometimes, like today, I drank 12 glasses of water, and I was still starving, which obviously means I need food.
So I had to eat more snacks today than usual, but thankfully, I'm past the point where I would get freaked out by that. Our bodies are pretty dang smart, and they know exactly what they're doing. So just trust them. 🙂
Best thing you ate recently?
Ever have bottomless pit days? How do you deal?
Thank you Laura for hosting What I Ate Wednesday!
Share if you liked this post!