Hi hi! Welcome to a rainy edition of WIAW, in that this day of eats is from Monday, which was quite dark and dreary in New York City.
---
The day started off in an, er, interesting way. I was supposed to get up at 7am (already horrifying) to go babysit, but I ended up waking up at 5:30am, and then tossing and turning until 7.
Best part is the night before, I'd gone to bed at 12:30, and it's not like I woke up alert and ready to go after five hours of sleep. Oh no, I was desperately sleepy, but you know how sometimes you wake up with this weird anxious feeling, and you need to turn on the light (is that just me)? That's what, for whatever reason, happened to me, and I just couldn't shake the little anxious feeling.
So then 7am rolled around, and I quickly got up, got dressed, makeup, basically ready to go. And then I get a text.
"Oh since it's raining today, we actually don't need you to come, but we'll see you tomorrow right?"
Grrrrrrrrrrrr……
I very grumpily made myself coffee following this tutorial, which lifted my spirits a bit since it made a damn fine cuppa joe. I used this dark-roast coffee, which is my absolute fave.
However this wasn't enough to last me through breakfast, so I also downed a green tea.
For breakfast I had my favorite yogurt bowl. This picture is recycled, but it's all the same old— Fage greek yogurt, half banana, 2 tablespoons chocolate quinoa granola, a teaspoon each of chia, hemp, and cacao nibs, and a heaping spoonful of cacao powder. All mixed up into one big smush. 🙂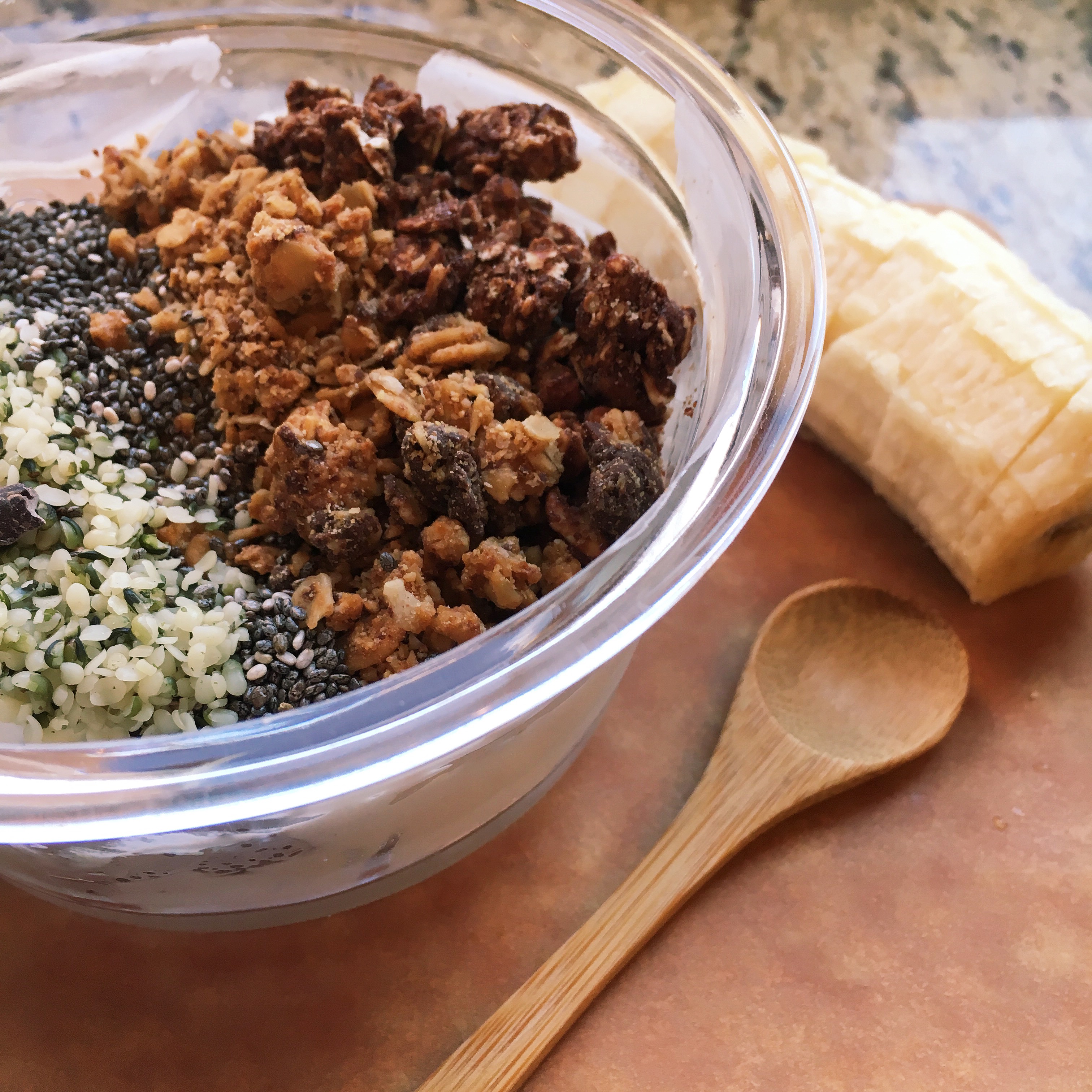 It was raining on and off, but since I was already up at such an ungodly hour, I heeded my mom's request to go for a long walk with her and our dog. It was actually really nice, and we had a super heart-felt and deep conversation. The dark clouds probably put us in a contemplative mood 😉
The walk took a long time, and we stopped for a grocery shop, so by the time we got home, I was pretty starved.
I quickly whipped up this classic dip, and paired a heaping spoonful of it with a crunchy Honeycrisp apple. Yumzzzz.
I spent the next few hours staring at my computer, working on some posts, social media, and reading other blogs.
Until I got hungry.
Lol does anyone else ever plan to do a workout before their next meal, but then hunger strikes, and the workout has to get postponed until the next meal? Story. Of. My. Life.
For lunch I made 2 sunny side up eggs, which I cooked a little too long for my personal taste, but the rockin' broccoli slaw made up for it. Paired with carrots and hummus, duh.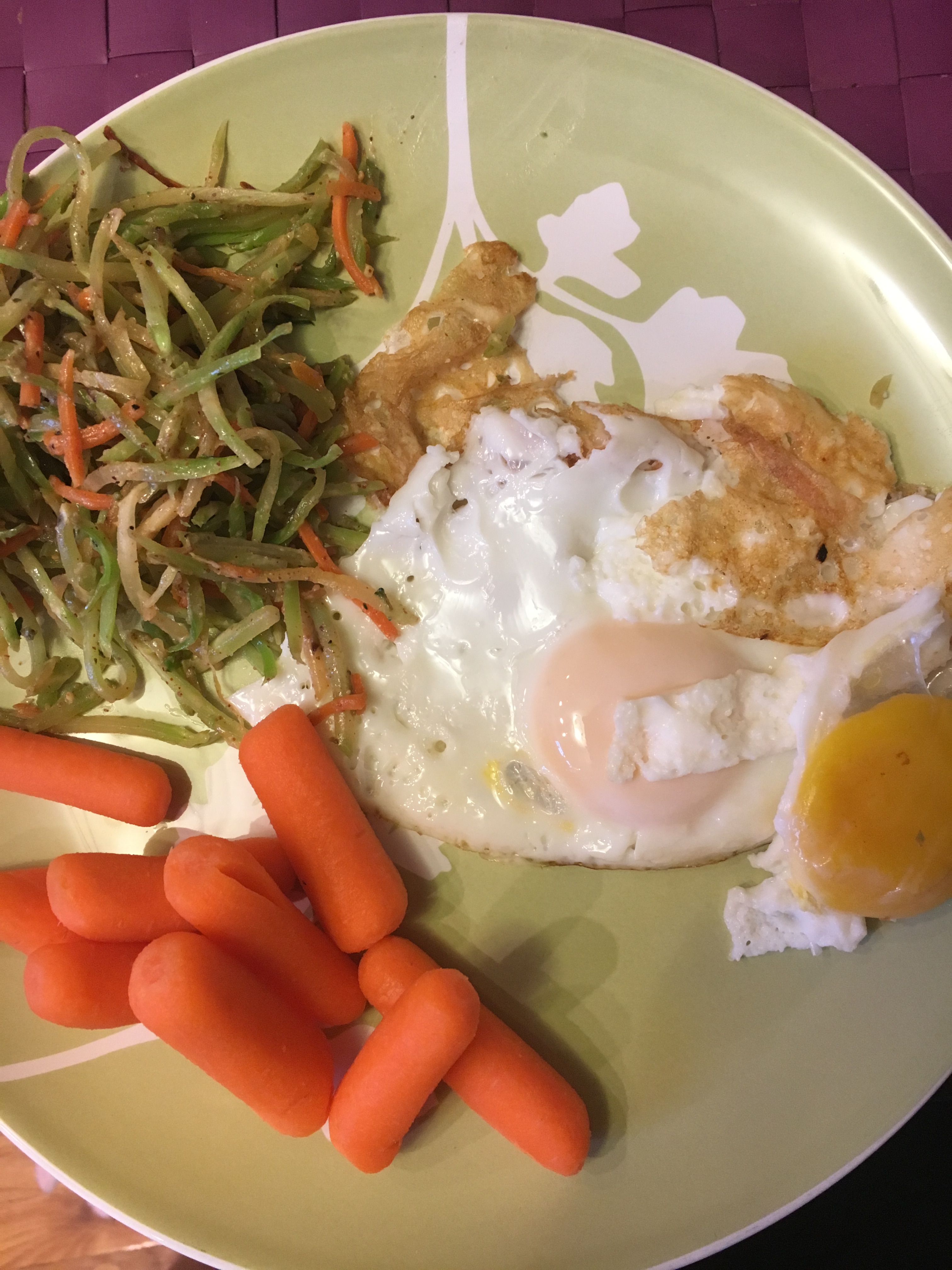 I finished writing and planning and then practiced guitar for about an hour. YASSS love when I make guitar a priority and fit it in.
I also sipped on an almond milk matcha latte, as per yoozh.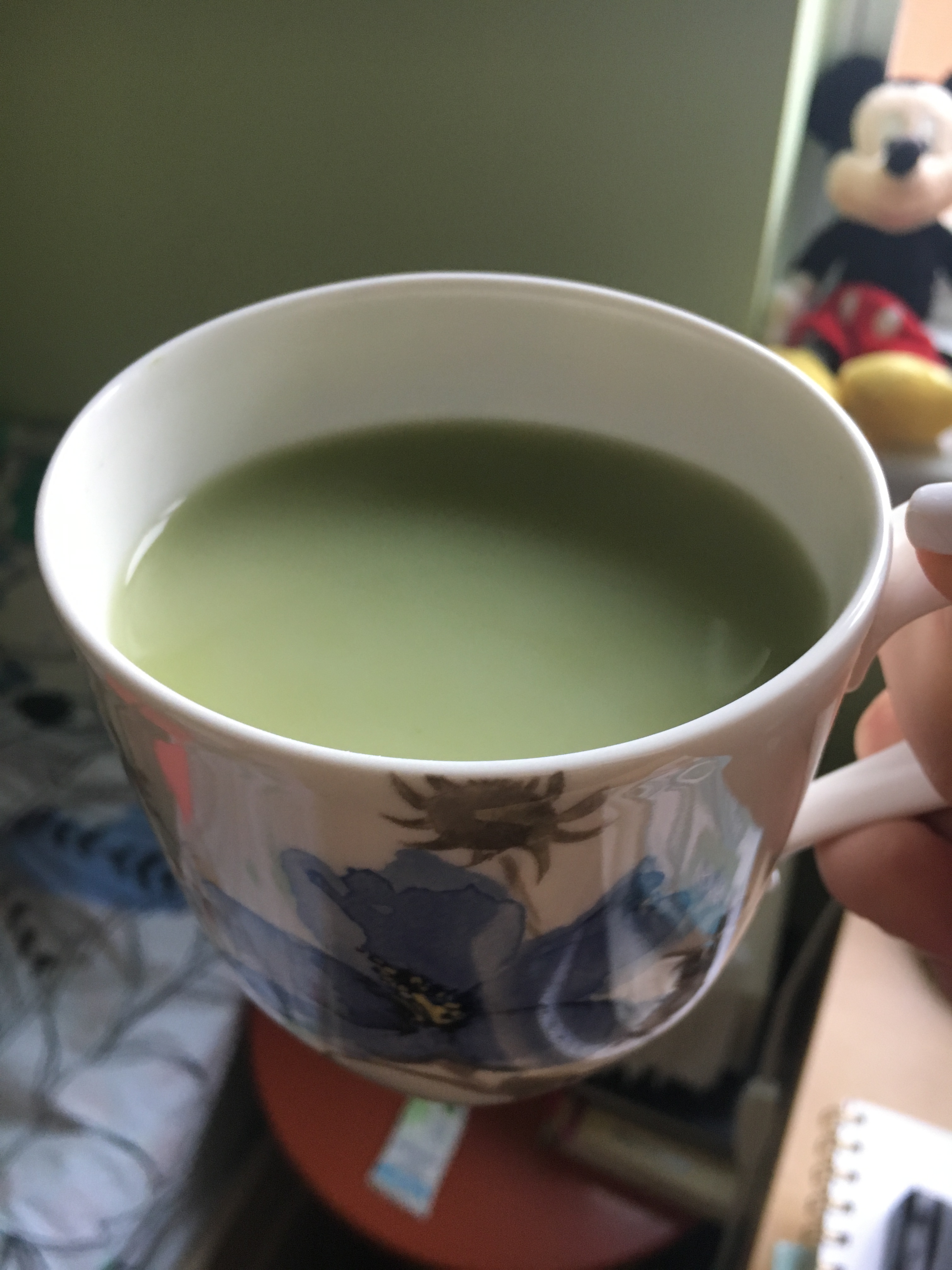 After my food was digested, and my body was sufficiently stiff from lack of movement, I dragged myself to my mat and pounded out a heart-pumping HIIT workout and an arm workout focusing on low weights and higher reps. I've been digging more bodyweight and low-weight workouts recently because heavier weights just haven't been calling to me as much. Feels good to mix it up.
After a rewarding shower, my mom and I ventured out into the rain again (why do we do this to ourselves?) for a late dinner at our fave sushi spot.
We split an Alaskan roll, a special roll that had eel and avocado and other stuff in it, and a seaweed salad. I also ordered a salmon sashimi for myself.
We got home, and I had full intentions to get in bed early, especially since I knew I had to get up at 7 am the next day. Buuuut then I had to wash my hair, and I hate skipping my bedtime routine (I'll definitely write you a whole post on my bedtime routine, but basically it involves tea and journaling and all things that always take longer than I think they will but that make me happy and calm).
And then I decided to start a new book, and it was so captivating and beautifully written that I literally couldn't put it down until I looked in horror at the clock that read 1am. Heh, oops. Literally, though, that bottom picture is me in a nutshell.
Linking up with Sprint2TheTable for What I Ate Wednesday!
Share if you liked this post!