It feels a little strange to be telling you guys about my August faves right now because these are all things I associate with summer and vacation, and now I'm back at school and it feels like August was ages ago.
Did that make any sense?
I am planning on doing a little intro to sophomore year post, where I talk about some goals and things I want to do differently than last year, so expect that coming soon! 🙂
Anyway, I've got a lot of great little tidbits for you today, from podcasts (if anything, I'm even more obsessed), to recipes, to skincare.
And check out my July and June favorites if you missed those!
Let's hop right in, shall we?
For Your Eyes
It Was Me All Along by Andie Mitchell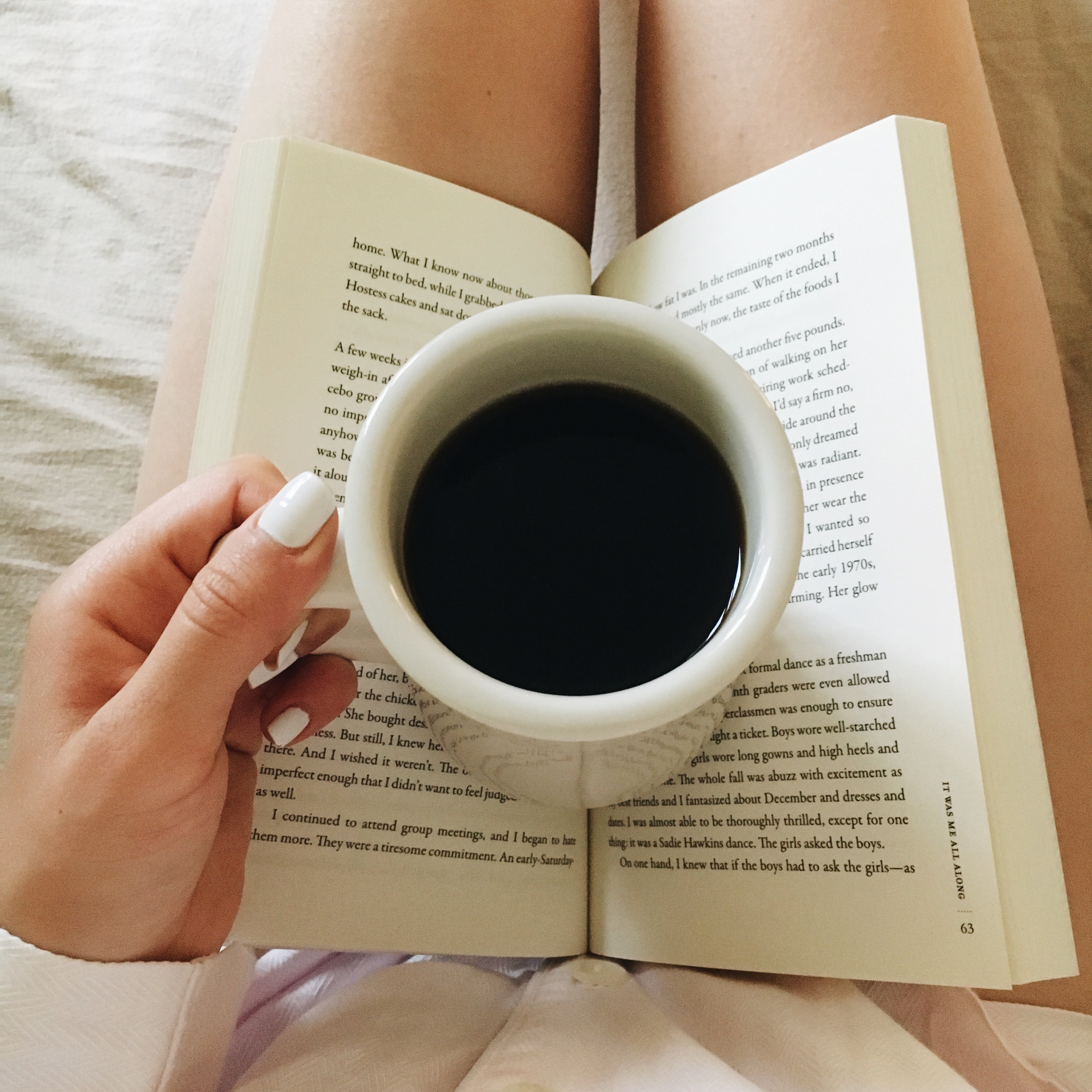 My god, this book was incredible. I'd heard amazing things about it for ages, but it wasn't until I actually read it at lightning speed that I understood what everybody meant. Andie is so incredibly raw and real about her journey, covering everything from her dramatic 135-pound weight loss to her rollercoaster love story to her difficult childhood.
By the end of the book I felt like Andie was a close friend, with whom I desperately wanted to have coffee and discuss all of the big questions of life.
This girl is so full of wisdom and light, and I wholeheartedly recommend this book to everyone. Easily one of the best books I've ever read.
5 Signs You Might Already Be At The Right Weight For Your Body
I read this post in the beginning of the month, and it stayed with me throughout. Such a great read and something you definitely don't see in traditional media, which is usually touting the new weight loss fad and showing you photoshopped pictures of models. It was so refreshing to read something that didn't encourage going to crazy extremes to mold your body to a particular size but rather embracing your set point.
You've Got Mail
Nothing new here; I mean, this movie is my age. And yet, I watched it for the first time just about a week ago, and I loved it. Definitely one of my favorite romantic comedies and gave me all the fuzzy feelings. Bonus points if you watch with a close friend and a mug of something warm. 🙂
Anastasia: The Broadway Musical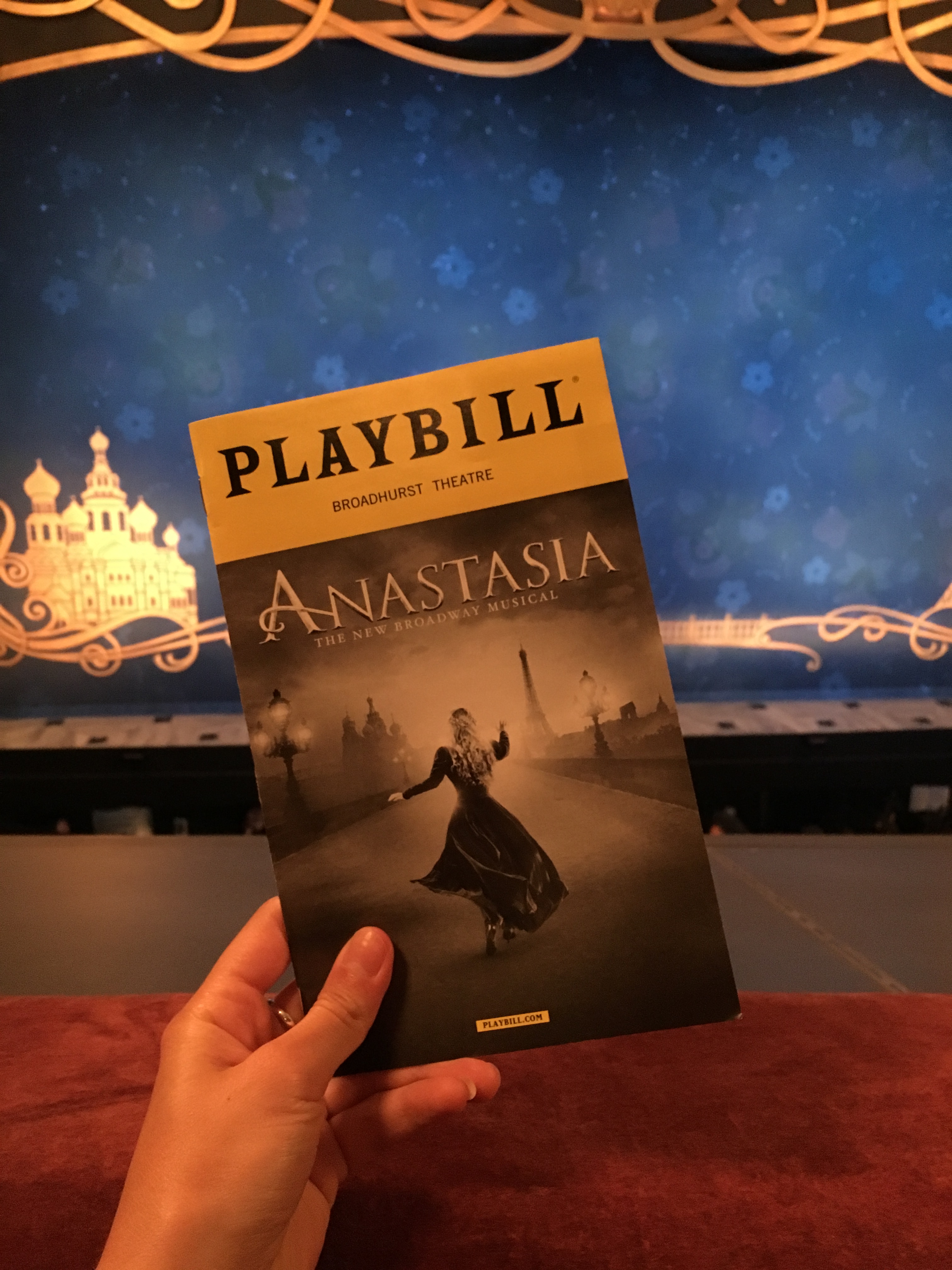 I am a complete Broadway fanatic, as I mentioned here, but this was the only show I saw the whole summer. I honestly didn't have too many expectations going in because a lot of times, Broadway shows based on animated movies can be a little disappointing.
But this show? I thought the movie was incredible, but the show blew it out of the water. The colors, the soundtrack, everything was just somehow brighter and more memorable.
I, like, couldn't handle when Anastasia and Dimitri finally kissed because I just got way too invested in their relationship during the show. 😉
For Your Ears
Actually Adultish Podcast
I actually came across this podcast totally randomly through Rachel Mansfield, who was a guest on the show, and whom I adore. It took me several episodes to realize that the podcast is hosted by Christina Rice of Addicted to Lovely, whose Instagram account I'd been loving on since starting this blog.
I quickly binge-listened through a large chunk of her podcast, and I'm obsessed. It's perfect for women navigating adolescence, young adulthood, professional life, friendships, and romantic relationships. Plus Christina manages to get the BEST guests to come on her show.
Let It Out with Katie Dalebout
Katie is SUCH a gem. Seriously just such a positive and vibrant person, and I love listening to her podcast. Plus, her theme song is adorable. She talks about diet culture, adulting, mental health, and everything in between. Seriously, go listen to her podcast. It'll brighten your day, guaranteed!
Disney music
Okay, yes, not everyone might be a Disney buff like me, but for all you skeptics out there, just trust me when I say that putting on a Disney playlist and just jamming out to it has the capacity of dramatically improving your entire day and outlook on life. The songs just so happy and relatable and beautiful. Okay, I'm done being weird, but like, promise me you'll give it a listen? 😉
For Your Mouth
Orso Coffee
My neighborhood in Brooklyn is an old fishing town, which is currently mostly populated by Eastern European communities.
So when a trendy Manhattan-esque coffee shop opened just a 10 minute walk from my house, I was intrigued yet quite skeptical.
Could their coffee really be good, or would the shop be like a cheap knockoff of NYC's many coffee spots?
I ended up LOVING it. I like my coffee on the bitter, rather than the acidic, side, and this coffee had delicate chocolate undertones and was just pure perfection.
Now I'm kind of sad that I only discovered it in the last weeks of August because I'm currently in a different state and really missing that coffee.
Gasoline Alley Coffee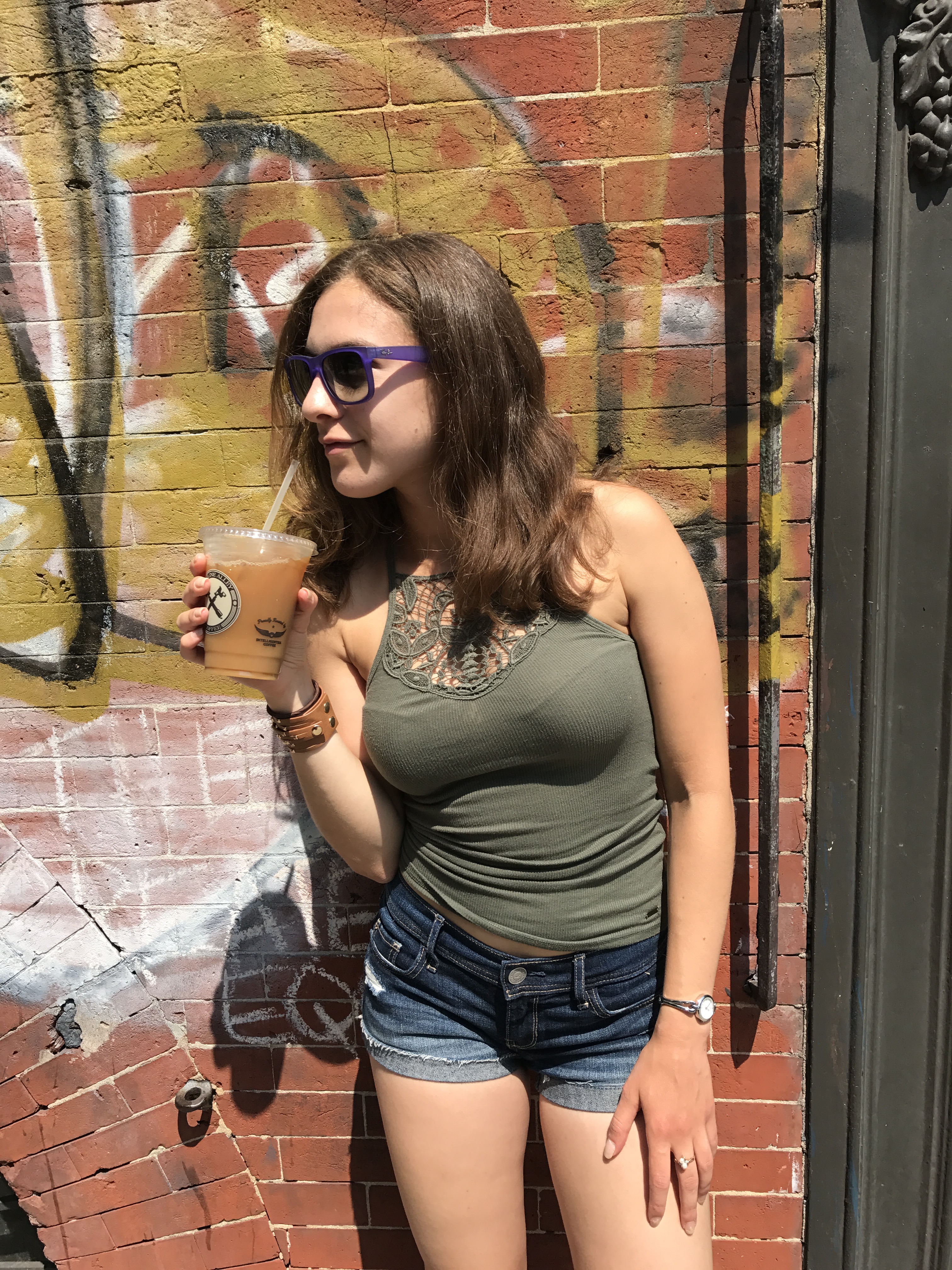 I wrote a love letter to this coffee on my Instagram, but I'll just say that I totally didn't expect to love it as much as I did. I know what coffee I love, and I usually stick to those tried and true places. One of the worst things is when I get super excited about getting coffee, but it turns out to be pretty sucky, and then I'm annoyed for the next few hours. Until I trek back to old faithful and vow never to veer off course.
But I'd been hearing about this coffee left and right, so what's a coffee snob lover to do?
Well, it turned out to be absolutely marvelous coffee, and definitely made the list of best coffee in NYC (by the way, you guys expressed interest in a post highlighting my favorite coffee in the city, so stay tuned for that!).
Plus I think the logo is adorable.
Ambitious Kitchen Zucchini Pancakes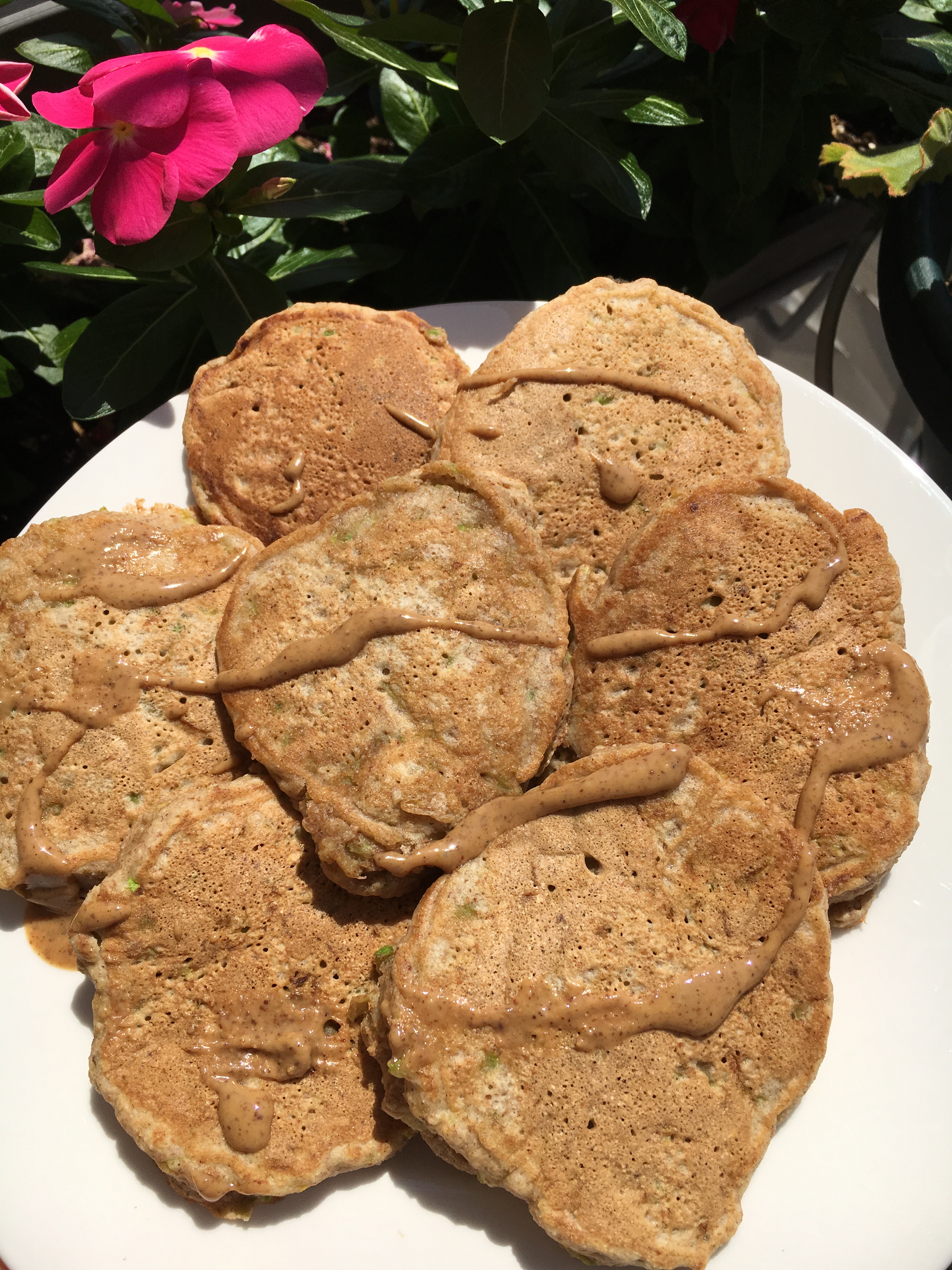 I included these in a recipe recap post, but I'm going to go ahead and sing praises to them again. These were THE BEST PANCAKES I HAVE EVER MADE. Sorry to yell, but this is exciting stuff!
I've made a lot of pancakes, most being very very good. I thought I'd reached my pancake-making peak.
And then I tried Monique's zucchini bread pancakes, and I realized how naive I'd been.
I made these several times in August, and they were a huge hit with everyone who tried them. Seriously, make them. And cover them in almond butter and maple syrup, you won't be sorry.
Ambitious Kitchen Peach Crisp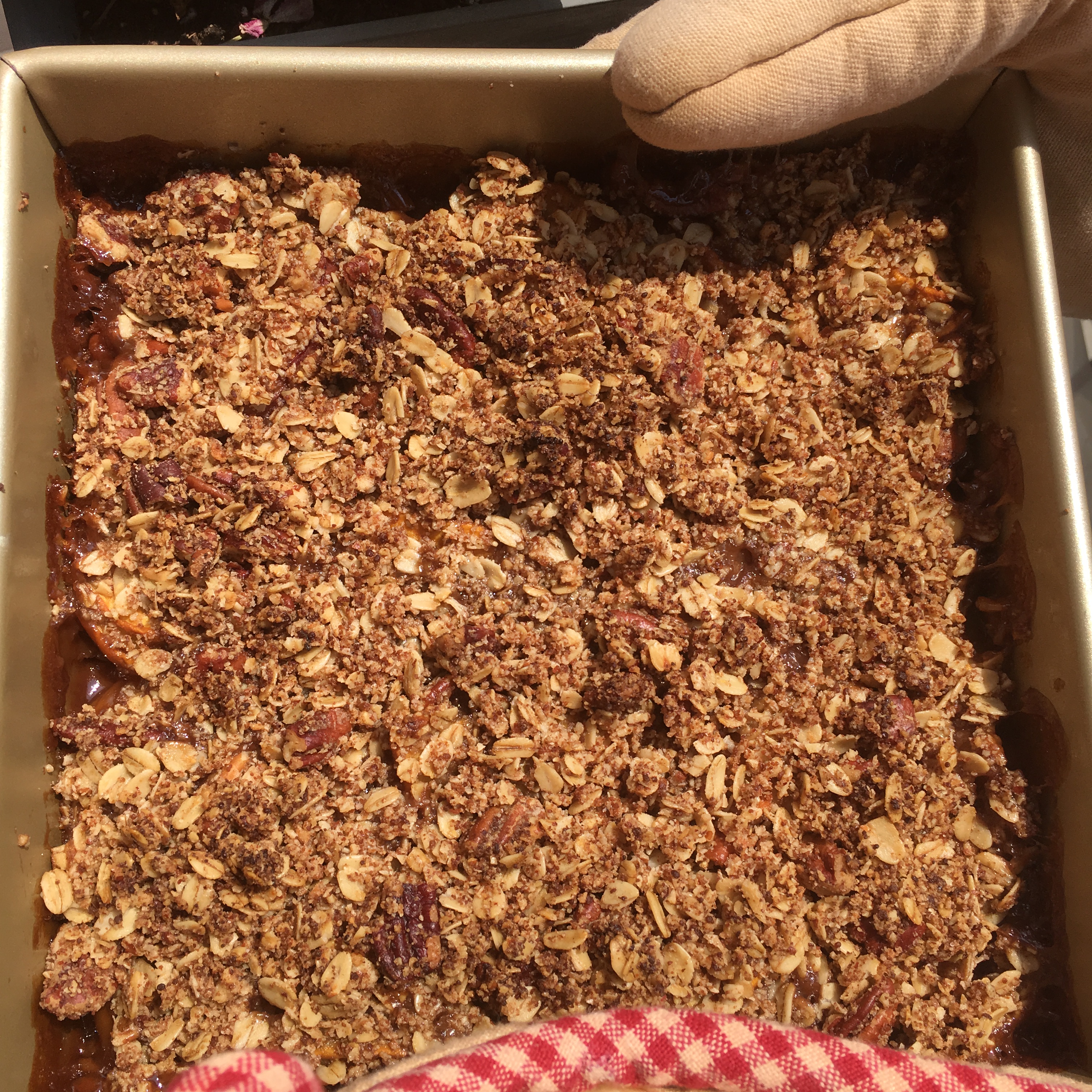 Another recipe from that same recipe roundup, but this one deserves another shoutout too. This was so unbelievably delicious and easy to make. I had more peaches than I care to admit sitting in my fridge, and this recipe had conveniently arrived in my inbox just a few days prior, so I put my baking hat on and got to work. (I don't actually have a baking hat, but that would be kind of a cool accessory!)
Before summer is over officially, just make this crisp. It's phenomenal, and it tastes like it's so much more indulgent than it actually is. My kind of recipe.
So Delicious Cashew Milk Snickerdoodle Ice Cream
How good can non-dairy ice cream even be?
The answer: VERY!
As with many things, I was first introduced to this gem by the blogging world when I saw it on both Robyn's and Alexis's blogs. I was intrigued but also quite skeptical; how would cashew milk even taste as ice cream? And snickerdoodle is a pretty hit or miss flavor…
But when I made the aforementioned peach crisp, some inner voice whispered to me that this ice cream would go along perfectly with it. Thank goodness I listened because not only were those two a match made in dessert heaven, but I discovered my new favorite store-bought ice cream! So long, Rocky Road; we hardly knew ye.
Russ and Daughters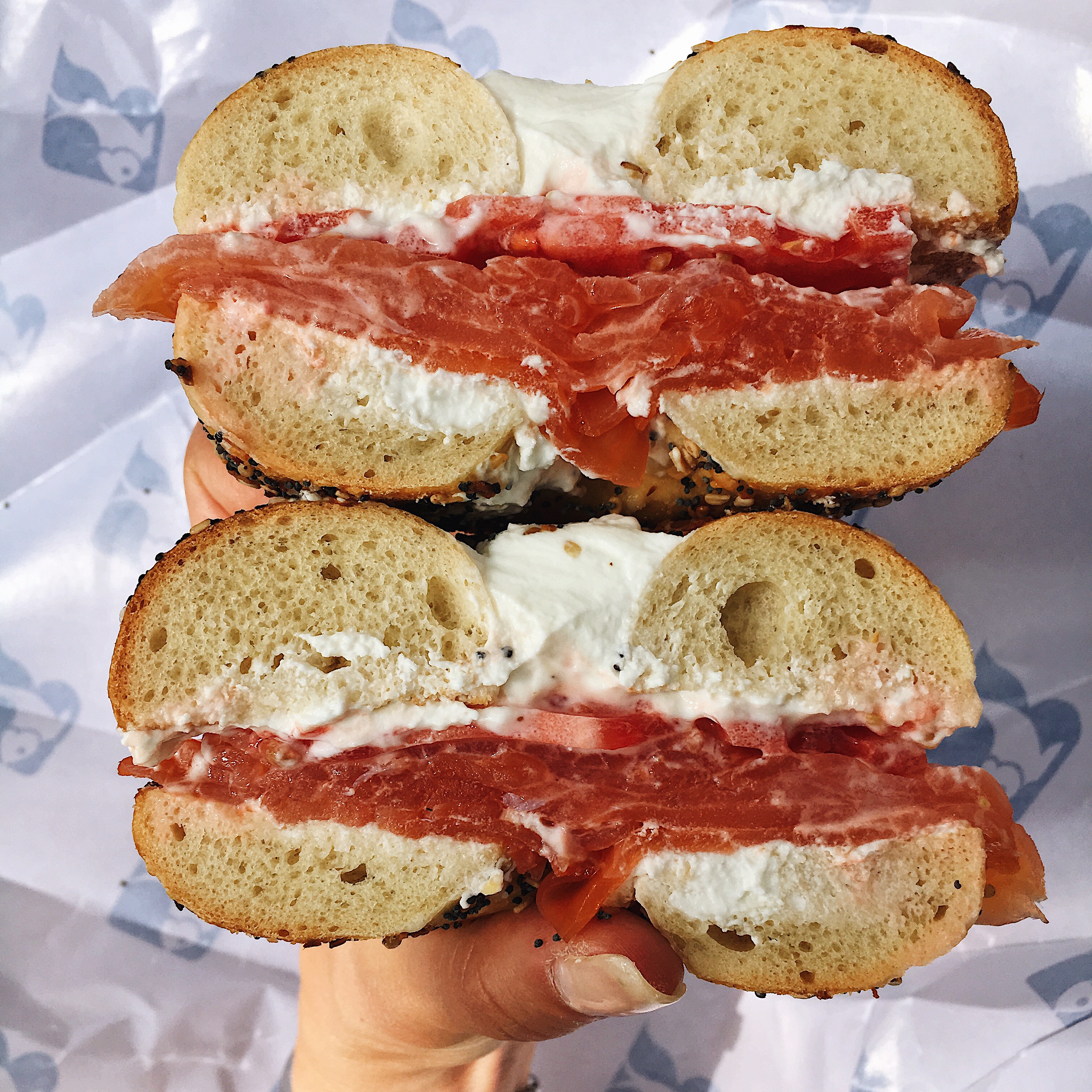 Best bagel. Best cream cheese. Best lox. 'Nuff said. Get the goat cream cheese, especially if you're like me, and aren't usually a fan of cream cheese. Oh and the everything bagel is bomb.
For Your Body
Dance workouts
I got super into dance workouts this month, and I'm obsessed. I actually took dance lessons for 10 years before starting college, but don't be fooled. I still look like an awkward potato trying to keep up with the instructors in the videos.
But I find they make incredible workouts on days that I want to do a little bit more low-impact workout, and they just make you feel so energetic and happy.
I've found some great ones by POPSUGAR Fitness and Body by Simone!
Luminance
Last month, I told you guys about the free samples that I had tried out from this company.
As a recap, they're a totally natural skincare brand based in California, and I'd first heard about them from Davida's blog.
I was pretty happy with the free samples, so I ordered the full size of everything that had been in my sample kit, which was a cleanser, toner, and moisturizer. And I also got a free acne serum and clay face mask (they apparently always throw in free goodies!)
It's been just about a month of using all the products, and I definitely really like them. They're not miracle workers, and my face isn't fully clear, but it definitely did get better. I also just love the feeling of the products on my face, and I surprisingly like the routine of putting them all on at night.
Rebecca Louise
I absolutely love this girl's workouts. Just like with my coffee, I used to stick to some tried and true channels, which while awesome, do get a little repetitive after more than 4 years of following their workouts.
Rebecca Louise does quick and efficient workouts that BURN and can be done in the comfort of your own home. They're the perfect length and perfect intensity for me to add to a longer workout for a tough finisher or to use by themselves when I'm low on time. Either way, I feel it.
Definitely check her channel out!
For Your Soul
Brunch dates
Guys I know this is super "girly" and "basic" and "New York," but I'm obsessed with brunch dates. There's just something about having that freedom to enjoy a super leisurely breakfast with a friend or two in a really vibey place that just feels…luxurious. And contrary to popular belief, brunch does not need to break the bank.
And if you don't want to leave home, I'm also a huge fan of cooking brunch at home and eating it with some friends or family.
It's an awesome bonding experience, feels like a frickin' massage for your soul, and well, we all know brunch is the best meal.
Journaling
Hi, I'm Nicole and I'm obsessed with journaling. I already talked a LOT about it (check out this post and this post), but I'll just repeat myself once again. I strongly believe that journaling is for absolutely anyone, and it's one of the best things you can do for your mental health and self-awareness.
I honestly feel like I know myself so well because of my daily journaling habit. Often, things come out on that paper that I had no idea I was feeling, and it's just a very therapeutic experience.
I also wrote this post in which I talked about the importance of journaling during my freshman year of college.
And that's it for August favorites. I feel like writing this post is my official goodbye to summer, which is simultaneously sad and kind of exciting (Pumpkins! Halloween! Thanksgiving!).
This summer was pretty great, and I feel like I really made the most of it. So here's to a wonderful fall, and I wish you all a fantastic last day of August!
Best things you did/saw/heard/ate this August?
Linking up with Amanda for Thinking Out Loud!
Share if you liked this post!