Merry Christmas to all those who celebrate!!! And for those who don't, happy holidays!!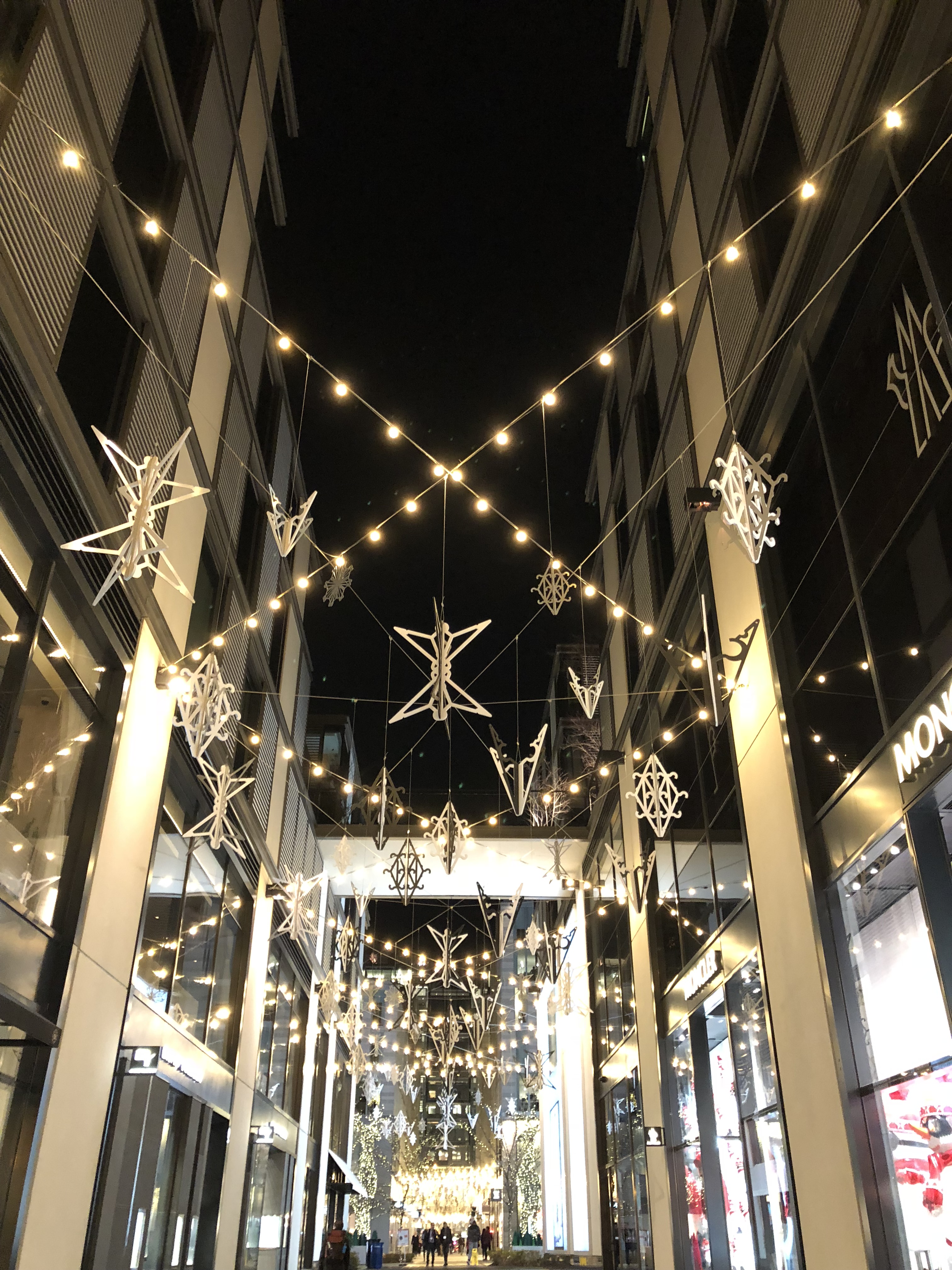 I actually don't celebrate Christmas in the religious holiday sense, but I started this tradition with my mom a few years ago where I bake gingerbread and make eggnog and we watch a Christmas movie. We actually do gifts on New Year's Eve always because my family is Russian, and New Year's is the major winter holiday there, so that's when you have a giant dinner and exchange gifts at midnight and basically stay up until 6am. Can't wait! 😉
So this post has been a long time coming because I've been collecting favorites for months thinking I'd do a monthly favorite post. But then there either weren't enough things for a full post, or I got caught up with life stuff, and just didn't make time to put it all together.
So I figured, now that the semester is over, I would put together all the various things I've been loving this semester, from food to workouts to restaurants to movies to podcasts to special moments.
If you're interested, here are my favorites from June, July, and August!
Let's tackle this list!
Food
Plantain Chips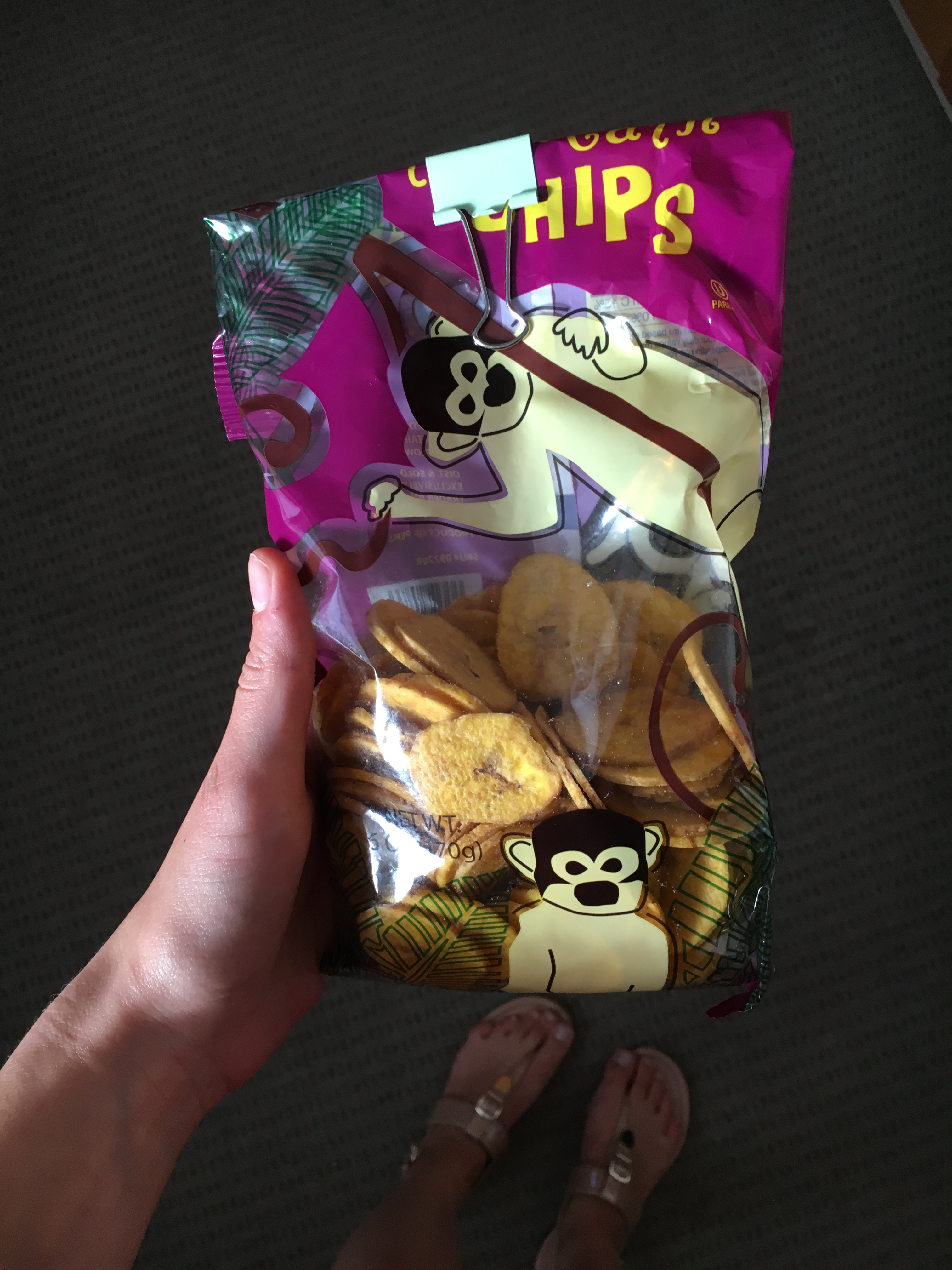 I rediscovered these this past semester, and I am obsessed with them. They're especially amazing with hummus (Trader Joe's original hummus is where it's at).
Perfect Bars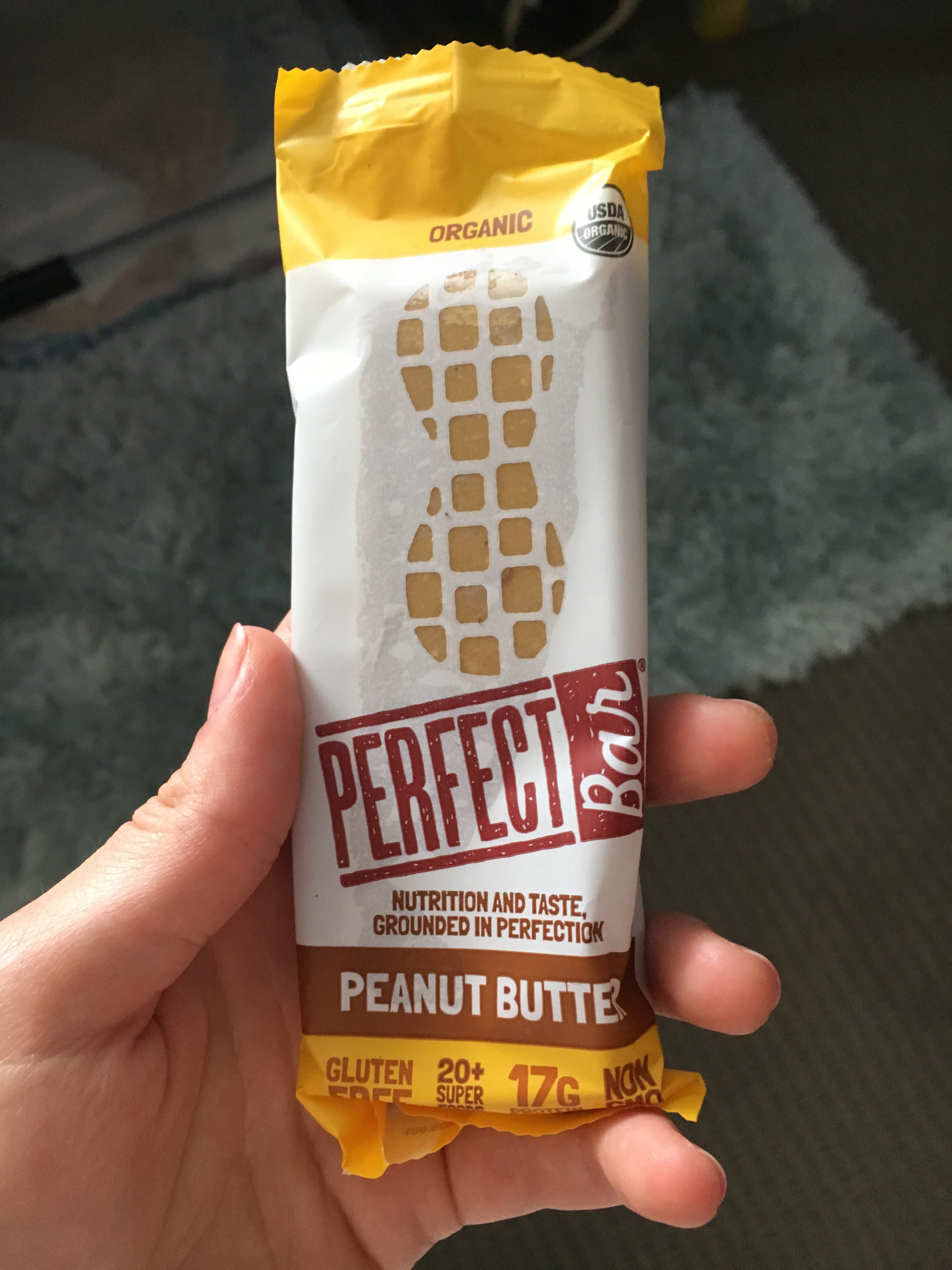 I'm sure this comes as no surprise, as I've talked your ear off about these. They were most often found on my Monday coffee dates, as they are the perfect on-the-go breakfast when you don't have time for a sit down meal.
Like I mentioned, they are a wee bit higher in sugar than I'd normally prefer for breakfast, but I had them once or twice a week at most, and it's definitely not the worst thing to start your day with.
Plus, they are absolutely delicious. My favorites are the Peanut Butter, Almond Butter, and Maple Almond Butter. Weirdly enough, I prefer these to any of the ones with chocolate. I think it's because the plain nut butter ones feel like you're eating straight hardened up nut butter, and as a nut butter fiend, I am all about that.
Matcha Tea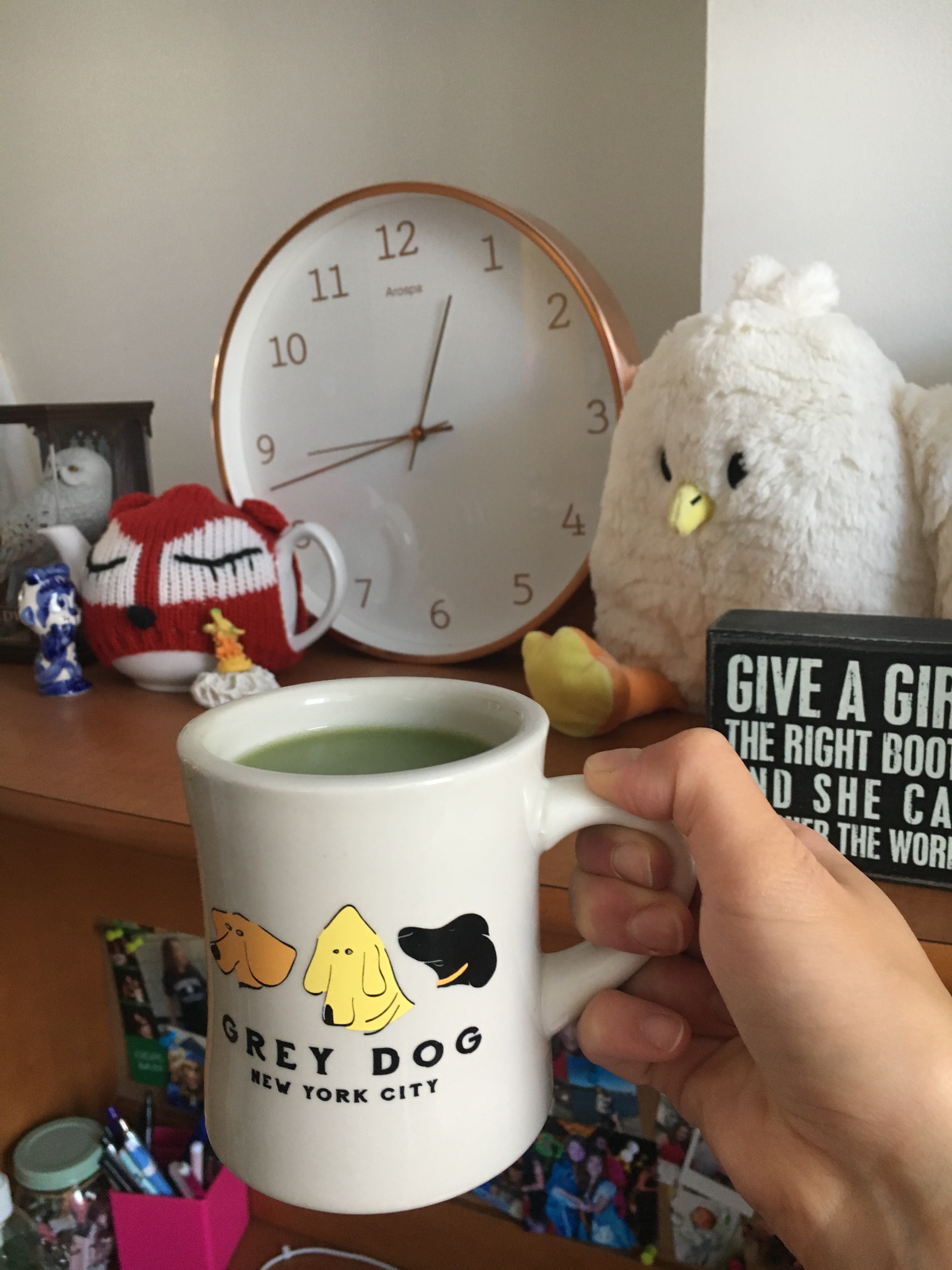 Ahh love my matcha. I seriously have it every day; it's like a ritual. I have a little whisk and wooden spoon and everything! I mostly love it for the taste, but the extra energy boost and vitamins definitely don't hurt! Oh, and I get mine at Whole Foods; just the Republic of Teas matcha powder.
Purely Elizabeth Pumpkin Cinnamon Granola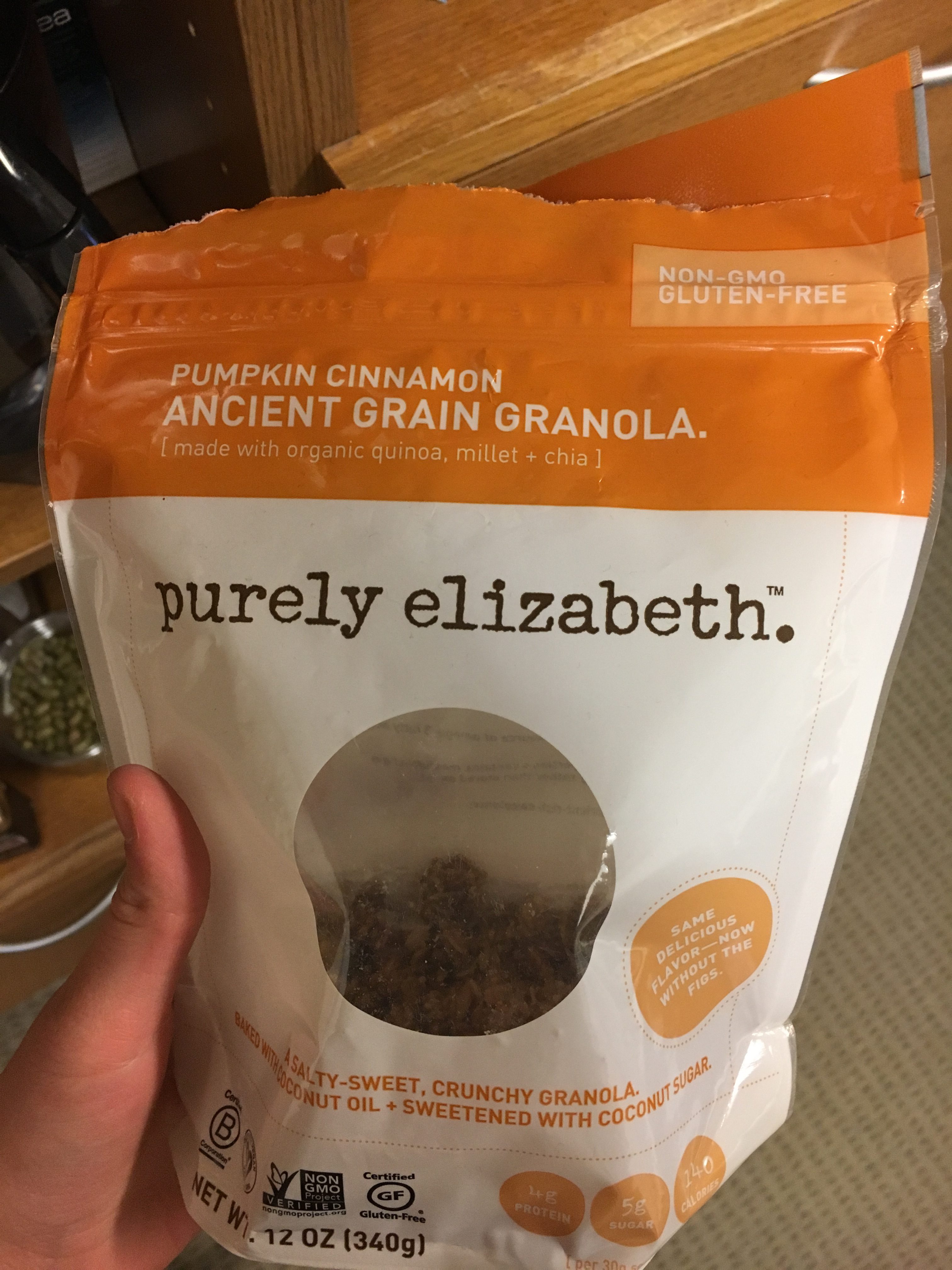 Ugh, why is granola so good? I swear, I often find some granola that is beyond amazing (anyone remember my Jessica's chocolate chip granola addiction?) and I think to myself, okay there is no way I will ever find anything better than this. And then I find something new that rocks my socks off and makes me question everything.
I'm sure a lot of you guys have tried the Purely Elizabeth Original Granola, which is arguably their most popular flavor. It's just consistently good. I was never a huge fan, to be honest, of most of their other granolas because I don't love dried fruit or the texture of the paleo ones.
But then I tried this. And everything changed. Guys, seriously, go out and get this. It's absolutely fantastic, and it tastes like an upgraded version of the Original. Like a fall-ified version that tastes like cozy sweaters and snuggles by the fire, ya feel?
Purely Elizabeth Chocolate Peanut Butter Granola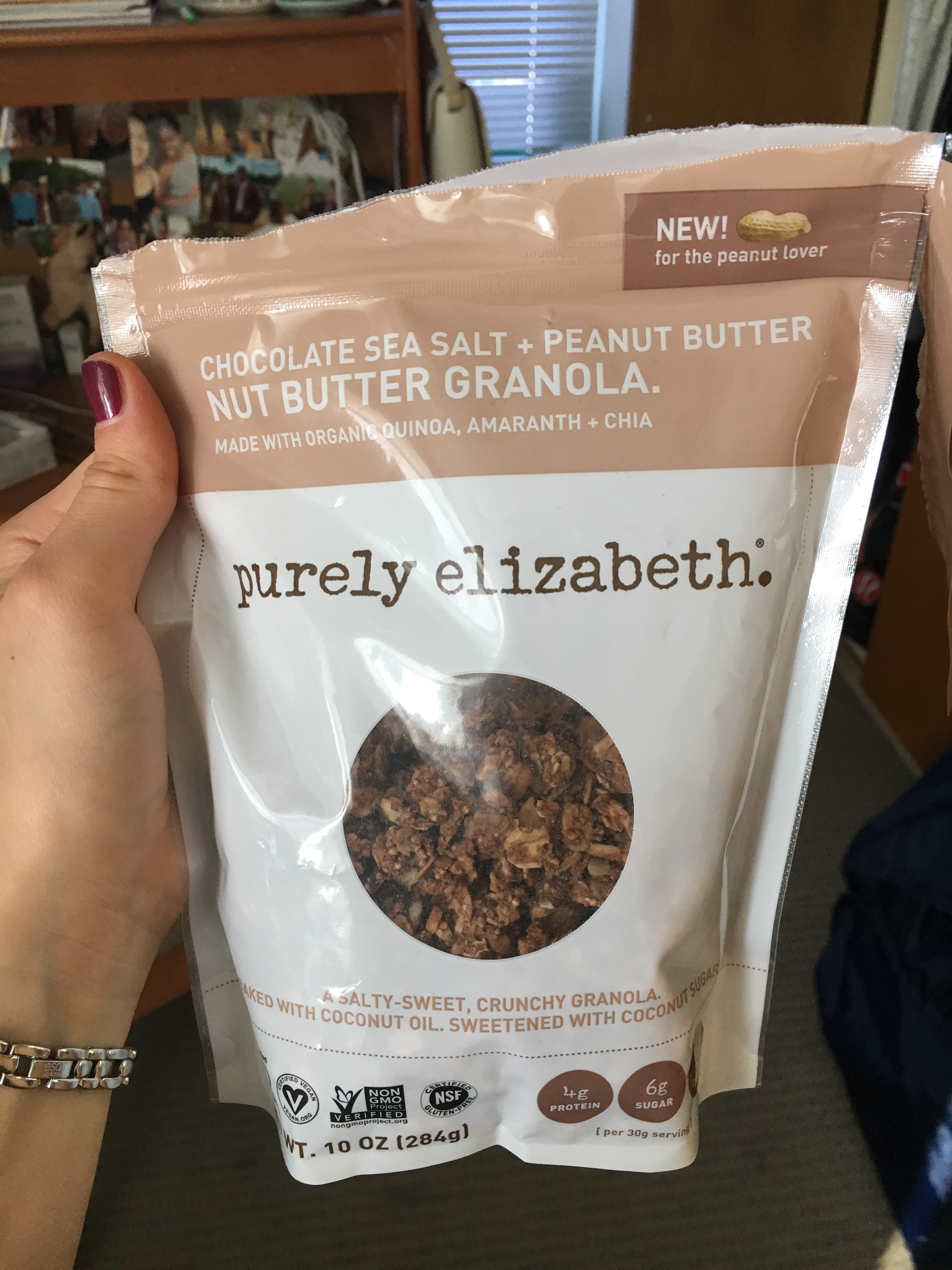 Okay, so I know I just sang praises to the Pumpkin granola, but this was seriously the best granola to graze my lips since the Jessica's granola addiction. Again, it tastes like the Original Granola, but taken to the next level with chocolate and peanut butter in every delicious bite. It's perfectly crunchy, not too sweet, and just tastes like a huge indulgence but also like you're being sorta healthy? Until you eat the entire bag in two days (who, me??) and realize you may have another granola problem on your hands…
I will say, after the first time I bought it, I could never find it in stores again. I'm pretty sure it's because other people figured out it's like an acceptable version of a drug, and now everyone is hooked. Yes, it's totally acceptable to compare granola to drugs.
Anyway, I really hope Whole Foods ups their game in 2018 and stocks more of these in store because I NEED A FILL, DANG IT.
Trader Joe's Dark Chocolate Lovers Dark Chocolate
I always liked the classic 72% dark chocolate from TJ's but this year, I discovered this bar and was blown away. It's really just classic and perfect. If you're one of those people who likes your chocolate DARK, I would seriously recommend getting this. Whenever I need a chocolate fix, I eat a couple squares, and it's perfect. Definitely not one of those chocolate bars you end up tearing through in a day just because it's so rich and full-bodied. (LOL I should be a frickin' chocolate tester.)
It would probs be super good melted down and used for dunking fruit, crackers, marshmallows, fingers…sky's the limit. 😉
Buddha Bowl Foods Popcorn
So I'm usually pretty neutral about popcorn. Occasionally I get a craving for it, and I get a random brand from Whole Foods, but it's never been something  I was super into. This one time on a shopping trip, I was intrigued by the Buddha Popcorn that cost like a dollar more than the other brands and was made with coconut oil and himalayan sea salt. Normally, Roomie and I turn up our noses at those brands that get away with charging more by using like a hint of some superfood or other, but on this day, we were both feeling fairly experimental and open-minded, so we got a bag each.
Holy. Yum. Never going back to anything else. And I'm sorry for ever doubting you, Buddha Popcorn. It's the perfect level of salty and slightly sweet from the coconut oil, and it really is the best store-bought popcorn I've ever gotten. 10/10 would recommend.
Workouts
Popsugar Fitness
I'm still loving Popsugar Fitness to supplement my fave Fitness Blender and Blogilates. They have so many workouts on their channel, and I've done everything from the dance workouts to the total body bootcamps to yoga flows. It's fun and usually a great workout, so I would totally recommend checking them out for something you can do both at home or take with you to the gym.
Yoga with Adrienne
I mentioned this one in some old favorites posts, but I'm still loving this channel. Sometimes, yoga feels a little tedious for me, and it takes having a really great instructor for me to fully get in the zone and enjoy myself. This year, I've started doing yoga at least once a week as an active recovery day, and it's been one of the best things for my body. I feel so much more centered and relaxed after yoga, and doing them on Sundays leaves me ready to tackle a full week of workouts ahead. Plus it's fantastic at stretching out and working the kinks out of all the muscles I used in the previous week's workouts.
Long Walks
This deserves a section in itself because this semester, I have discovered how amazing and necessary walking is. I always used to find walking a bit tedious when it was without a particular destination; it felt like a waste of time, and I often thought I'd rather take that time to do a gym workout. But lately, I've discovered the merits of walking not only as a great form of physical activity (doing one workout and then sitting all day isn't great either) but also as a way to calm my mind and be present. Some days I zone out with my podcast or my music or my thoughts, and some days I become hyper-aware of my surroundings and start noticing tiny things I never had before.
Skincare + Makeup
This is pretty exciting for me because over the past few months, I've done a revamp of my skincare routine. I just decided to try out a bunch of natural brands in the hopes of transitioning fully to green beauty. My conventional stuff just wasn't working for me, and I sort of realized that if I was going to prioritize my health with food, exercise, and self-care, I should also be more mindful about what I'm putting on my body.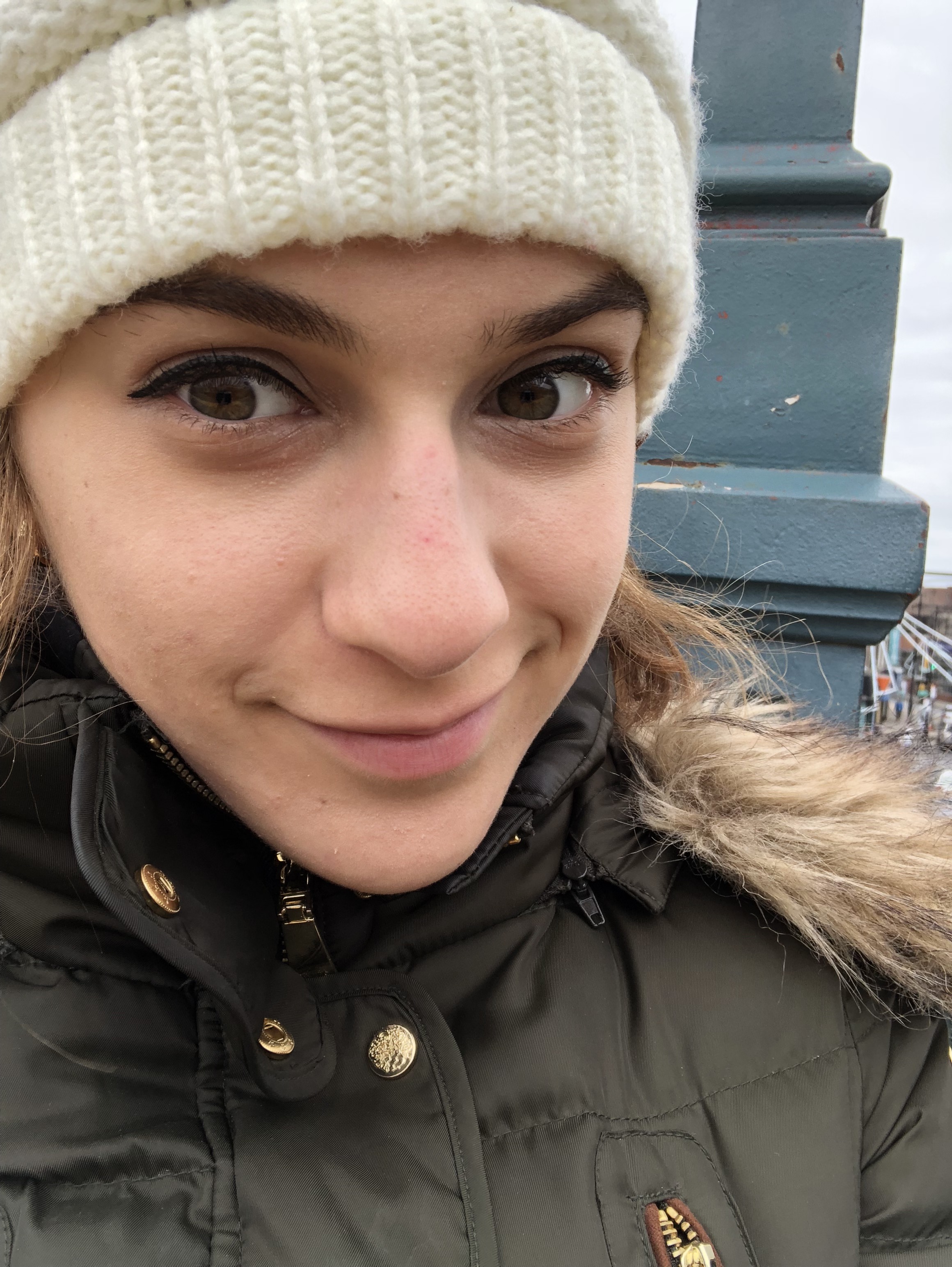 So I've never really used liquid eyeliner. Like, I've only ever tried it when I let a friend do my makeup for me. And I was always like, eh, it's fine, but it's like way too much work. Well, seeing as I was Catwoman for Halloween, I knew I had to pick up some liquid eyeliner tips. Fast. And after a couple Youtube videos, I must say I am a convert!
The past few days I've actually randomly been wearing this eyeliner just to practice some more, and I think I finally got the hang of it and actually get what all the fuss is about.
Tarte is one of my favorite makeup brands, and I've been using it for years. No it is not the MOST natural, but it's definitely a better option than many many mainstream brands. I especially love their concealer and mascara.
So, yes, this is the only liquid eyeliner I've ever owned, but I seriously cannot recommend it enough. It glides on super smooth, is easy to maneuver, stays on great, and even has a cute kitten on it. Trust me, if I could figure it out, you can as well!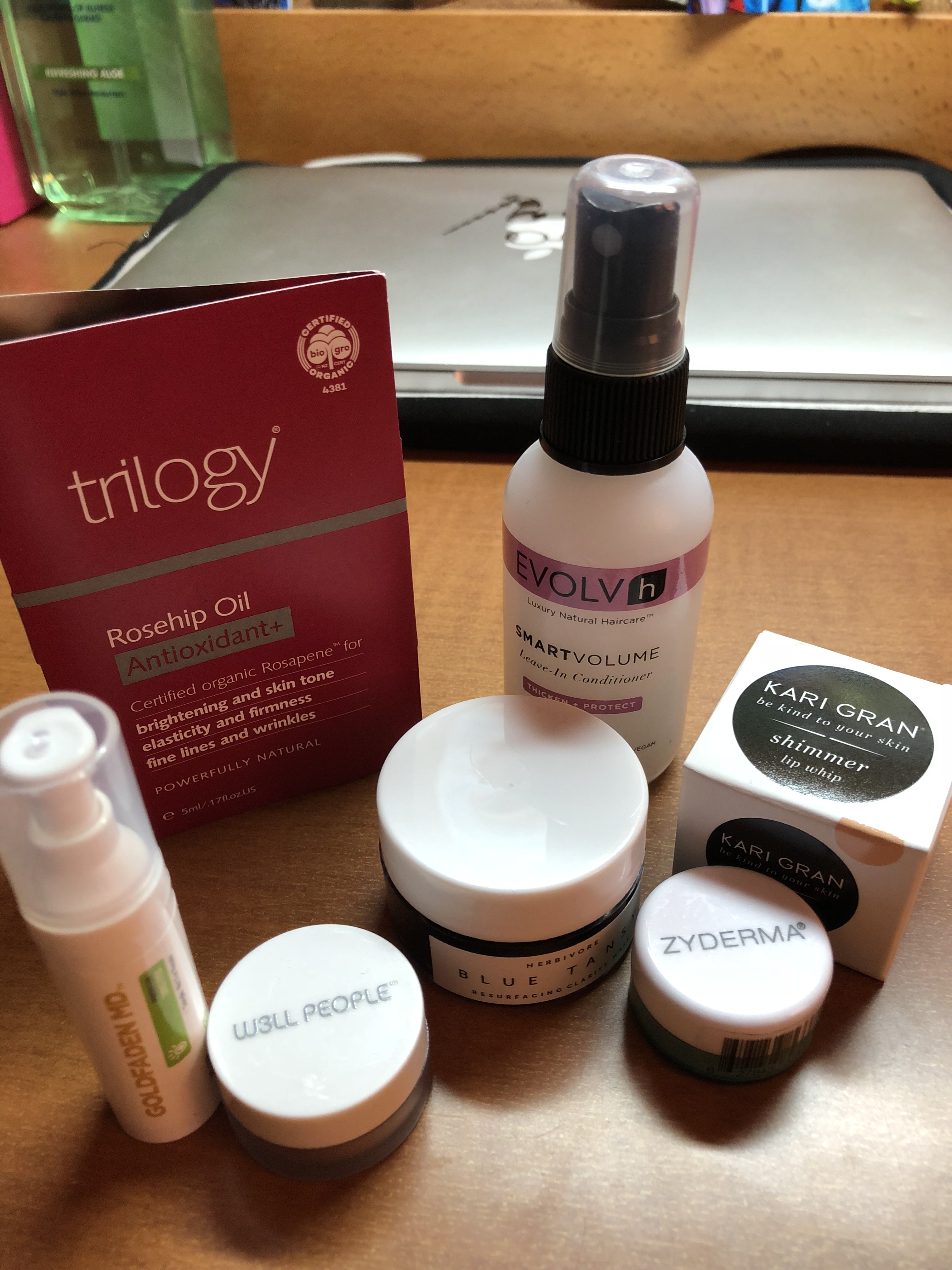 Not a product, but I just wanted to give a shout-out to this website that I discovered through Davida. It's such an awesome website. I don't even know why I fell in love with it so hard, but I think it's just the range of amazing products they carry and how they truly seem to care about green beauty and getting every customer matched with the perfect products.
They also include free samples with every order, which is always a plus.
Juice Beauty
I never heard of this company until I discovered Credo Beauty and started doing more research in the green beauty field. But I love their mission and their entire company ethos, and I read a lot of great reviews about their skincare products, so I ordered their blemish clearing serum and so far, I've been loving it. It hasn't been long enough for me to say if it is making a giant difference, but I think coupled with the other things I've been doing, it's working for me! (knock on wood).
Okay, so I've only used this product twice. I actually got it as a free sample from Credo, and I only started using it when I came home for break. The instructions say to use it every other day for the first 5 days and then just every few days after that to maintain skin. I wasn't too hopeful with this; I find that masks are great as a long-term skin helper but are more of a self-care ritual than anything else. But this mask? HOLY PICKLES.
The first day I used it, I woke up the next day, and my skin literally looked renewed. It was brighter, more even, and I had less redness. At first I thought, okay, this is just a coincidence. There is no way it's the mask. But I used it again after two days, and again, my skin just looked…better.
So I'm going to keep using this little guy, and I'll make sure to keep you posted about whether I'm going to be keeping it in my routine. But something tells me I will. 🙂
Coffeeshops + Restaurants
I mentioned that this semester, my study days were filled with coffee and brunch. And it's been fabulous because those are two of my favorite things in the world. I'm always on the hunt for great coffee and good vibe coffeeshops, and I can finally say I've found some gems in DC!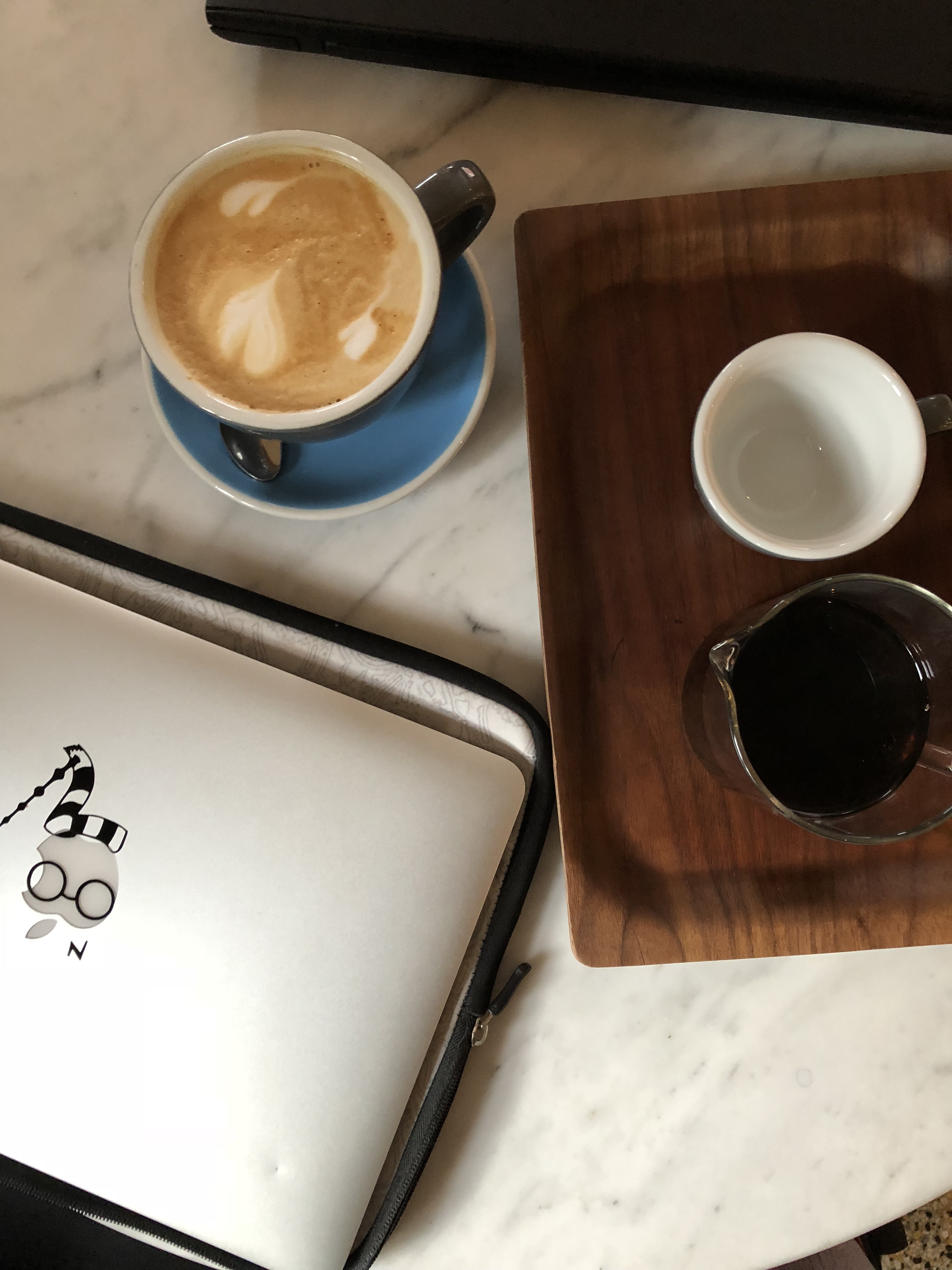 I discovered this place on one of those places to study in DC articles, and I figured it would be perfect to study at because I love coffeeshop vibes when writing. (I was working on a final paper).
So I took my friend MB, and we were instantly taken by the cozy vibes inside. You know, the brick walls and couch aesthetic? Dim lights? It was…perfect. Plus, they have like 10 million different kinds of coffee offerings, including pour overs. I went with the daily special pour over, which was an Ethiopian bean blend and was absolutely delicious. Came in a super fancy glass jar too!
Great vibes? Check. Amazing coffee? Check. Emissary, I will be back. <3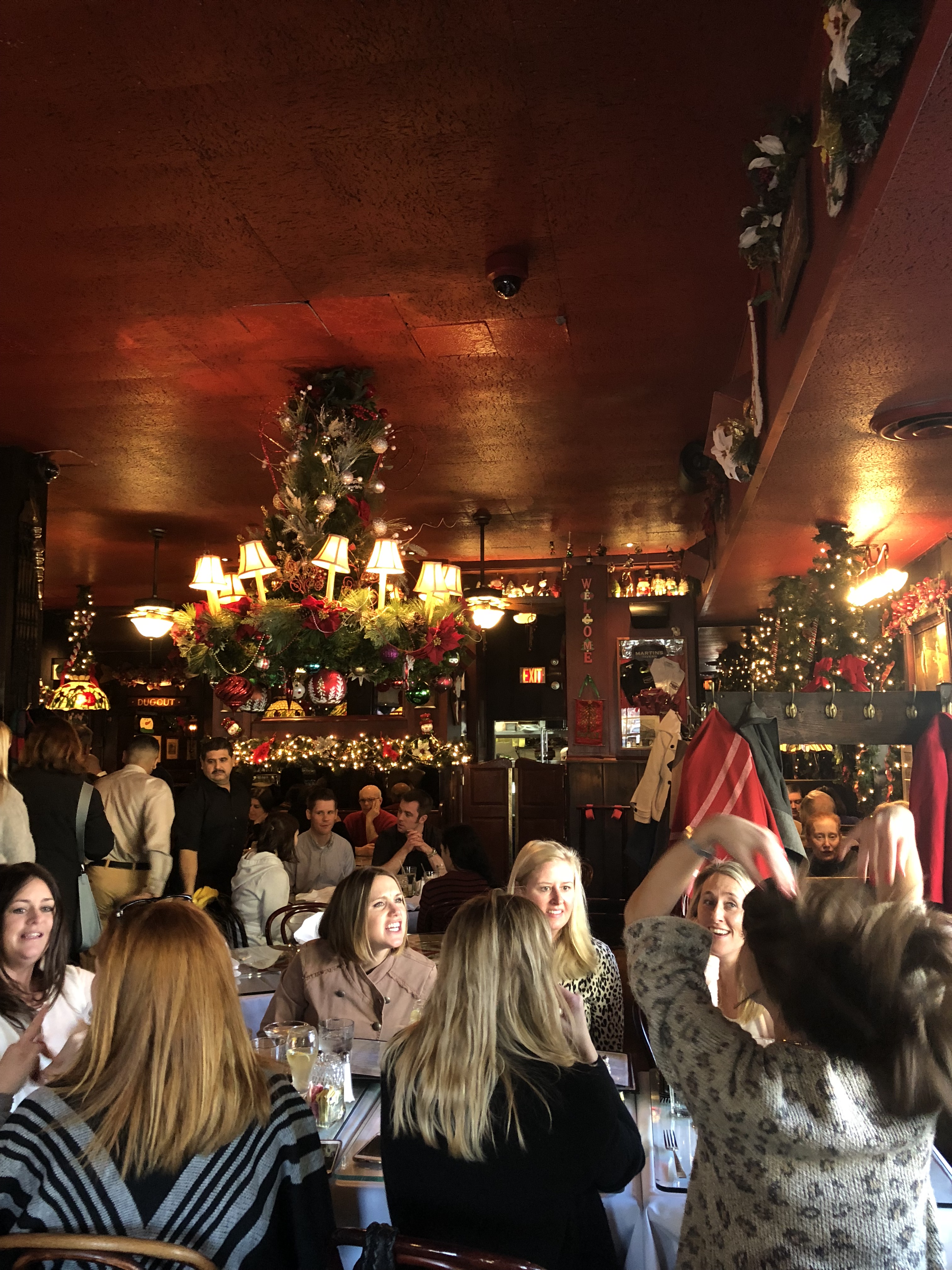 This place is a Georgetown legend. It's famous for being the haunt of many a famous person, such as JFK and Richard Nixon, and it even was where JFK proposed to Jackie! I went here with Syracuse Bestie and Georgetown Bestie over the study days, and it was perfect because Martin's goes ALL OUT with Christmas decorations. Love that.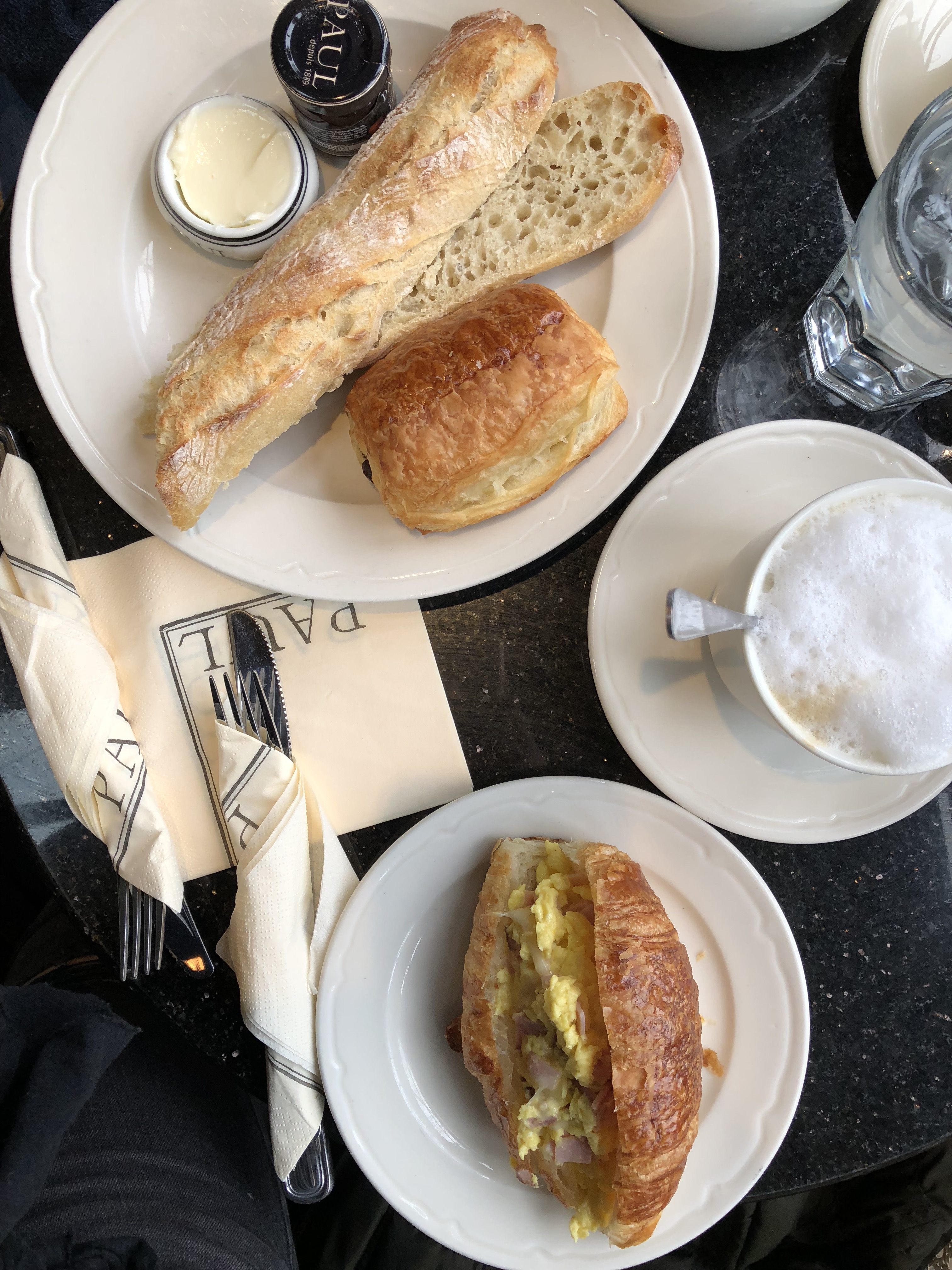 This place had been on my to-try list since last year when it opened. I actually visited a Paul location when I went to Paris about four years ago, so I was pretty excited to see it open right in Georgetown. I ended up going on one of the first study days with Monday Coffee Date friend, and it totally exceeded all my expectations. I had a cappuccino and a croissant with scrambled eggs, ham, and cheese that was perfection.
I may have mentioned that I am not really a sandwich person, except when it comes to egg sandwiches. I am always down for a great egg sandwich.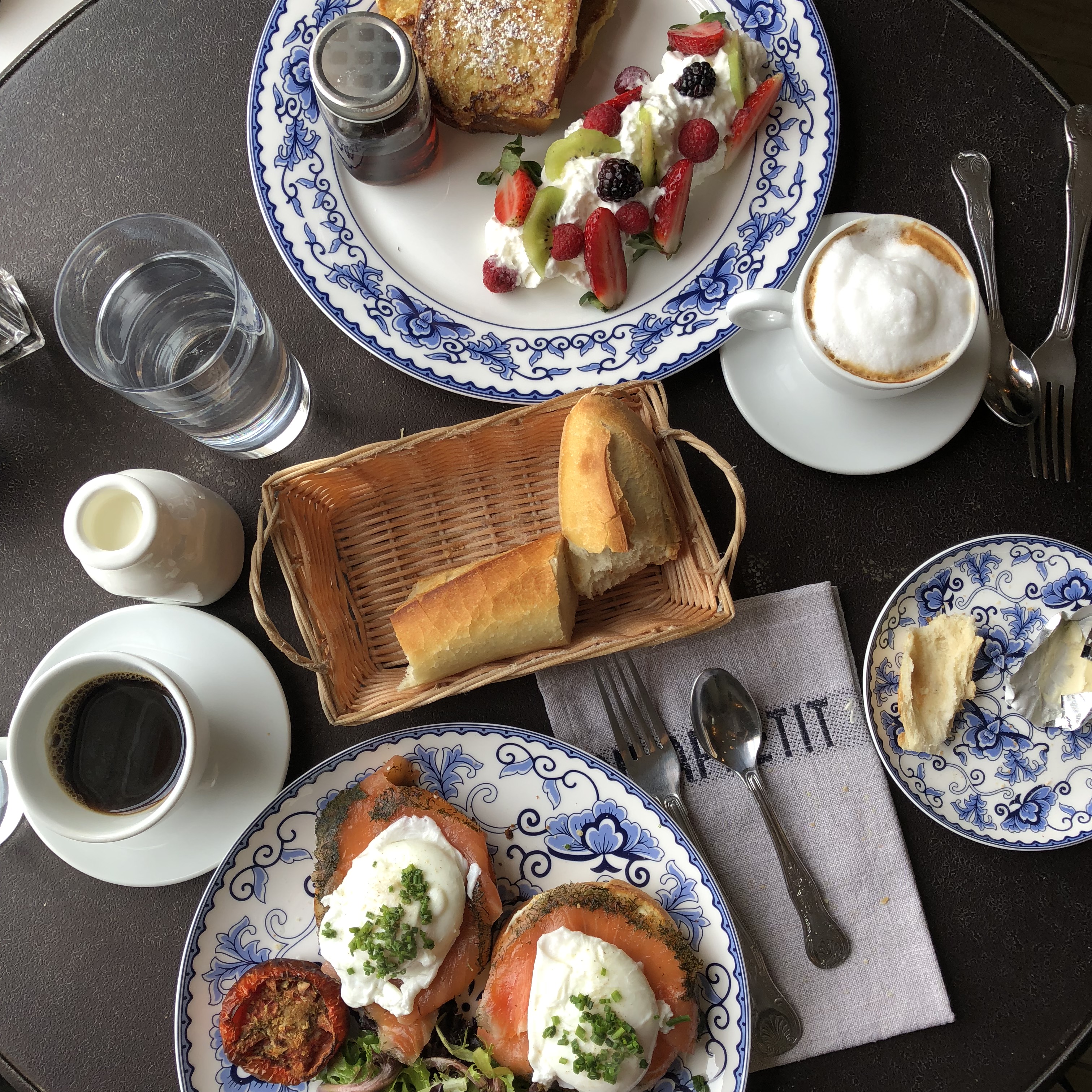 Another French bakery that opened at the end of last year that I've been wanting to try for ages. I finally got my chance when Syracuse Bestie visited in the final study days, and we went over there for a long catch-up session. We were both in heaven. She got french toast, which I tried, and it was unbelievable. And I got salmon eggs benedict, which were absolutely dreamy. Also their baguette that they bring out before the food is not to be missed. Again I'm not super into bread, but when it's a quality French bakery, you better bet I'm trying ALL the bread.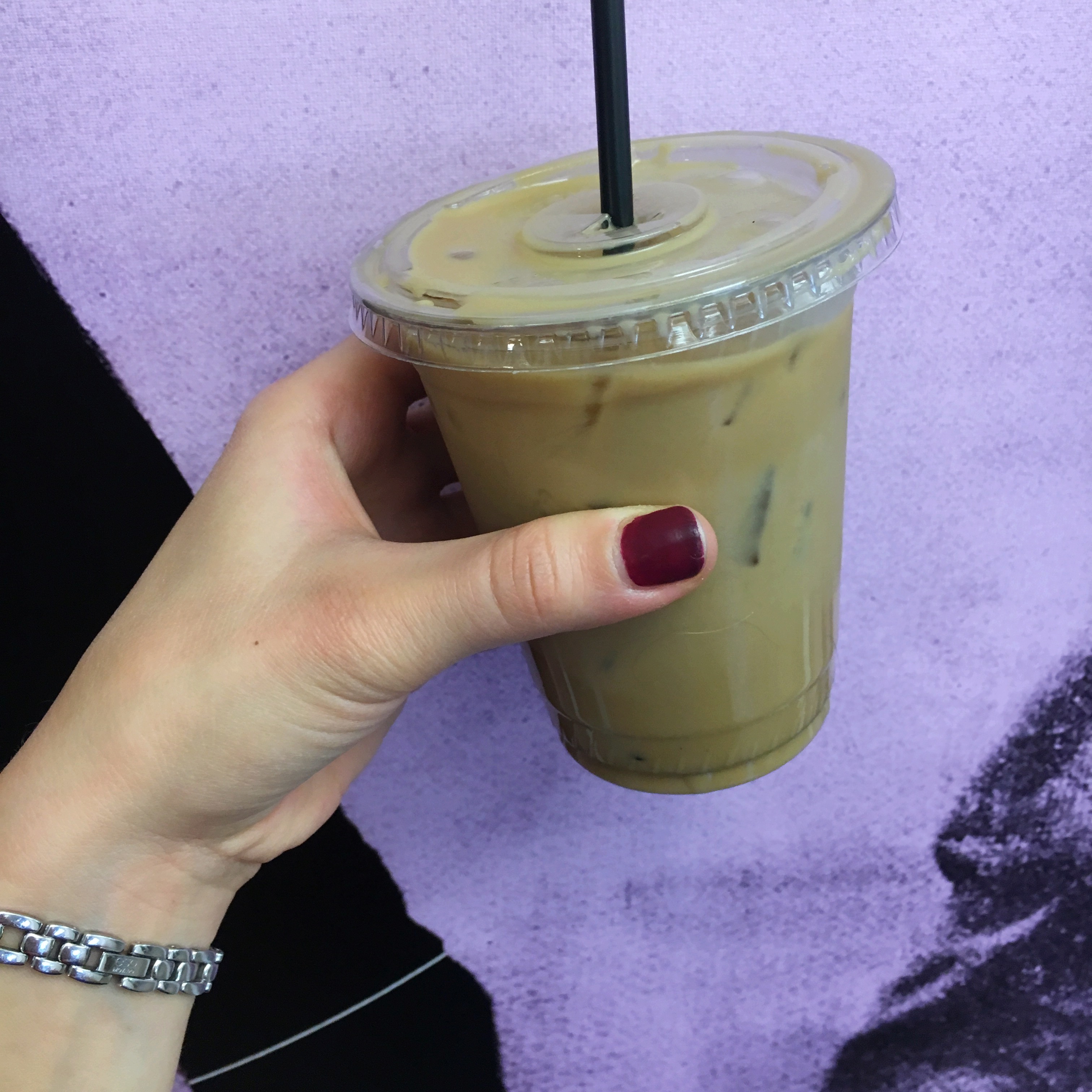 Pretty sure you guys know how I feel about this place by now, but this is seriously one of my favorite ways to treat myself during a challenging week. It's a bit of a walk from campus, so it doesn't feel too everyday, and it gives me the perfect chance to take a little break with a podcast or some music in my ears.
This semester, I discovered their almond milk iced latte, and I am never going back. Normally my coffee order is really simple, like an iced coffee with soy or almond milk, or just a black coffee. But their iced almond milk latte officially stole my heart. Seriously, if you're ever in the area, get it, and thank me later.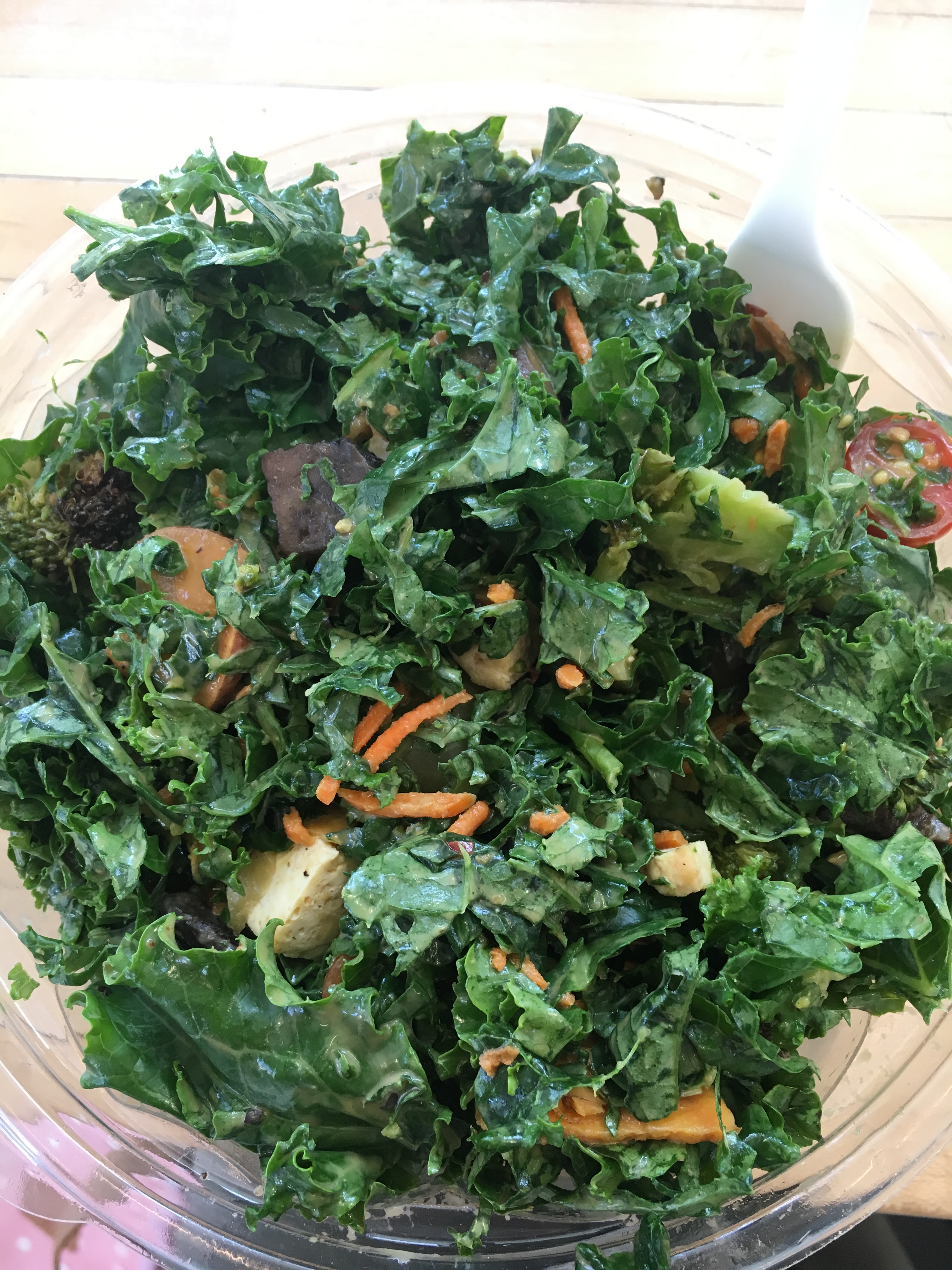 I've sung enough praises to this lovely place, but in case I haven't, this is one of my all-time favorite spots to get my veggie fix at. They make kale taste like angel dust. Their salads are always bomb, and I don't know what it is, but they're on a totally different level than other salad joints. So just do me a favor and try Sweetgreen. Plus, their business growth is super inspirational, and pretty soon, they'll be in like every state. Can't wait <3
Things to Listen To
Party in My Plants Podcast
This is a relatively new find, and I've been loving it. Talia is a ball of energy, and she has so much positivity and wisdom to share. I love all the guests she brings on, and her solo episodes are always super engaging. One of my fave recent episodes is called "My IBS Story…" where she is actually interviewed by Davida, who is one of my absolute favorite bloggers and hosts of another one of my favorite podcasts, That's So Maven.
The Script
I went to go see them in concert, and I fell even more deeply in love with this band. They are so perfect for indulging those brooding moods when you just want to ride in a car and look out the window and think about all the hard things you've experienced. Or just for daydreaming. Come on, I know you all do it.
Christmas music
I mean, obviously. I was actually scared for a time that I wouldn't get into the Christmas spirit this year at all because it really took me a while to FEEL the Christmas magic (it was warm for a WHILE in DC) and I didn't have any urge to listen to holiday music. And then when finals started, Christmas music became my go-to for working music. It was sort of a reminder that I am so close to being done and that even though I'm working hard, it's the most wonderful time of the year, and I should enjoy that. Plus, you can't feel stressed out or upset when Mariah Carey is belting "All I Want For Christmas" in your ear, right?
Things to Watch
Star Wars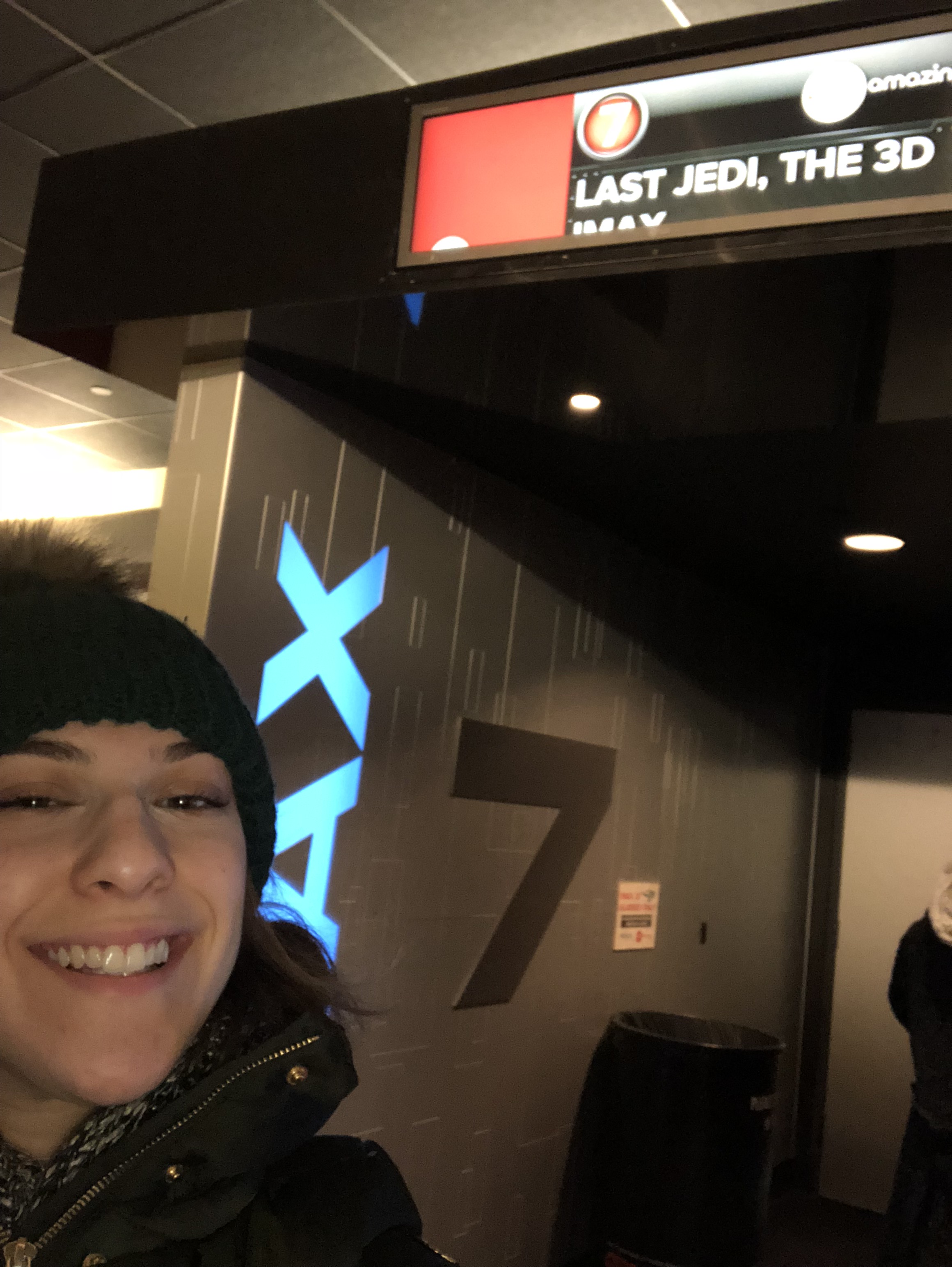 OMG. I can't believe I'm writing this. Seriously. I have never seen or interacted with Star Wars until this past October, but MB and I made a deal when we first became friends that I would watch all the Star Wars movies with him if he would watch all the Harry Potter movies (because he never has!) I started with episodes I, II, III and then when The Last Jedi came out, we wanted to see that in theaters together. So without watching the original trilogy, I just watched the one that came out in 2015, The Force Awakens, so that I would understand what's going on in the newest movie.
And guys, I LOVED the Last Jedi. Like the other episodes I watched were pretty entertaining, but Star Wars was still not my THING. But after seeing the Last Jedi, I've been super excited to see the rest of the episodes. Who even am I?
And okay, I need to be honest right now and tell you that 90% of my new obsession probably stems from my giant crush on Adam Driver who plays the villain. Ugh, why is it always the bad boys? But seriously, there's just something about him that I can't put my finger on, but it makes me swoon. :p
Girls
I started this two days ago and am currently flying through the second season. LOL, winter break goals, amirite? For those of you who know the show, you will know right away why I'm watching it. Totally has nothing to do with Adam Driver being one of the main characters….heh. ANYWAY, it's a pretty great show and super entertaining, and I love that I recognize a lot of the NYC spots. Plus I've been watching zero Netflix for months and have been on the hunt for a new show for a while!
Pride and Prejudice
I loved this movie so much more than I thought I would. All my friends were kind of shocked I'd never seen it, and I was pretty surprised myself considering I read the book and actually really enjoyed it years ago.
But yeah, this is a great movie for when you want to live vicariously through people in love. 😉
Soul Things
Brunch with Friends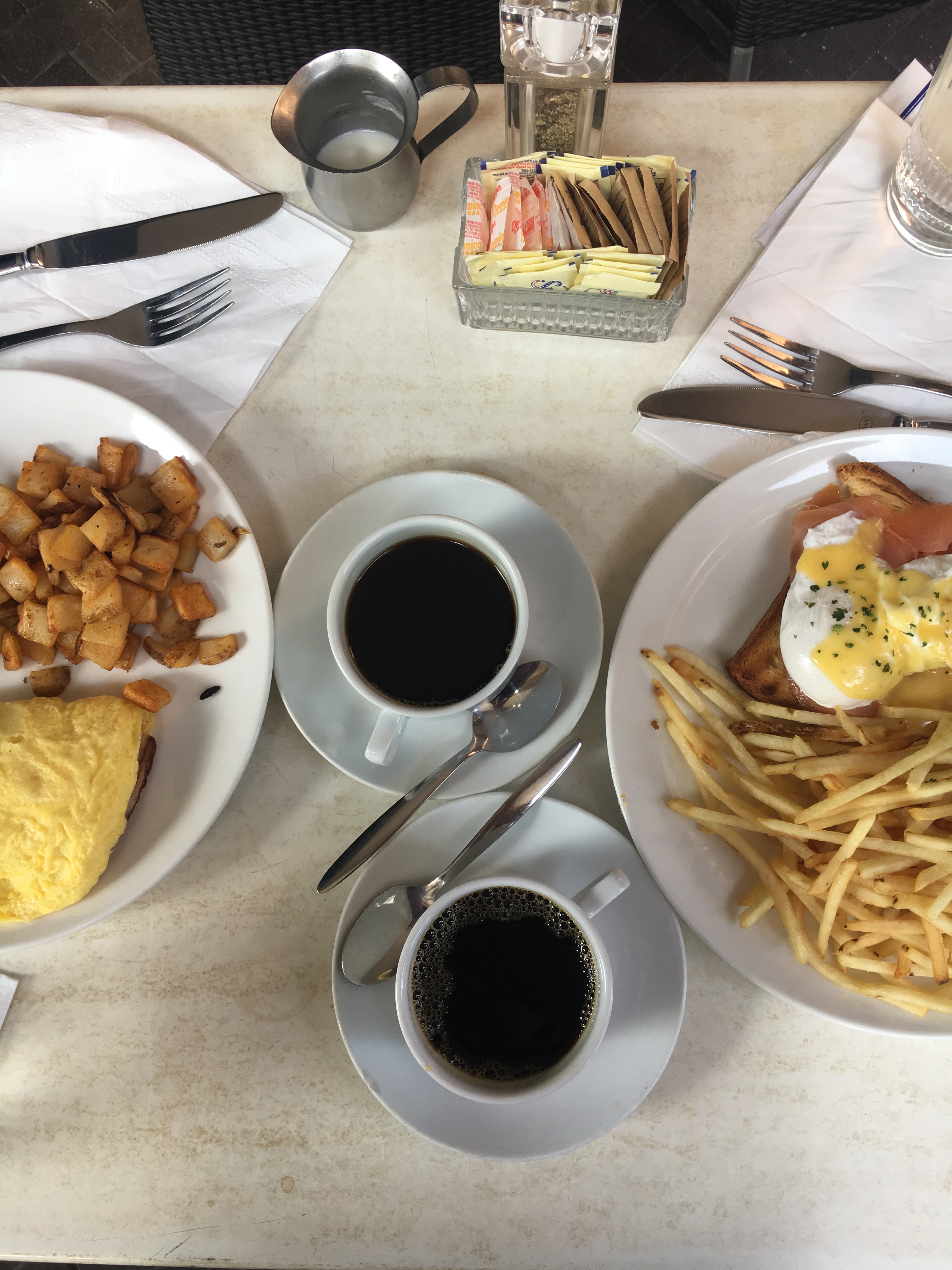 One of the best ways to make any day a million times better. I don't even know what it is about brunch that makes my soul sing, but it's seriously like self-care for me.
Monday Coffee Dates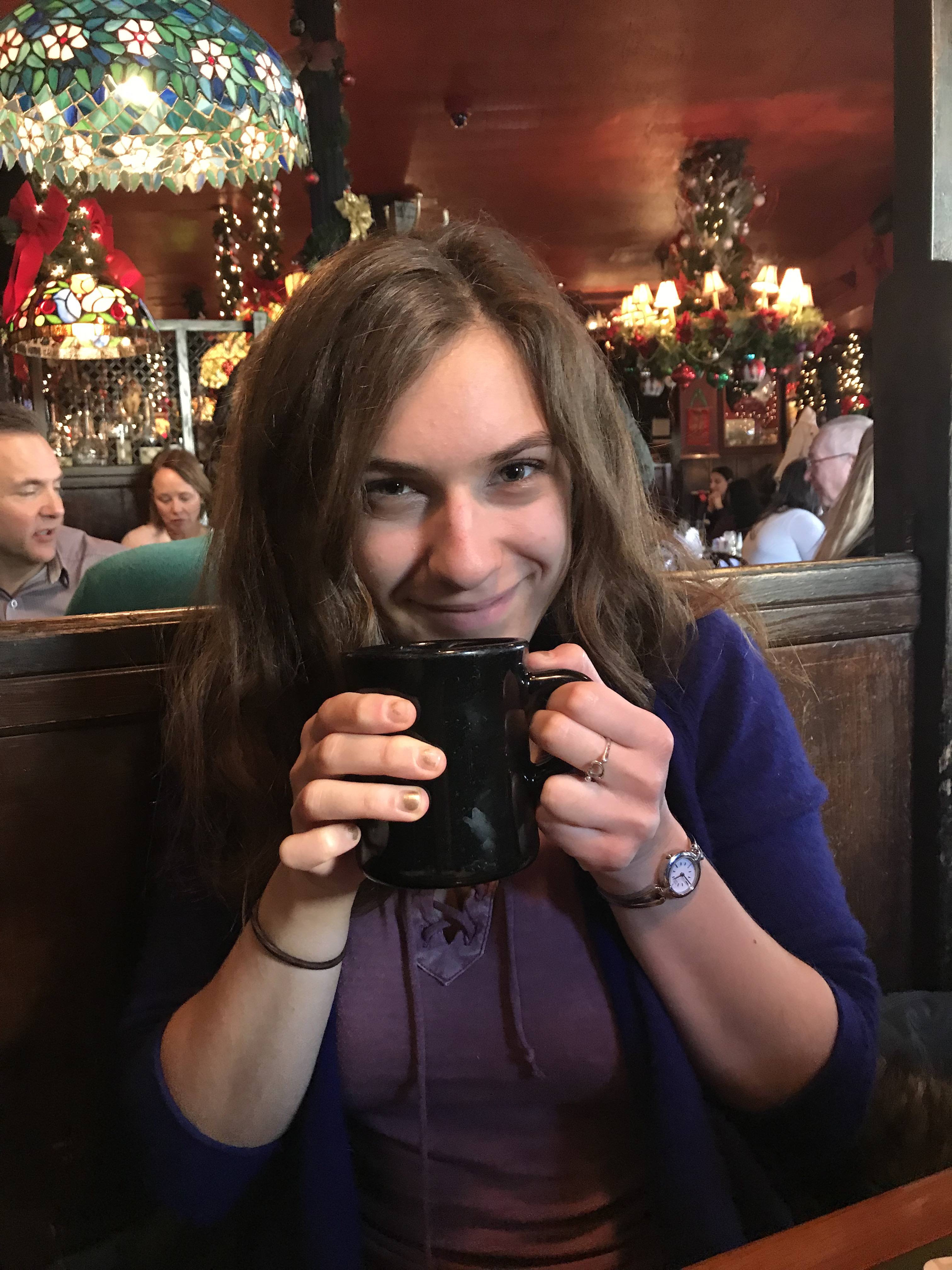 I've told you all about these, and they've honestly been one of my favorite aspects of this semester. Mondays are so much better when they start with coffee and girl talk, and I found myself actually looking forward to Monday morning every weekend. Hopefully this tradition carries on for 2018. 😀
Monuments at Night

I don't know if you remember this, but going with MB to see the monuments at night was one of my favorite memories of the semester. It's a thing that every Georgetown student needs to do at least once, and I would definitely do it again. It's just so serene and beautiful, and it made me appreciate the school I go to like a million times more than I already did.
Fall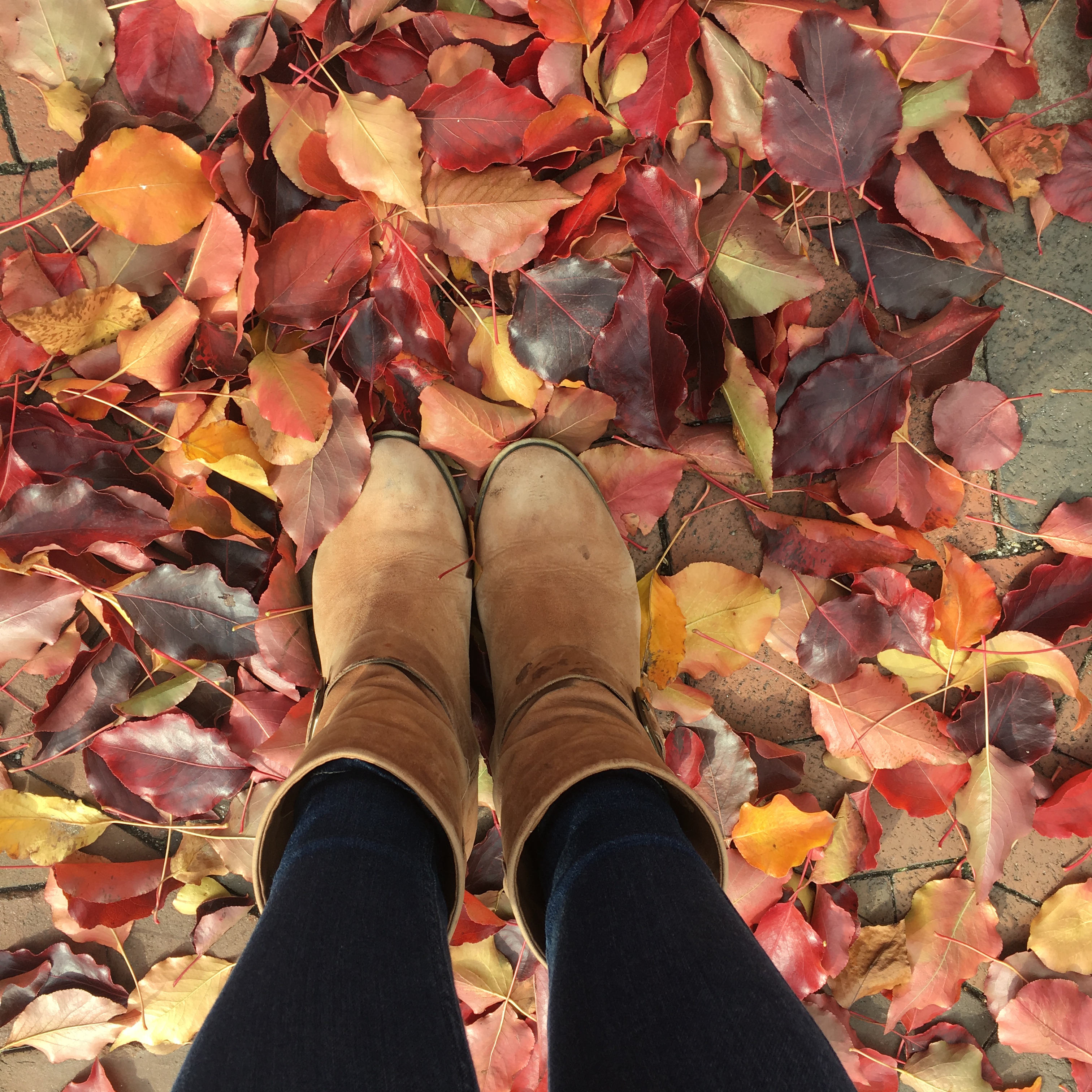 Fall has never been one of my favorite seasons, but something about this past fall REALLY vibed with me. Maybe it's because fall is really pretty on the campus, and I didn't really notice last year because I was too busy being a lonely lost freshman?
But this year, everything about fall was making me super happy. The red plaid patterns, blanket scarves, cozy sweaters, hot beverages, the changing leaves…it's all been especially wonderful this year. Oh, and I listened to Taylor Swift's Red on repeat for a solid month, which is basically fall encapsulated in a music album. 😉
---
Woo, this was a LONG post, so if you're still with me, I commend you and really appreciate you 😀
I hope some of these resonated with you, and let me know what some of YOUR favorites from the past few months or 2017 are in the comments below!
I hope you have an incredible Christmas and a great rest of 2017. Let's finish the year strong! <3
Linking up with Meghan for Week in Review!
Share if you liked this post!