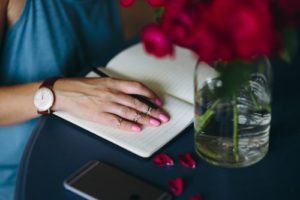 This is going to sound utterly ridiculous, but I truly believe journaling changed my entire life.
I've been journaling daily since 7th grade (that's over 6 years now!). If that ain't dedication I don't know what is 😉
Originally, journaling was something my mom suggested I do on a whim to help manage my debilitating anxiety, and so on a trip to Universal Studios, I purchased a little leather notebook, emblazoned with the Gryffindor crest ('cause duh), and that became my journal.
Back then I wrote about silly inconsequential things.
Today I went to the store.
Today my friend said a boy likes me, but I don't know if I like him. (ha, now there's a theme)
But with time as I grew older, the entries became longer and deeper. I would talk about my feelings, my fears and doubts, things I learned that day that I wanted Future Nicole to remember.
I discovered that writing, pen to paper, puts a lot of things into perspective. Oftentimes, i would have an epiphany or make a self-discovery in the midst of an entry.
I write every night before bed, and it often helps me to go sleep faster, as my brain doesn't feel the need to replay the entire day over and over again or fixate on minor annoyances or worries. I make sure to end each entry on a note of gratitude, on a remark about something good that happened that day, and it really does make a huge difference in the way I look at life.
No day is definitively a bad day. There is ALWAYS something good, the way your dog greeted you like you're the only one that matters, the delicious coffee you had in the morning, your stress-busting workout…it's all something beautiful and something to be grateful for.
As for my battle with anxiety, I don't think anxiety is ever fully gone. I still feel remnants of it sometimes, and it left me with a lot of defense mechanisms that I had to consciously work through over the years.
It's been a journey, but I know for a fact that journaling is what changed my anxiety from something that was completely eating me alive to something I felt I had a solid handle on.
The power of writing is honestly mind blowing.
"The art of writing is the art of discovering what you believe."
-Gustave Flaubert
P.S. I have a lot of thoughts about anxiety and even how it factors into my eating and working out practices. Please let me know if you have questions.
Xoxo,
Nicole
Share if you liked this post!