Happy Monday, beautiful people! I'm feeling pretty well rested this Monday because I finally fixed the whole sleep deprivation issue AND made sure I got lots of rest and soul fulfillment this weekend.
I mentioned before that as an extravert, I need to spend ample time with people to really feel my happiest. It's incredible, though, how big of a difference the kinds of people I'm with makes.
Some could make me so uncomfortable I become a quiet subdued version of myself (absolutely HATE feeling this way), while others make me feel energetic and loud and like I can be my weird self without any judgment (LOVE that). I think finding a tribe of people who really let you feel like you, where you leave the hangout feeling refreshed and renewed and validated, is KEY to building self-confidence and figuring out who you are at your core.
Being friends with people who mold you into someone you're not isn't really helping anyone and will only drain you and leave you feeling lost and alone.
WOAH!
That was a lot of deep conversation for a simple weekend recap, but I think it's just my intense sentimentality kicking in because my impending college move-in day is looming ever closer…
MOVING ON!
Let's jump into the weekend, shall we? I'm linking up with Meghan for this one!
Friday
Do you guys consider Friday a weekend? I'm rolling with it.
I babysat two wonderful kids from 9am to about 2pm, came home, did a nice refreshing power yoga sesh, and caught up on things on my to-do list.
Basically writing some posts, catching up on blog reading, and practicing guitar.
The plan for the night was to go out to dinner with my mom to a place in our neighborhood that we've only ever been to during the day.
We live in the part of Brooklyn that is next to the waterfront, so it really does get gorgeous at night, and we made a reservation for a table right by the water.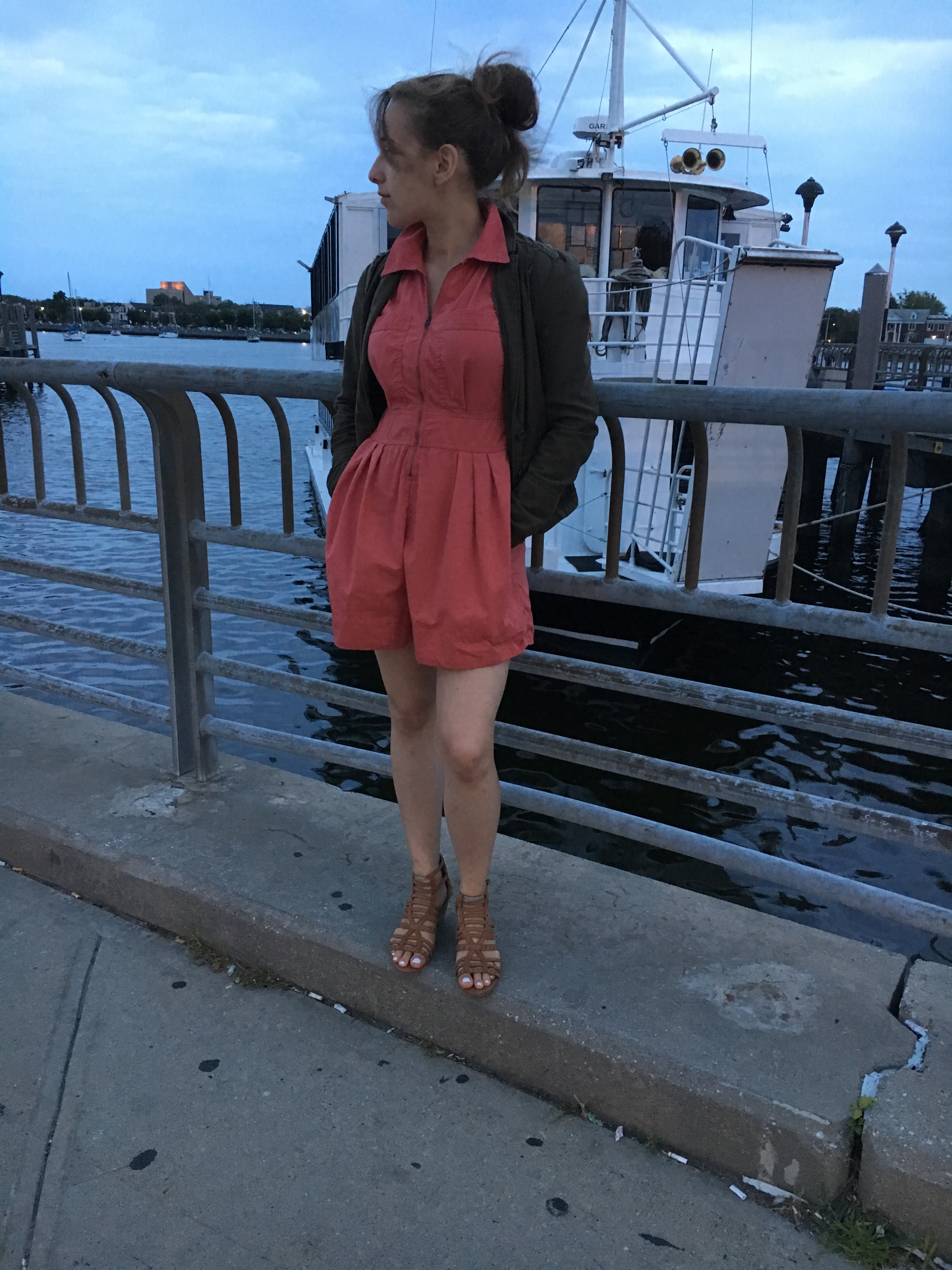 As soon as we were seated, I felt all the stress and exhaustion from the week melt away, as I was enveloped in an oasis of soul-fulfilling happiness.
There was a live singer, about my age (GO HIM!) singing all of my favorite songs, and the water looked breathtaking as it seamlessly blended with the sky.
You guys, I mentioned this before, but beautiful waterfronts are my happy place, and coupled with live music at dinner (my favorite thing ever), this was a night to remember.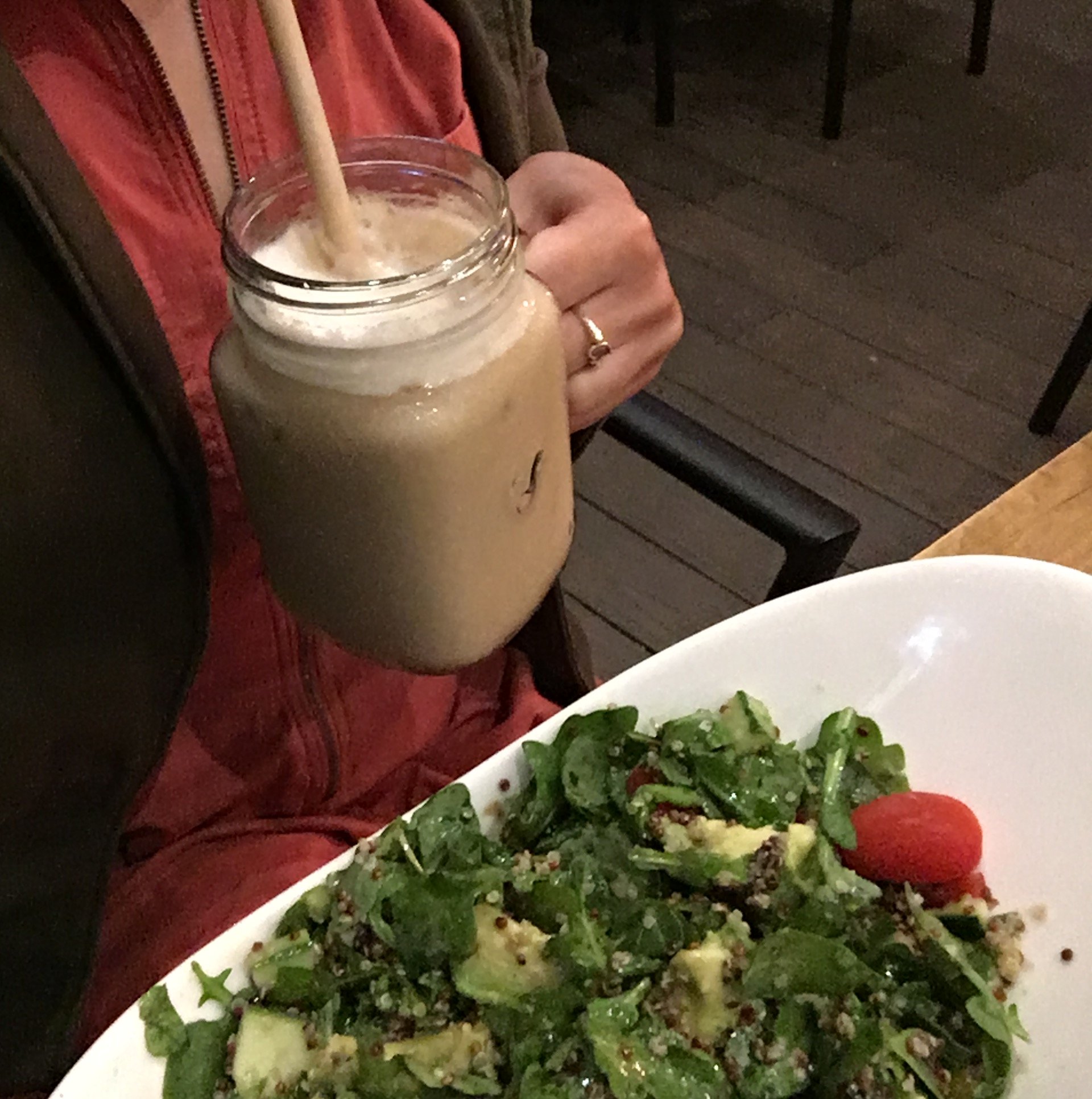 A delish iced cappuccino and quinoa avocado salad later, I was really feeling dessert. And when it's a beautiful perfect night and your bod asks for dessert, YOU DELIVER.
I got something called a strawberry coppa, which is something like soaked sponge cake with mascarpone, caramel, and strawberries. It was delicious, and I ate every bite.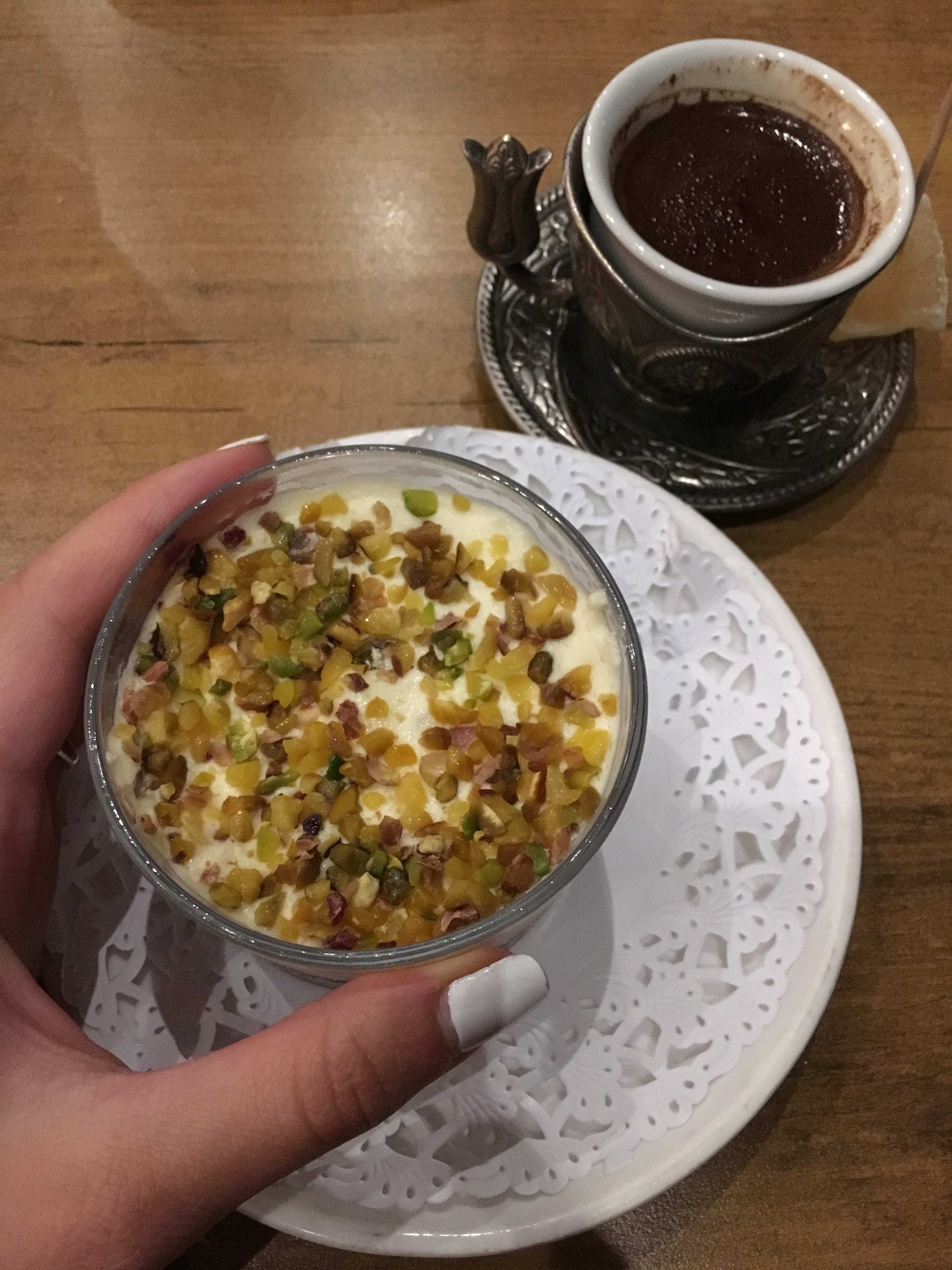 Saturday
On Saturday, I woke up at about 10am to my alarm— if you're curious, it's Taylor Swift's Bad Blood— and pounded out a hiit and weights workout. Shower, primp, beautify, and I was ready to meet my friends at Smorgasburg. This was my second time going there this summer, so obviously I had to get all new things.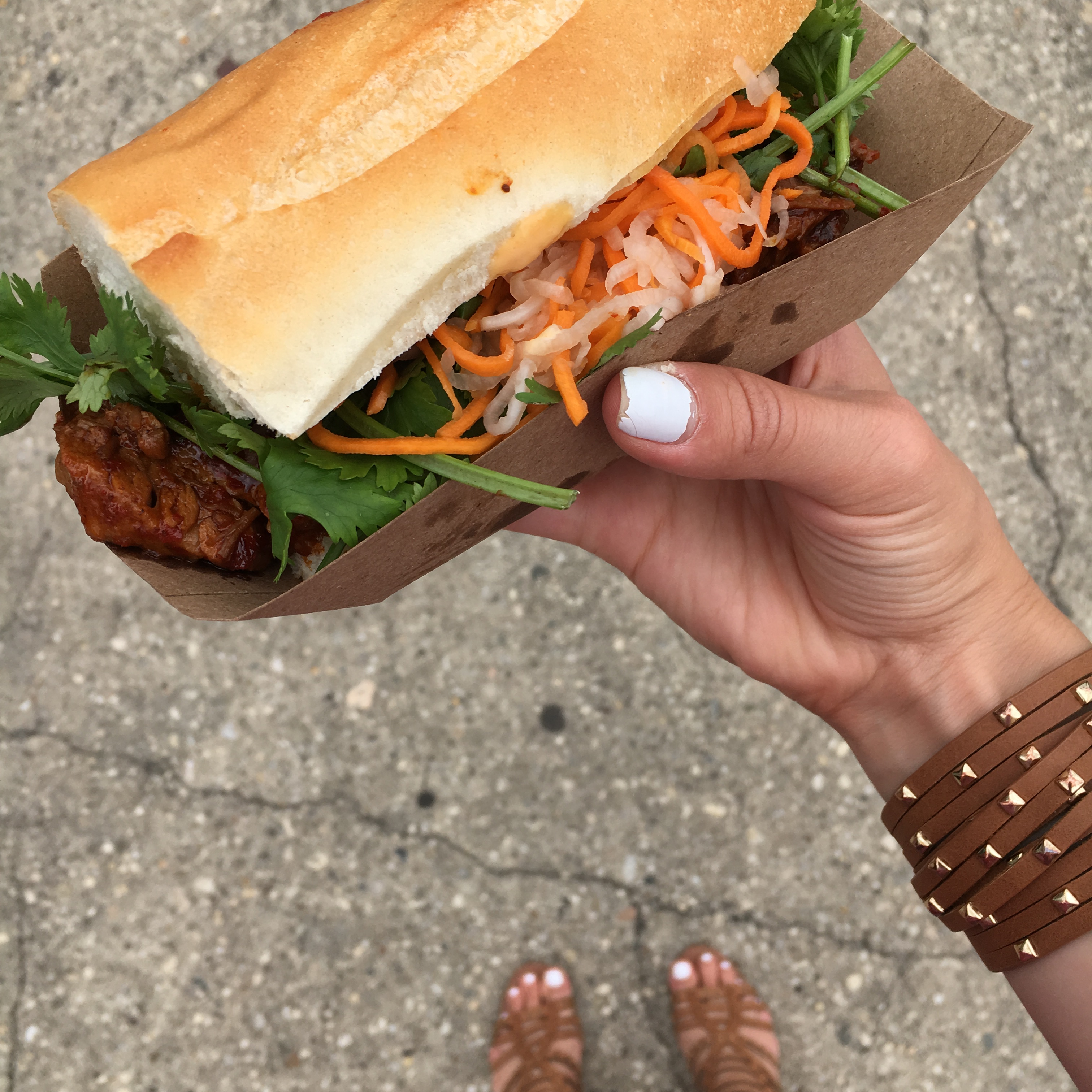 I went with the Asian-inspired brisket sandwich from Strange Flavor. NOT something I would ordinarily choose, but one of my friends had given me a bite of his brisket sandwich last time we went, and I was very pleasantly surprised. I ordered half so that I could have room for dessert.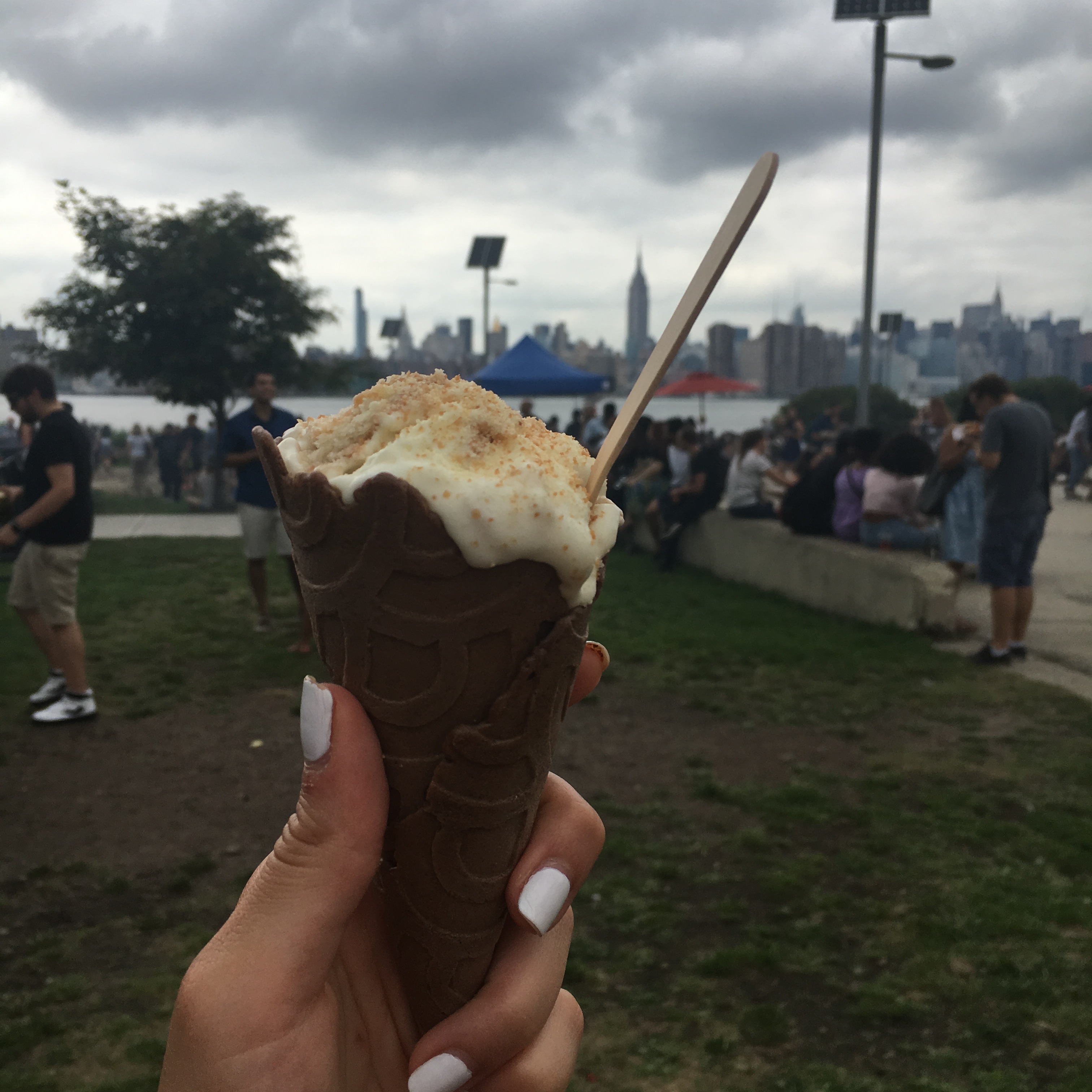 I went with the Baonanas banana pudding in a chocolate hazelnut cone. The cone was meh, but the pudding was phenomenal, and totally satisfied my raging sweet tooth.
Yes, I had dessert two nights in a row. It's called LIVING 😉
Do I normally have dessert on two consecutive days AND eat a brisket sandwich? No, which is why I had absolutely no qualms about doing just that when I realized it's exactly what I wanted.
If the past is any indication, I'm going to be craving my usual healthy fare for the rest of the week, and dessert won't be super appealing until probably next weekend. But if I do find myself craving chocolate tomorrow, I won't deprive myself! End rant.
After Smorgasburg, we moved over to Bakeri, an absolutely adorable pastry shop in Williamsburg that's actually been on my list of NYC spots to try for about two years.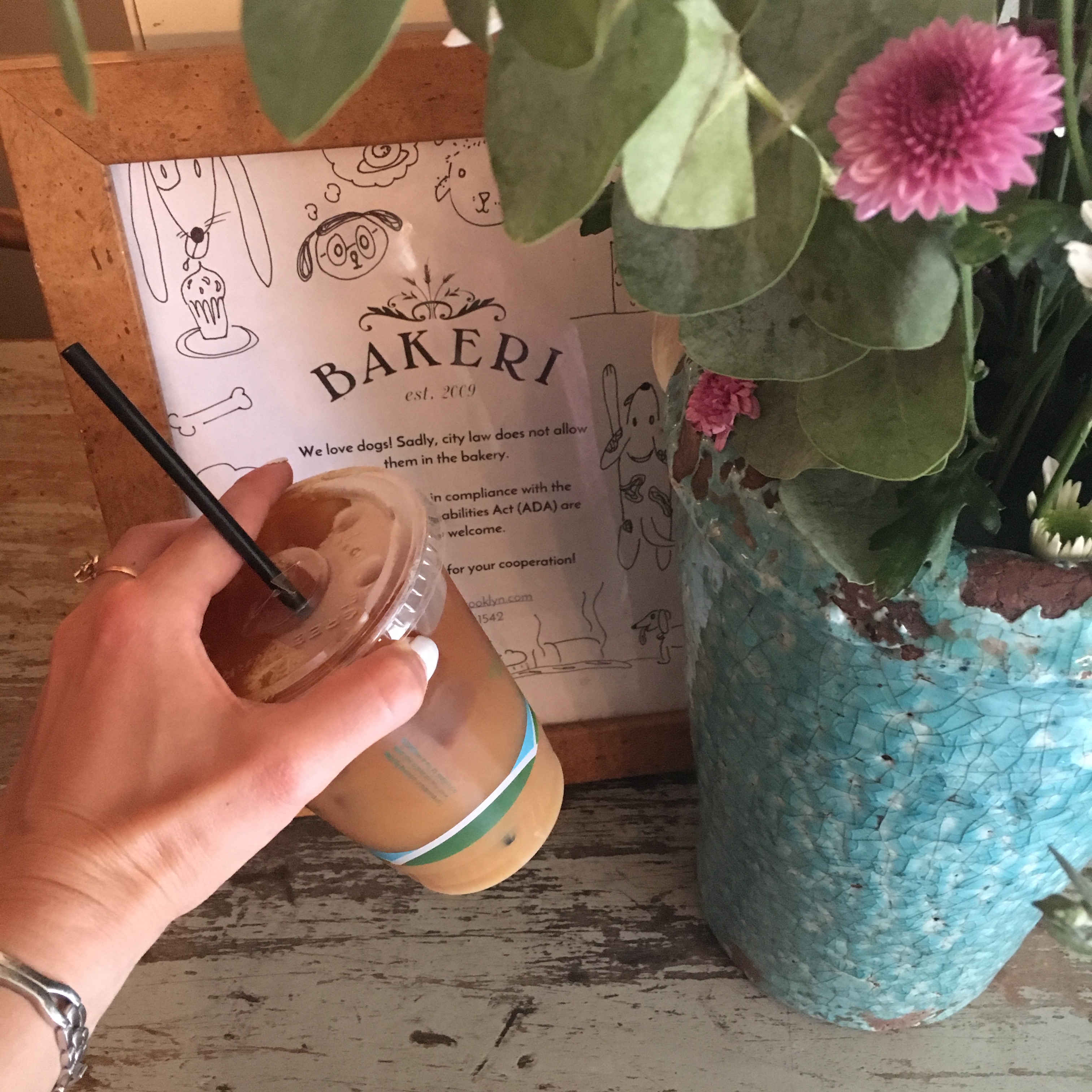 We were stuffed to the brim, so all we got were coffees, and we ended up sitting in there for the rest of the evening talking and laughing until our mouths hurt.
I came home feeling so refreshed and happy, and I ended the night by lighting my favorite vanilla scented candle and painting my nails. Ahhhh, yes.
Sunday
I didn't set an alarm and ended up waking up naturally at about 10am again. After an oatmeal breakfast, I messed around on social media, and then my dad picked me up for our hangout.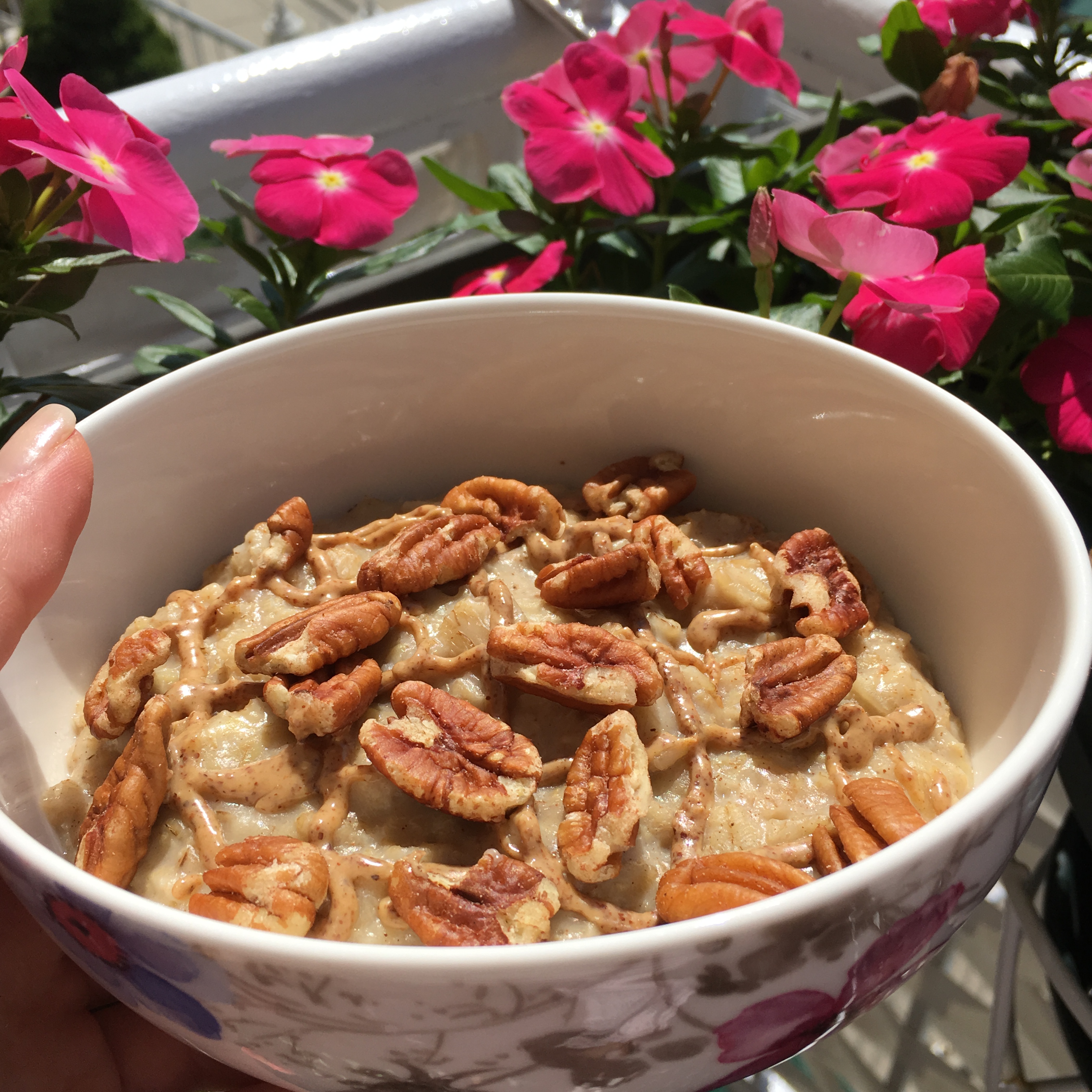 The plan was to go horseback riding, one of my favorite little-known activities in Brooklyn, and one I hadn't done in about 2 years.
Little did I know that they changed dress code rules, so my shorts and sandals were prohibited from riding a horse. My dad was a gem and bought me leggings and socks from the riding store, and the kind saleswoman lent me a pair of riding boots.
"There! Now you look just like a professional," the lady marveled. I laughed and waved my hand in an oh-please manner, gloating inwardly and silently reliving my childhood dream of being a professional equestrian.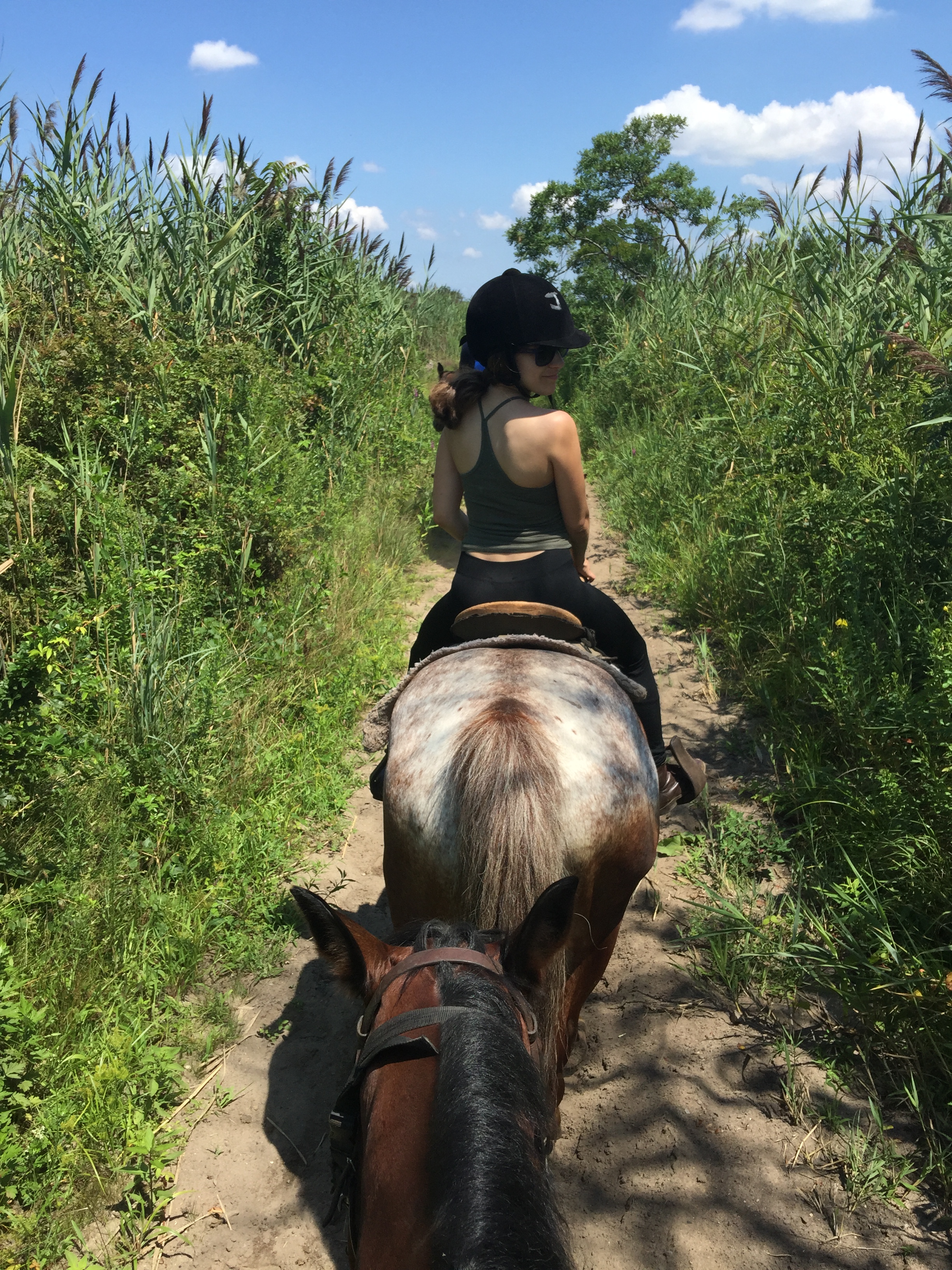 We booked an individual tour and ended up riding for about 50 minutes in the beautiful summer weather.
I absolutely adore horseback riding because it makes me feel so calm. Though nothing much happens, I find the time passes in the blink of an eye, and at the end of the ride, I almost feel like I just got a massage.
Dad and I went to go grab lunch from a Turkish place by my house, where I got a phenomenal iced cappuccino (my 3 coffees a week rule went out the window this week) and a salad loaded with mixed greens, apples, grapes, carrots, walnuts, and feta. And I stole a piece of my dad's lamb because girl needs her protein. #gainz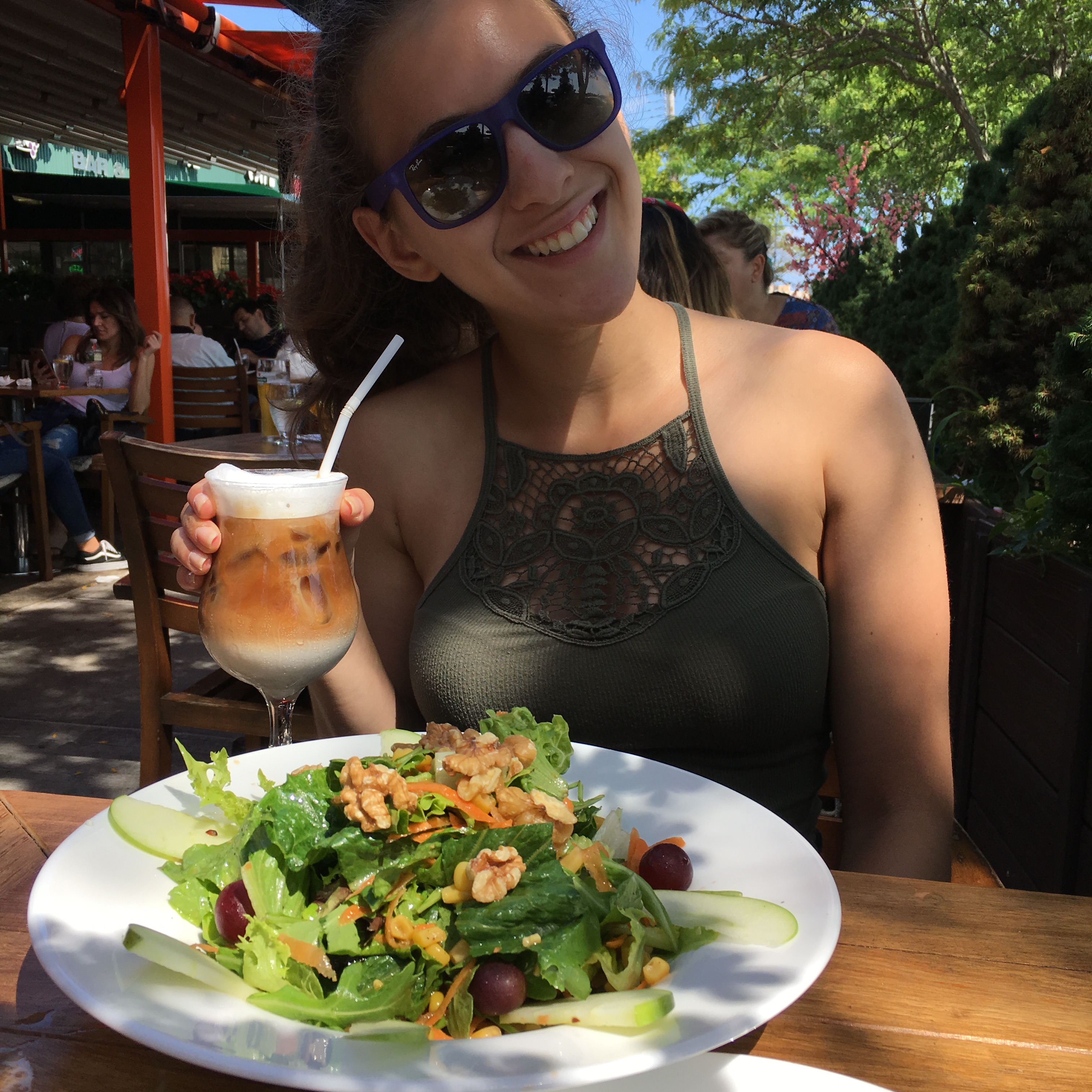 I got home and did some blog writing and reading, and then my mom and I settled down to watch the Jennifer Aniston movie Rumor Has It (I do NOT recommend) with a big bowl of "nacho popcorn" (I do recommend the popcorn).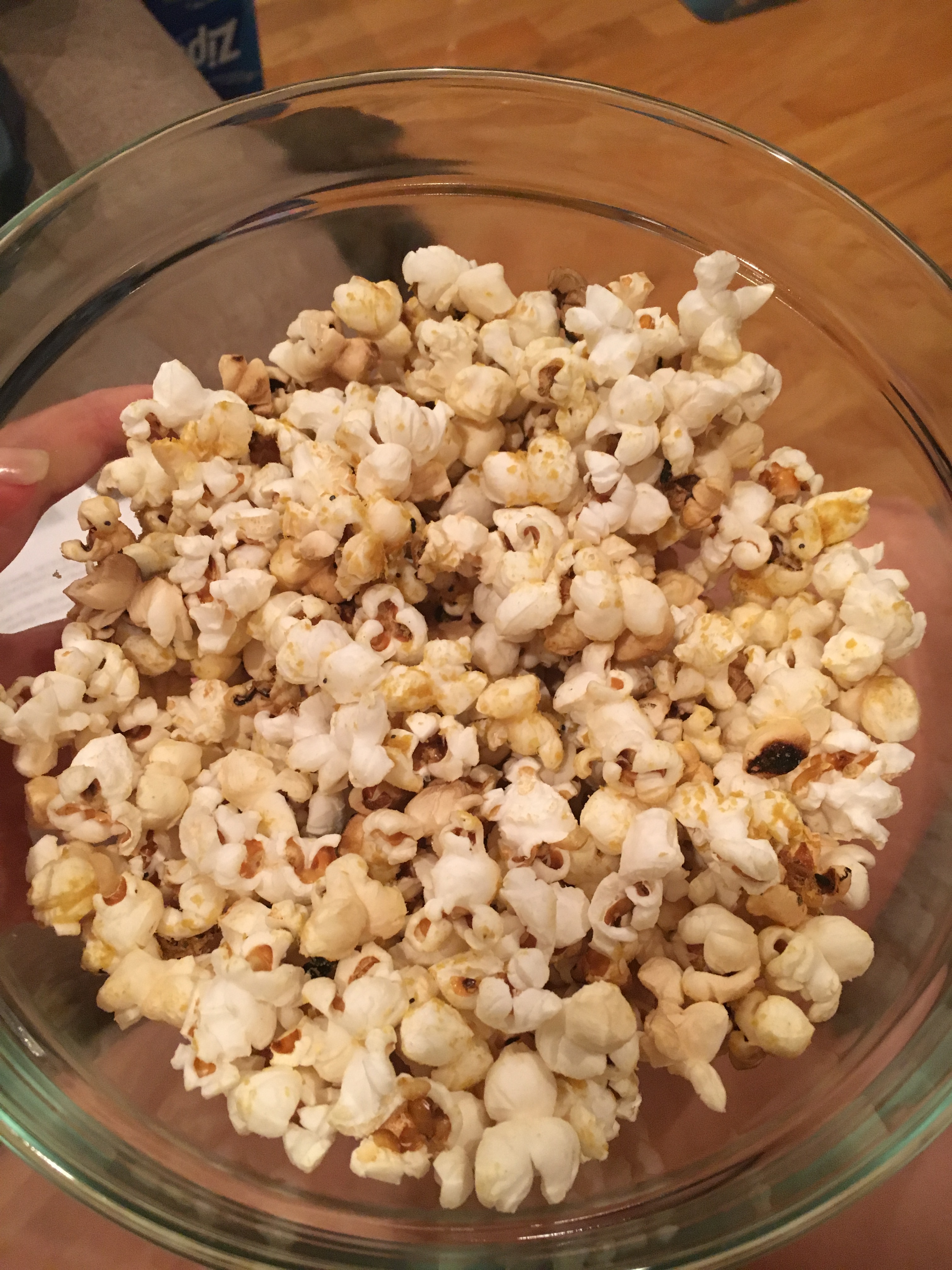 For the popcorn, all I did was put a tablespoon of coconut oil in a pan, then throw in 1/4 cup of Bob's Red Mill popcorn kernels (two servings) and followed the cooking instructions. Once it was done, I drizzled on another tablespoon of coconut oil, 2 tablespoons nutritional yeast (yes, I'm obsessed with it now), and Everything but the Bagel Seasoning from Trader Joe's. It was delicious and "cheesy" and even though the movie made me really lament the amount of time wasted and the amount of brain cells lost, I was really thankful to it for giving me the chance to make and eat this popcorn.
I'm being a drama queen, it wasn't THAT horrible, but let's just say, I'm going to need to watch a lot of Friends in the next few days to elevate Jen back to her high status in my mind.
And that was my weekend! Hope you guys had a great one, too.
Tell me about something fun, restful, or delicious from this weekend. 🙂
Share if you liked this post!