Everyone knows a holiday feast isn't just one meal. It's also dayyyys of leftovers. Which is awesome for the first two days, and then it starts getting a little old.
Like I mentioned, in my Russian family, New Year's is the most major holiday of the year. It's a lot of family and friends and food and laughs. This year, it was just close family and Georgetown Bestie, and for the most part after eating and exchanging gifts at midnight, we all just sat around talking until around 6am when we conked out.
Though one new tradition I decided to implement is actually doing Angel Cards. Basically, you choose three cards from a collection of 33 and these three cards are sort of the guiding words for the year. Mine were healing, light, and trust. Interesting…I suppose I'll see if they resonate when I'm ringing in 2019!
But back to the food. I've honestly reached a point where I'm pretty tired of all the indulgent fare and am ready to get back to all the plants. Our bodies are smart and know how to balance everything out. So yes, I've been eating bites of cheesecake after most meals and eating like one vegetable a day, but you know what, these are three days out of 365, and I know that I am more than ready to get back into normal eating in the next few days. No restriction or deprivation necessary; just listening to my body.
Let's see some eats!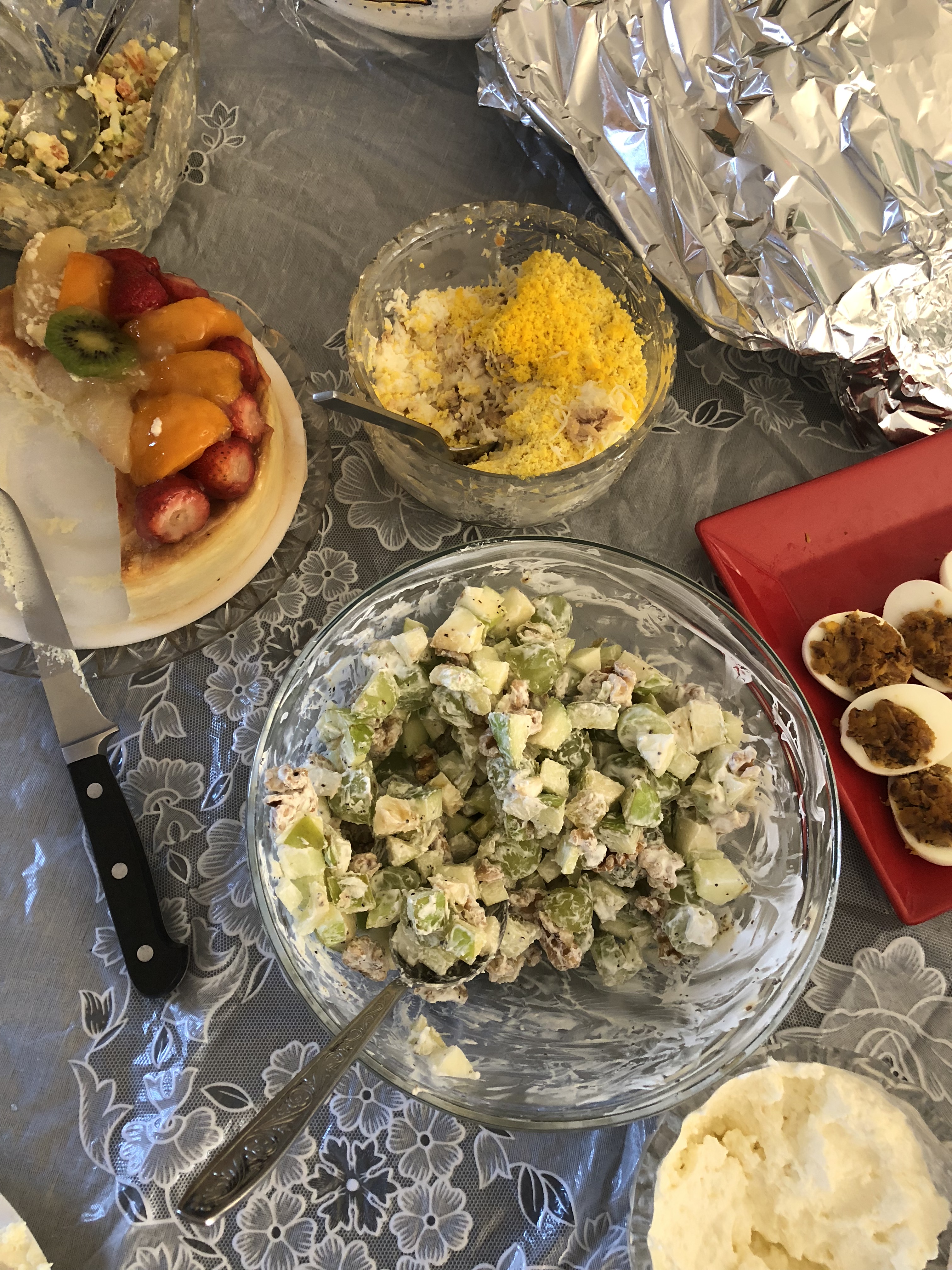 Some leftovers! The big bowl on the bottom is my New Year's specialty that I've been making for years. It's a healthified Waldorf salad, and it has green apples, green grapes, celery, walnuts, and a greek yogurt-lemon juice-salt and pepper dressing. It's delicious! Also pictured is some garlic creamy farmer's cheese, a salad that has salmon and cheese and other stuff I really have no idea about, deviled eggs (not a fan!), and the BEST cheesecake ever from a small Brooklyn bakery. Thanks for bringing it, Georgetown bestie!
Not sure if I ever shared this, but this is one of my absolute favorite easy meal ideas. Just bake a big sweet potato until super soft and caramelized and plop a nice blob of sunflower seed butter and lots of cinnamon (or I've been doing a lot of pumpkin pie spice lately).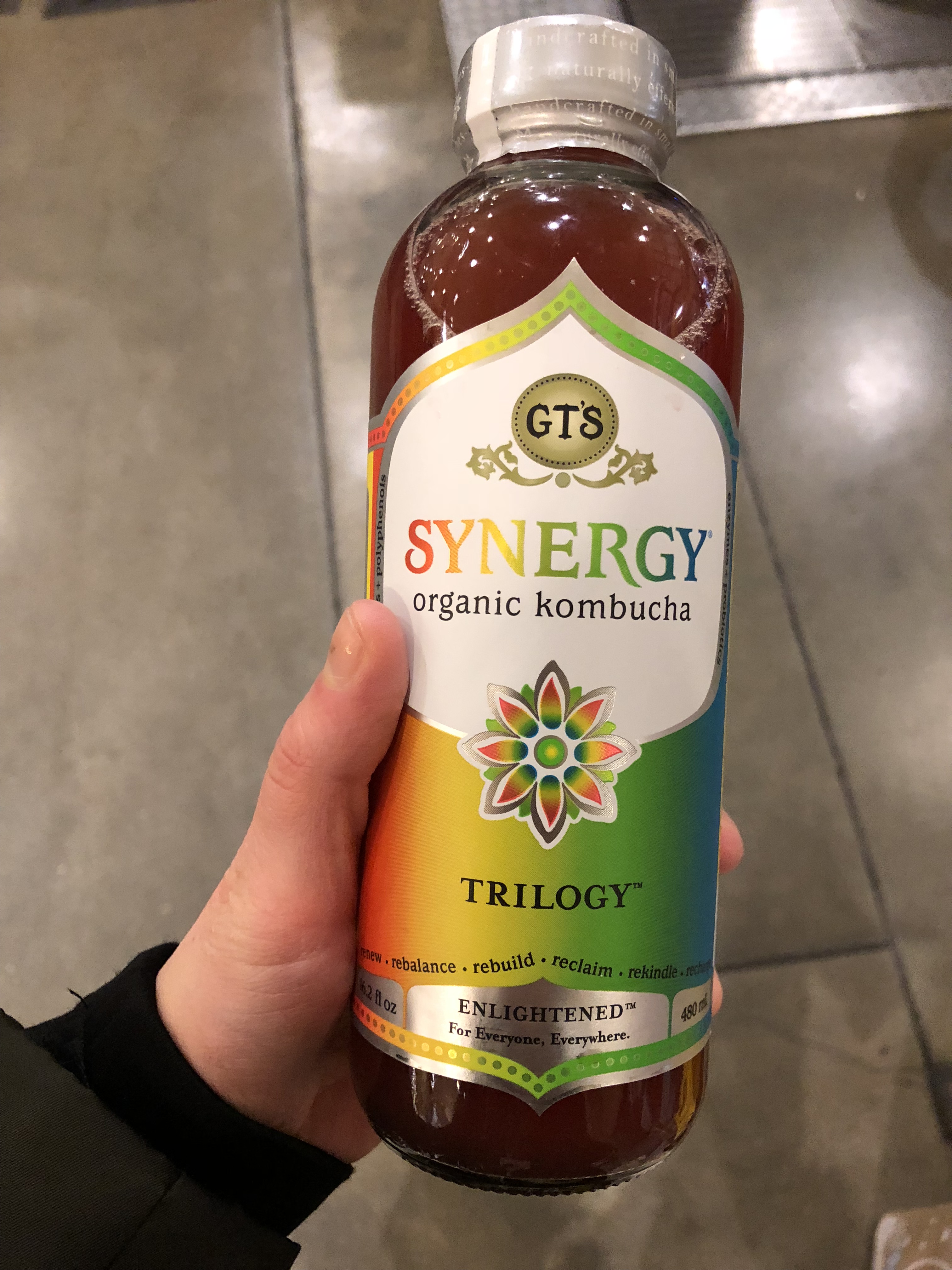 I was standing in line at Trader Joe's, and this caught my eye (dang those in-line purchases!). I'd heard high praise of this specific flavor before, and I'd only tried original kombucha before and was kinda meh about it, but I figured I'd be adventurous.
I actually really enjoyed it! Like I won't be having it on the daily, but it was a pretty refreshing and enjoyable beverage! Made for a good Girls-watching drink 😉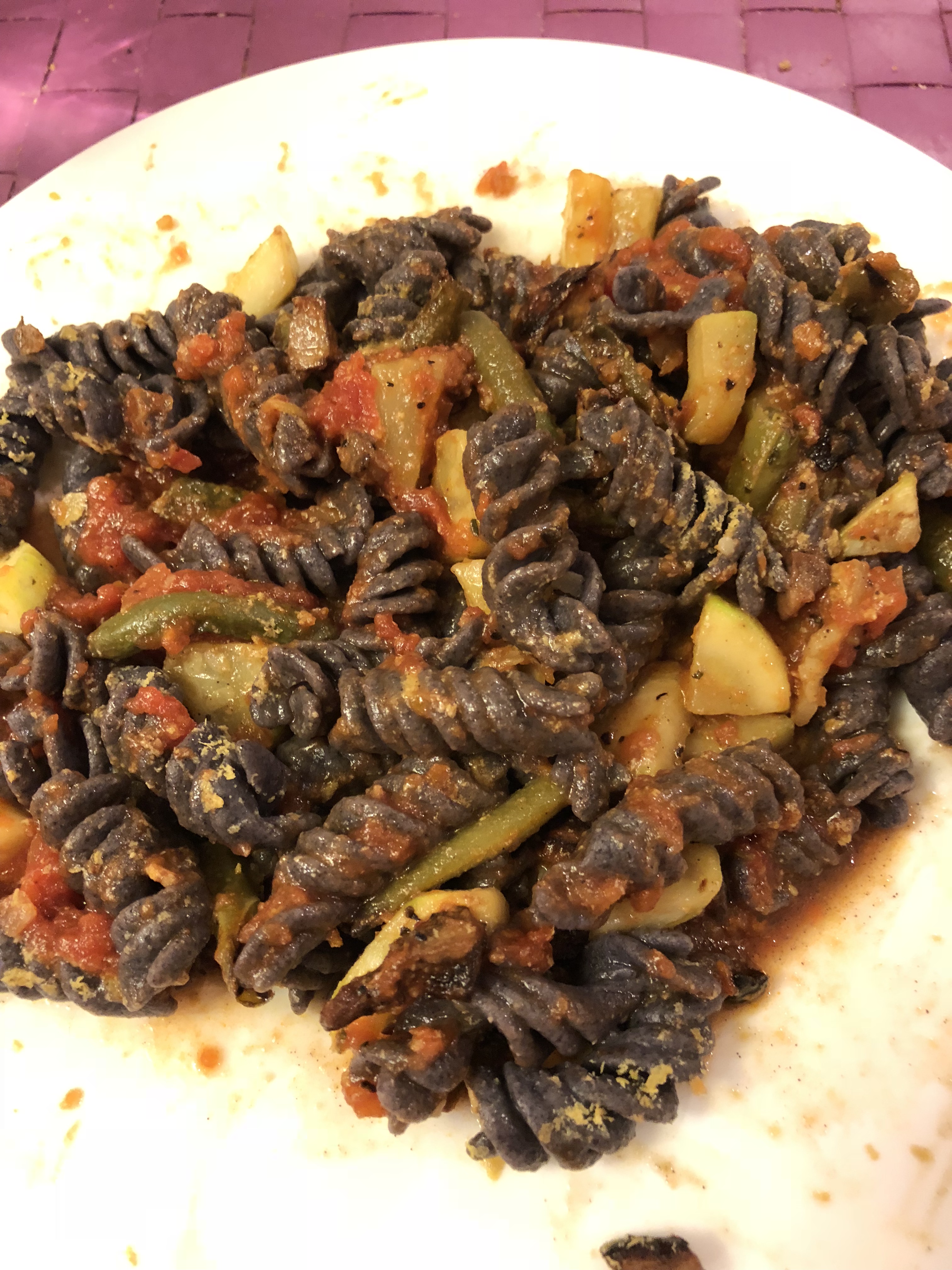 This meal turned out delicious. I cooked up some black bean pasta from Trader Joe's, roasted some green beans and mushrooms with olive oil and balsamic vinegar, and sautéed some zucchini, and then combined it all with some nutritional yeast and marinara. Yum, and so so easy!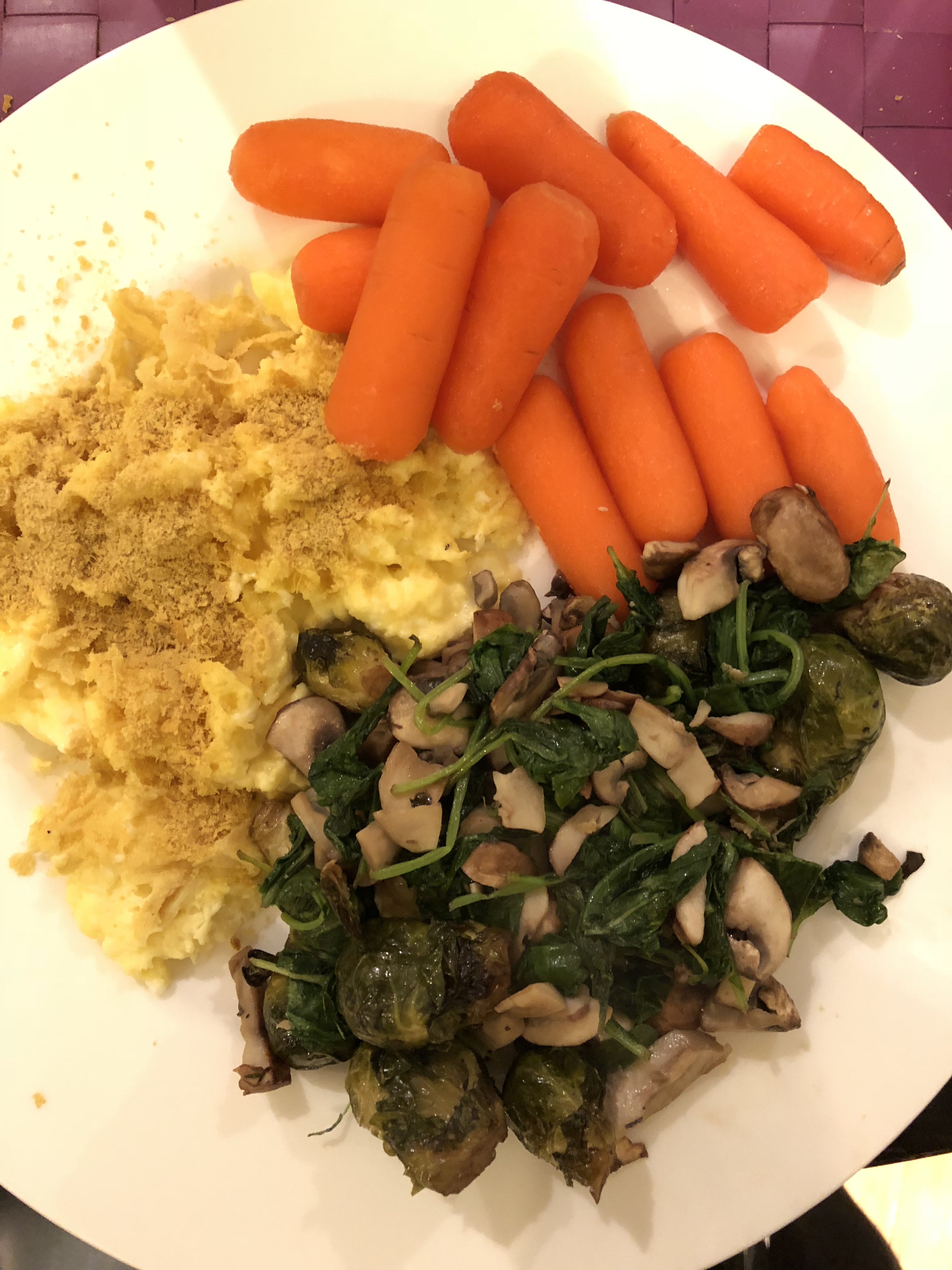 I was craving mostly veggies for this meal, so I scrambled up two eggs with some nutritional yeast, and then I sautéed kale with mushrooms (and drizzled on sriracha post-cook), and ate an abundance of carrots with a boatload of hummus. Hit the veggie spot! 🙂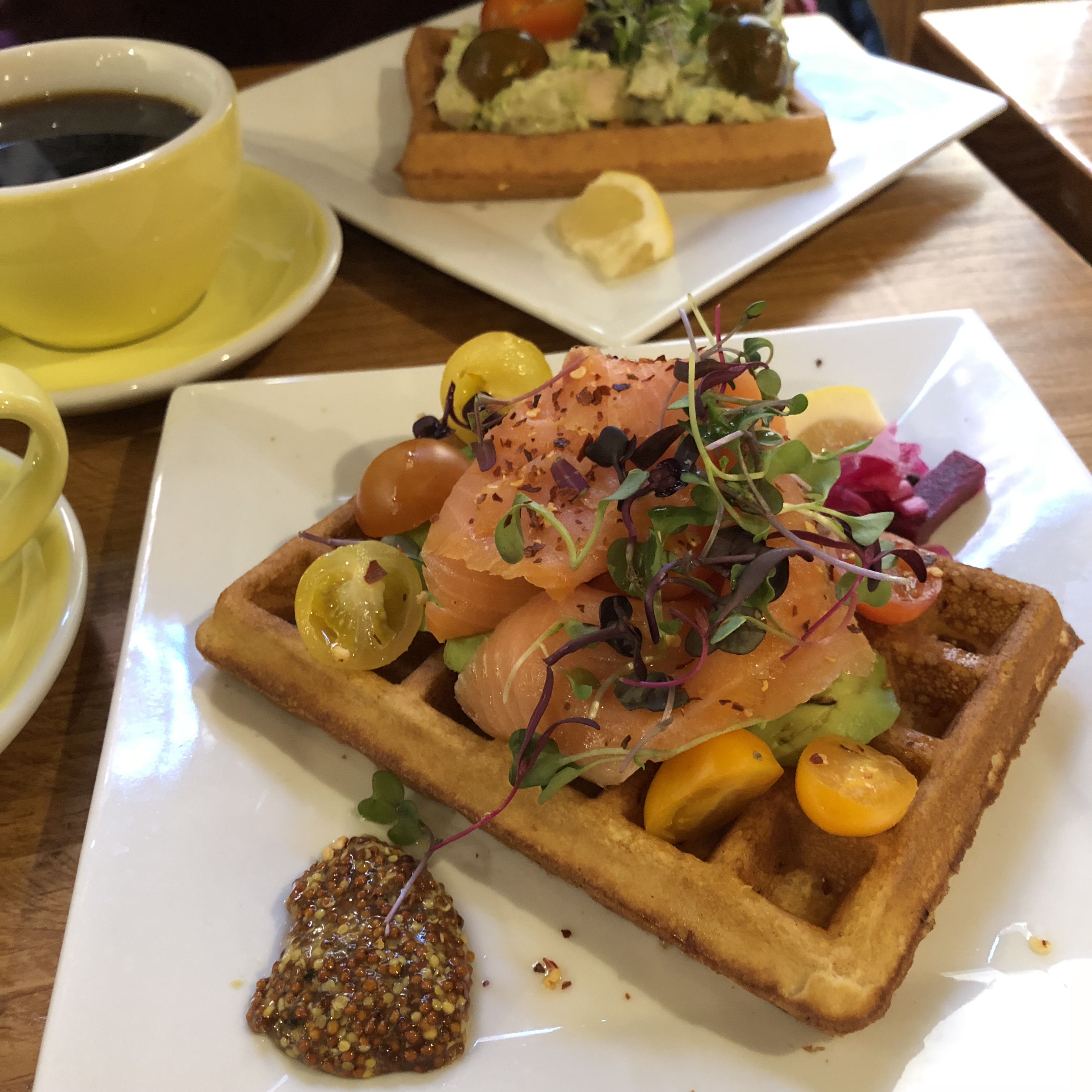 Georgetown Bestie and I always need to go to brunch when we're back in NYC 'cause duh, and we'd been eyeing the new Outro because we'd seen it on Instagram. We finally tried it, and I got the waffle with smoked salmon and avocado. It was definitely good, but to be honest, I felt like the place is a bit overhyped. Like the food is really pretty and all, but I'd rather the hype had more to do with the taste than the aesthetic, you know? It was still an enjoyable brunch, though!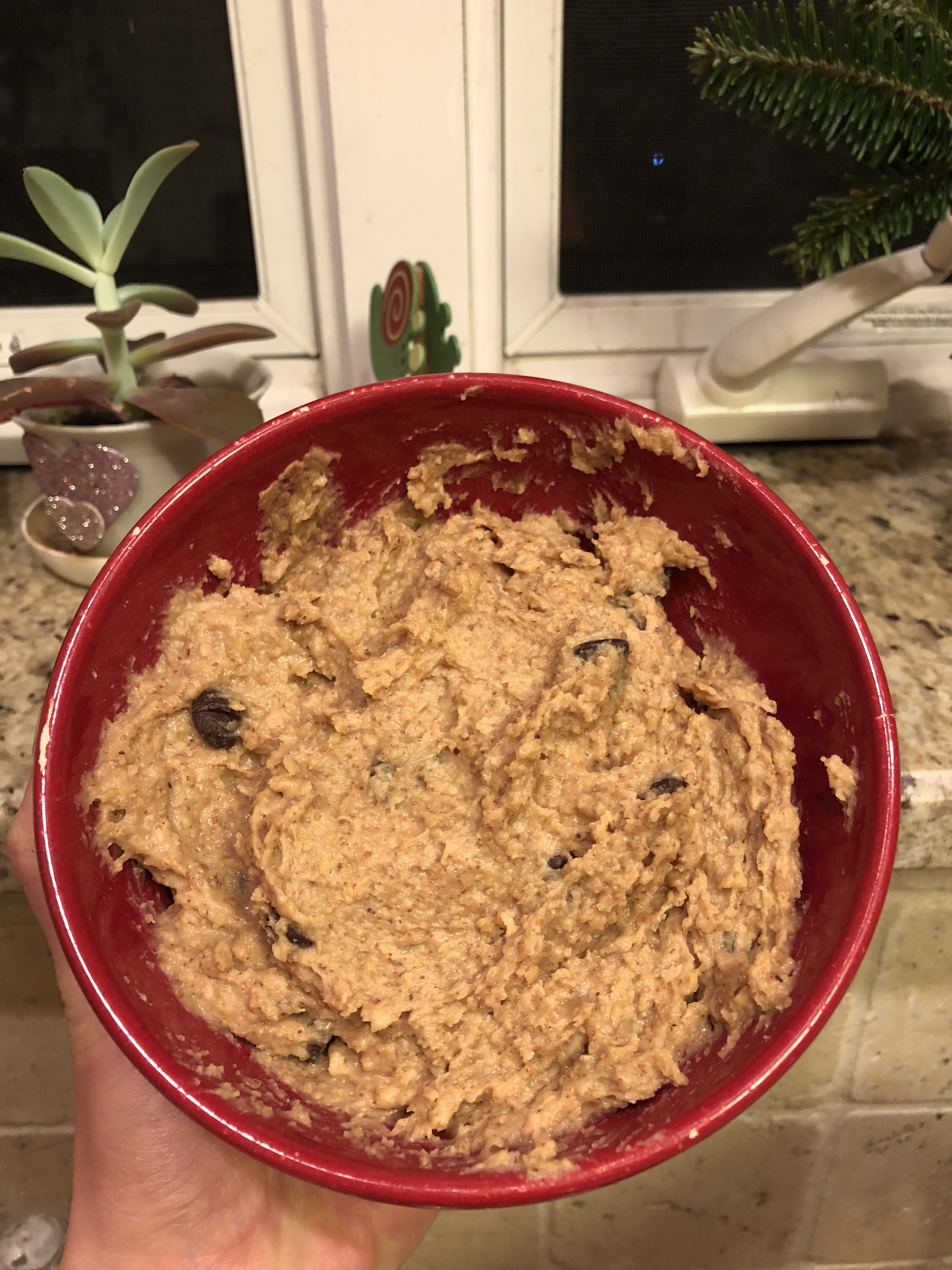 Okay this looks pretty gross, but it's one of the most delicious and super simple desserts/snacks ever. This is edible cookie dough that is made out of chickpeas and maple syrup and almond butter and other good stuff, so it's definitely better for you than real cookie dough (do you guys eat real cookie dough raw? I definitely scrape the bowl clean after laying out all the cookies.) But seriously, try this. My favorite way to eat it is to dip Honeycrisp apples in it. Just a little more fun than plain almond butter sometimes. 🙂
---
And that's about it! I'm going to be back in Georgetown in a little under a week, which is pretty crazy because in many ways, it feels like break just started. But I think I'm pretty ready to start spring semester; just gotta see a few more people and get a bit more surplus sleep before I get back in the grind. 🙂
Have a great Wednesday, loves!
Linking up with Laura for What I Ate Wednesday
Raw cookie dough– yay or nay? Ever tried chickpea cookie dough?
How did you ring in the New Year?
Best thing you ate recently?
Share if you liked this post!