Welcome to What I Ate Wednesday! (Or Tuesday, I suppose). How the heck are you guys?
So honesty time.
I've felt some MAJOR anxiety the past few days, the kind I haven't felt this entire summer, because it hit me that in two short weeks I'm going to be back in college. To say I'm terrified would be the biggest understatement of the year. Freshman year was kind of a doozy for me (expect a post about things I wish I'd known freshman year coming soon!), and though it did come with tons of wonderful surprises and growth and new friends, it also involved a lot of struggle and challenges and tears.
I think this summer I've just grown so accustomed to COMFORT— both in the sense of the people surrounding me and what I busied myself with. And college?
It's going to catapult me straight out of my comfort zone and into the land of the unknown. Which is simultaneously exhilarating and petrifying.
But! We're gonna keep on keeping on because summer is not over yet, and we'll cross that bridge when we get to it.
So without any further heaviness, let's jump into my eats!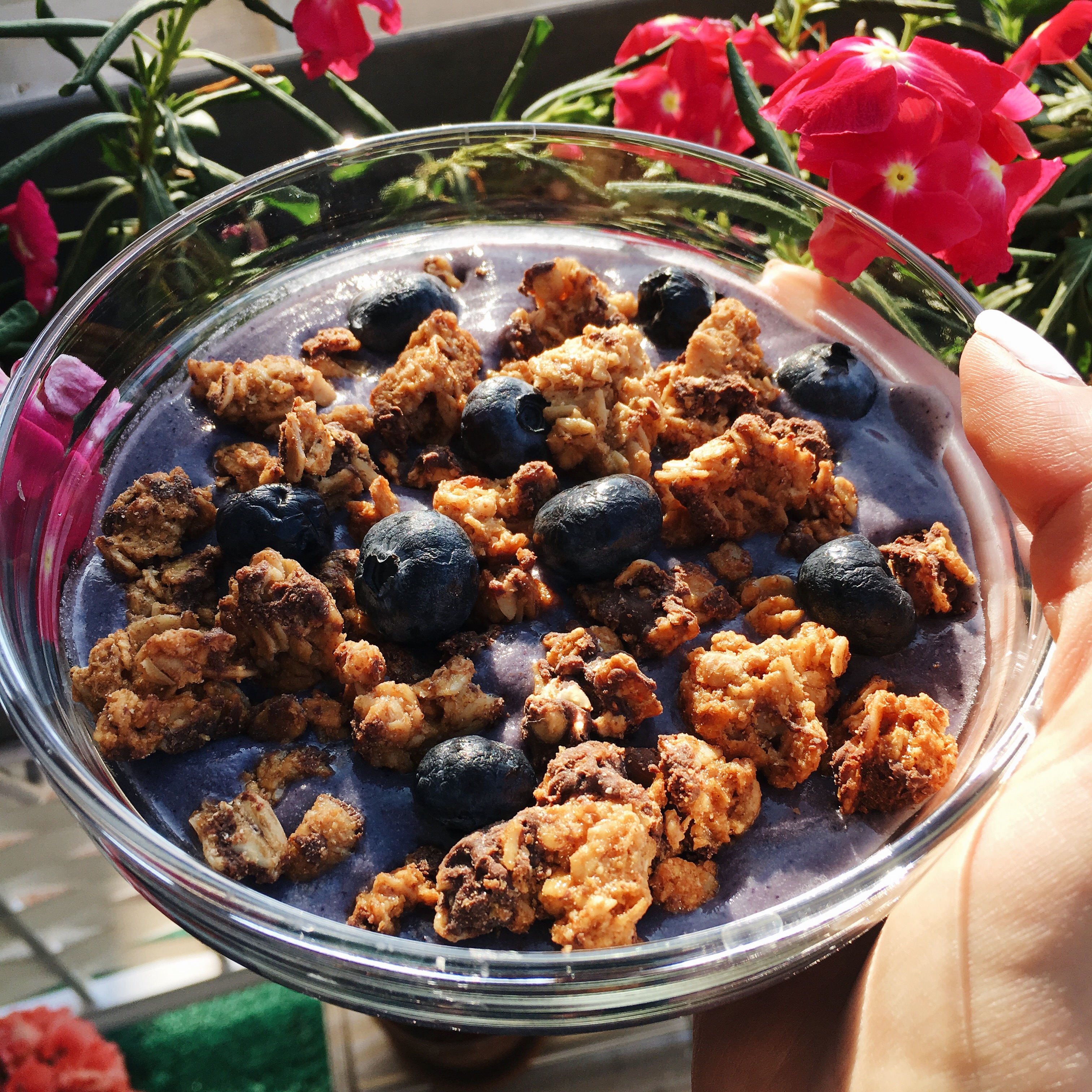 Breakfast was this smoothie bowl that I have already shared on Instagram, inspired by the one and only Rachel Mansfield. It was totally delish, and I topped it once again with a sprinkle of Jessica's Gluten Free chocolate chip granola and fresh blueberries. Hit the spot.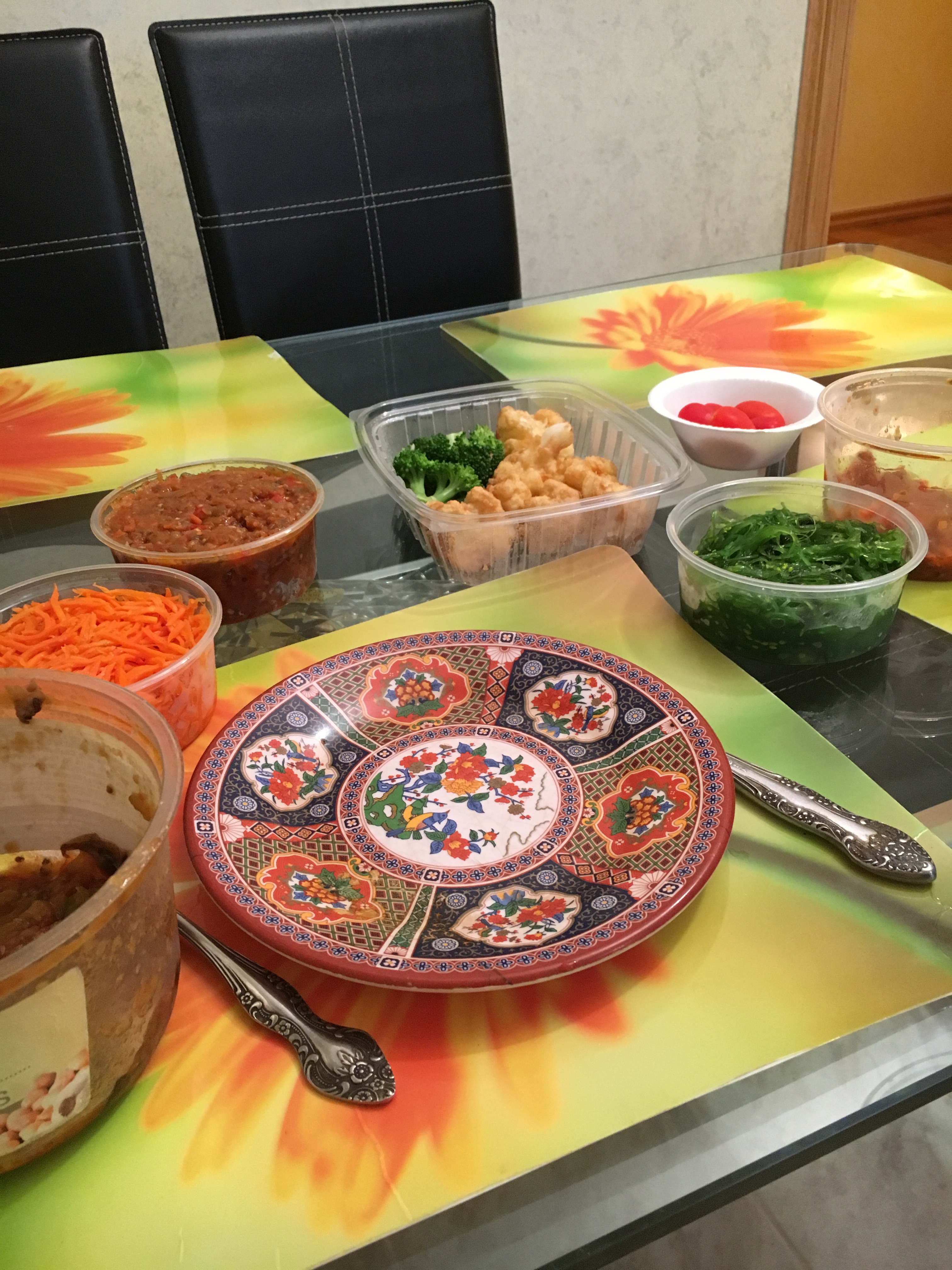 I had an unpictured square of yummy dark chocolate that the grandma of the kids I babysit gave me, and then she made me lunch. Yes, best job ever. Have I mentioned the kids are fantastic and we get along great too? I honestly still think I'm dreaming because I never expected us to hit it off like that. Not complaing though!
She gave me a hodge-podge of stuff that involved a chicken cutlet, some "eggplant caviar," stewed veggies, seaweed salad, and egg-battered cauliflower. I basically just ate some of everything.
I got home and worked out, and then my mom and I went out to get coffee really quickly from a new swanky coffee shop in our neighborhood.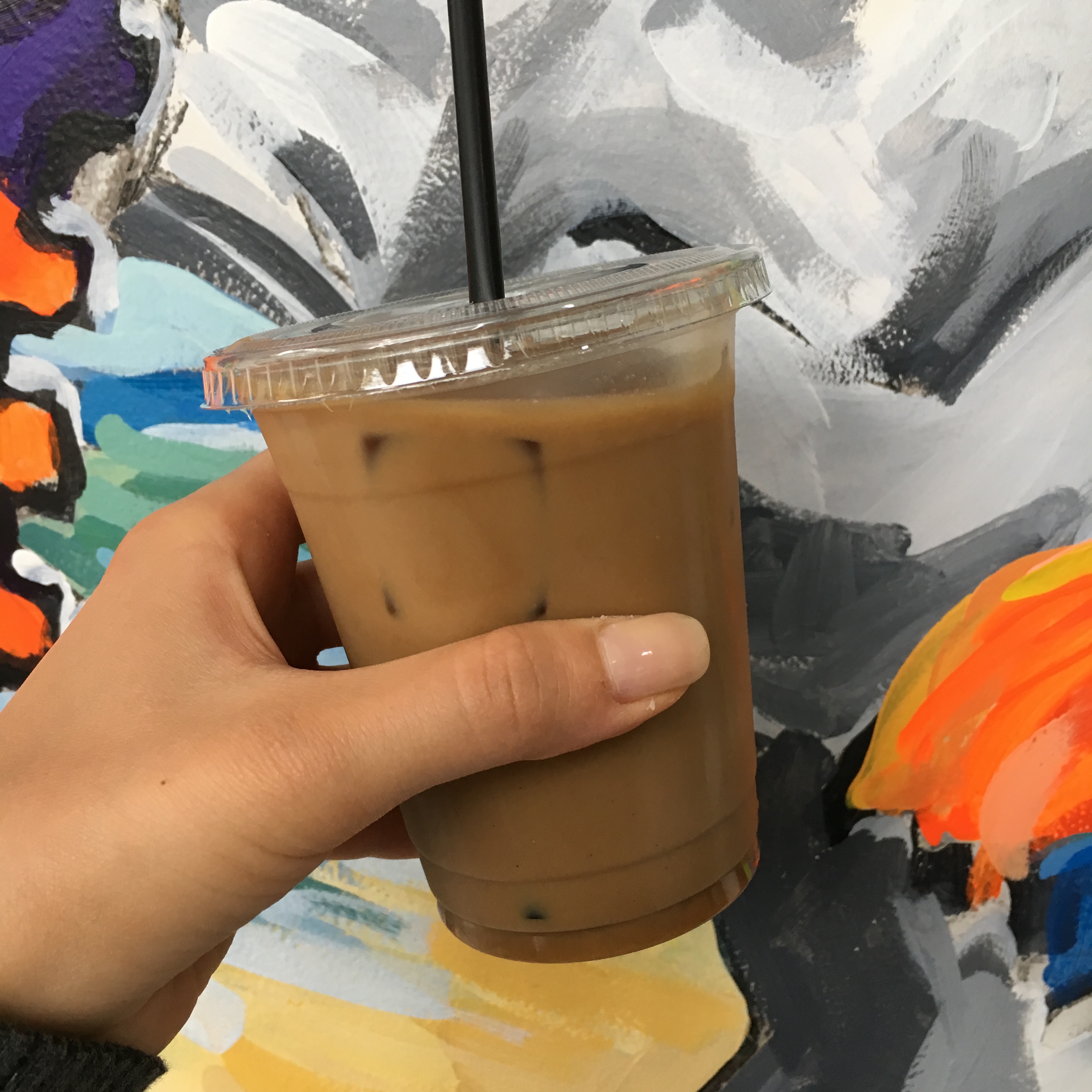 I had a soy iced latte and half of my RX bar (oh and a few bites of my mom's blueberry muffin) before sprinting to my tutoring job.
After tutoring, I worked on this post and FINALLY backed up my phone. I'd been having the issue of continuously having the "out of storage" message appear, which forced me to delete old pictures in order to have room for new ones. Today I finally looked at it, and it turns out I simply had too many podcasts taking up room on my phone, most of which I don't even listen to. After deleting like 6, I freed up a good 14 GB, so…crisis averted! 🙂
Who ever expected Nicole to be running out of storage on her phone because of podcasts? My, how times have changed. 😉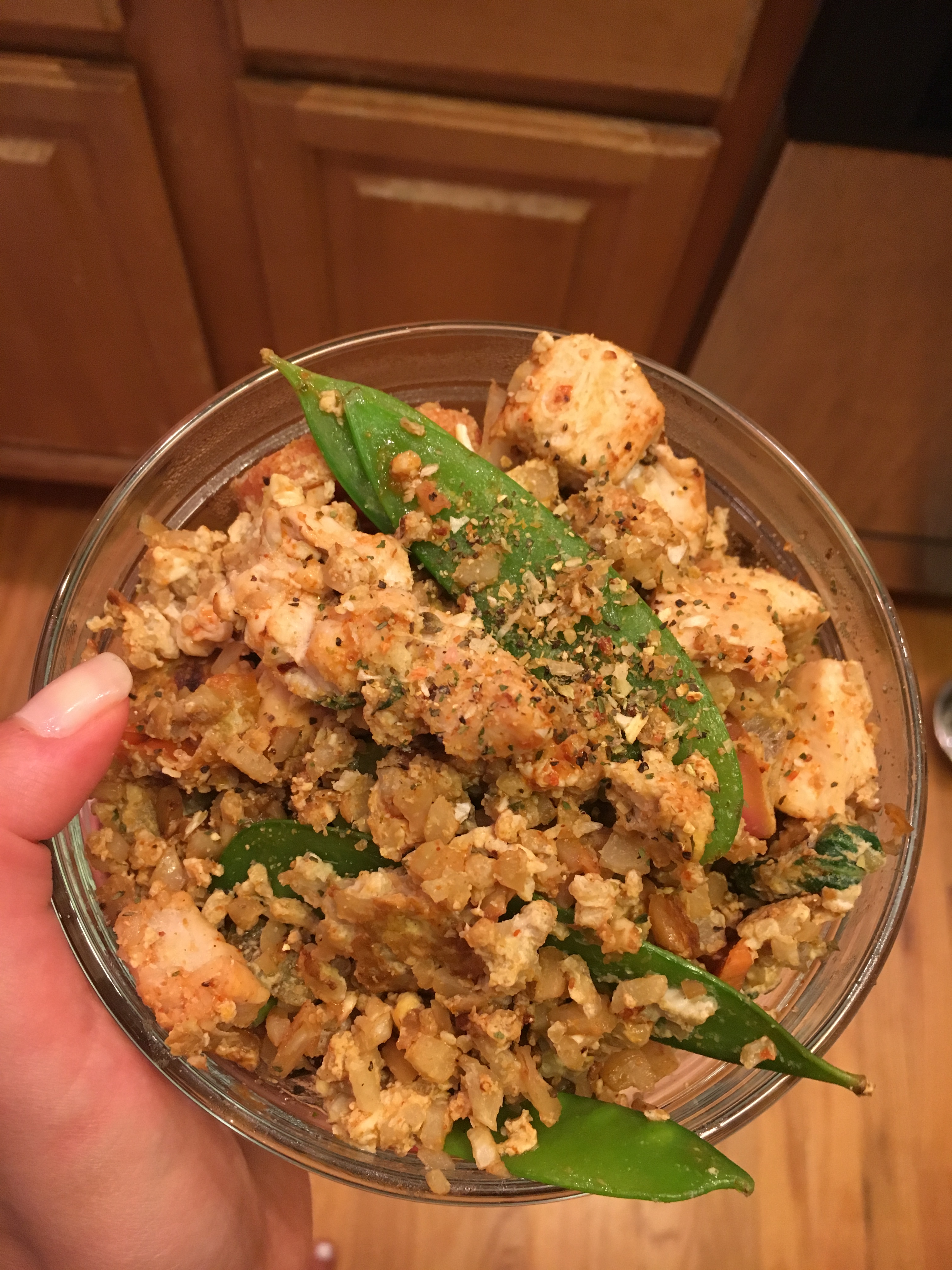 I had cauliflower rice stir fry for dinner, which was sautéed riced cauliflower with Asian stir fry veggie mix from Trader Joe's (just red peppers, mushrooms, snap peas, and onions), chicken breast, an egg, coconut aminos, and sriracha. Filling and delish!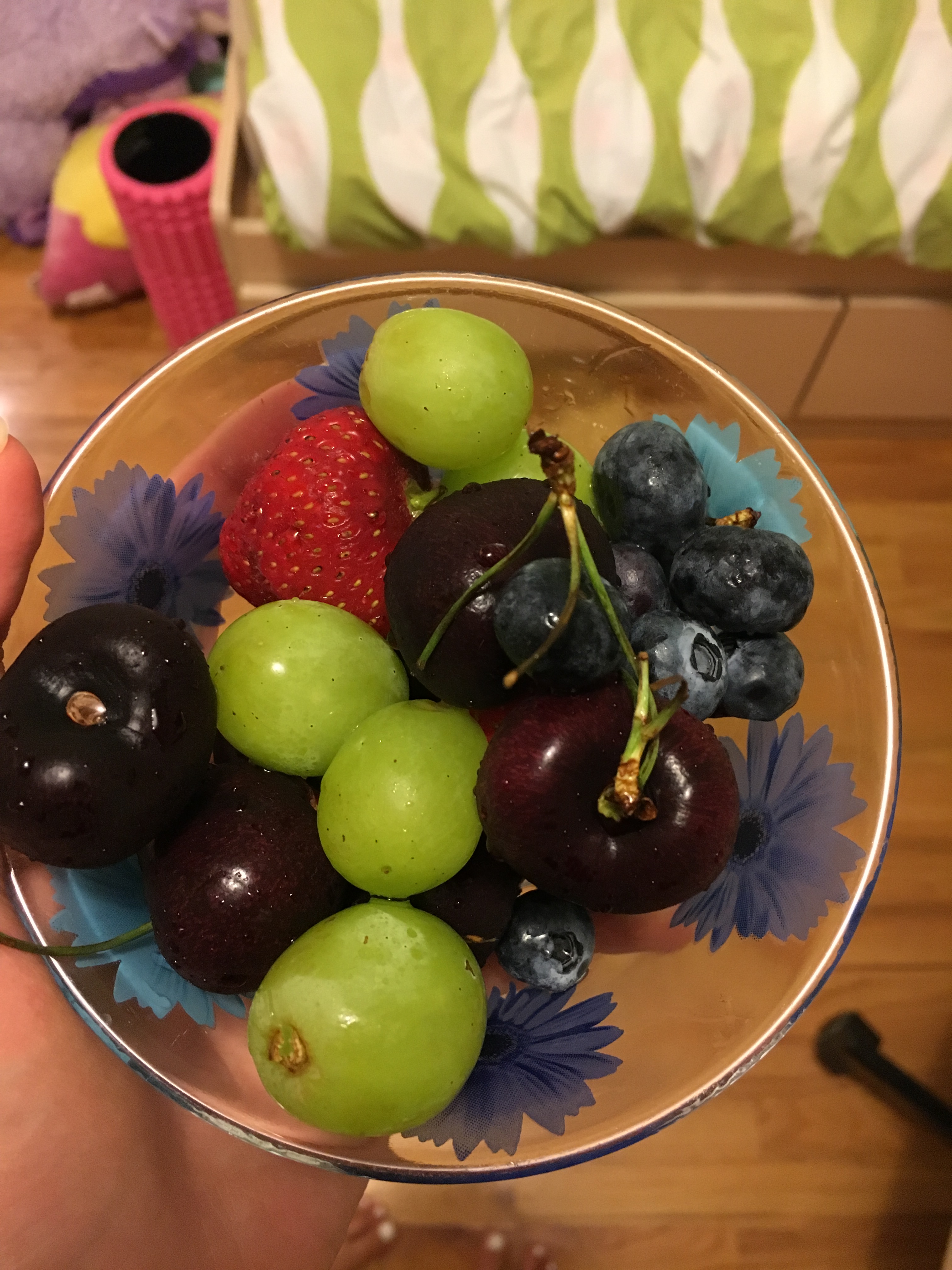 A little while later, I ate this little bowl of fruits + a few unpictured pieces of pineapple with Princess Diaries as audio in the background (I NEED to rewatch that movie; what a gem). Oh yeah, and a spoonful of peanut butter duh.
That's all for today, dumplings!
Tell me something delicious you ate in the past few days!
Linking up with Laura for What I Ate Wednesday.
Share if you liked this post!