Hello, lovelies, and welcome to another edition of What I Ate Wednesday in college! I feel like every time I show you guys what I eat, it's a super weird day, and I feel like it's not necessarily an accurate portrayal of how I eat…which is precisely why I preach the importance of not comparing your day of eats to any blogger's or a friend's or anyone's.
Not only do you not know how they eat on other days or what their activity level is, but also each and every human functions differently and needs to eat different foods in different amounts to thrive. So stop comparing!
The purpose of these WIAW posts is to just give you guys a little window into a day in the life of a college gal and maybe to inspire you with a couple meal ideas. Though let's face it, most of the time I'm as lazy as they come with my meals, especially in college, and I'm just trying to eat enough to give me the energy to finish everything I need to get done that day.
Also, I have decided to take this week off working out, since it's been a while since I've done that, and I've also been having a weird back pain since Saturday. Happens sometimes, and I always try to take it easy until it's completely gone, since I'm not too keen on actually injuring myself.
OOOOH also! I don't know if you guys know about my obsession with Sweetgreen, but it's real. We used to have one right by campus, and I frequented it more often than I care to admit last year. But it's been under renovation since last May, which means Georgetown Bestie and I had no choice but to Uber to the closest other Sweetgreen.
Yes, we're those people.
And guys, it was the best decision. I mean just look at how happy I look with that salad.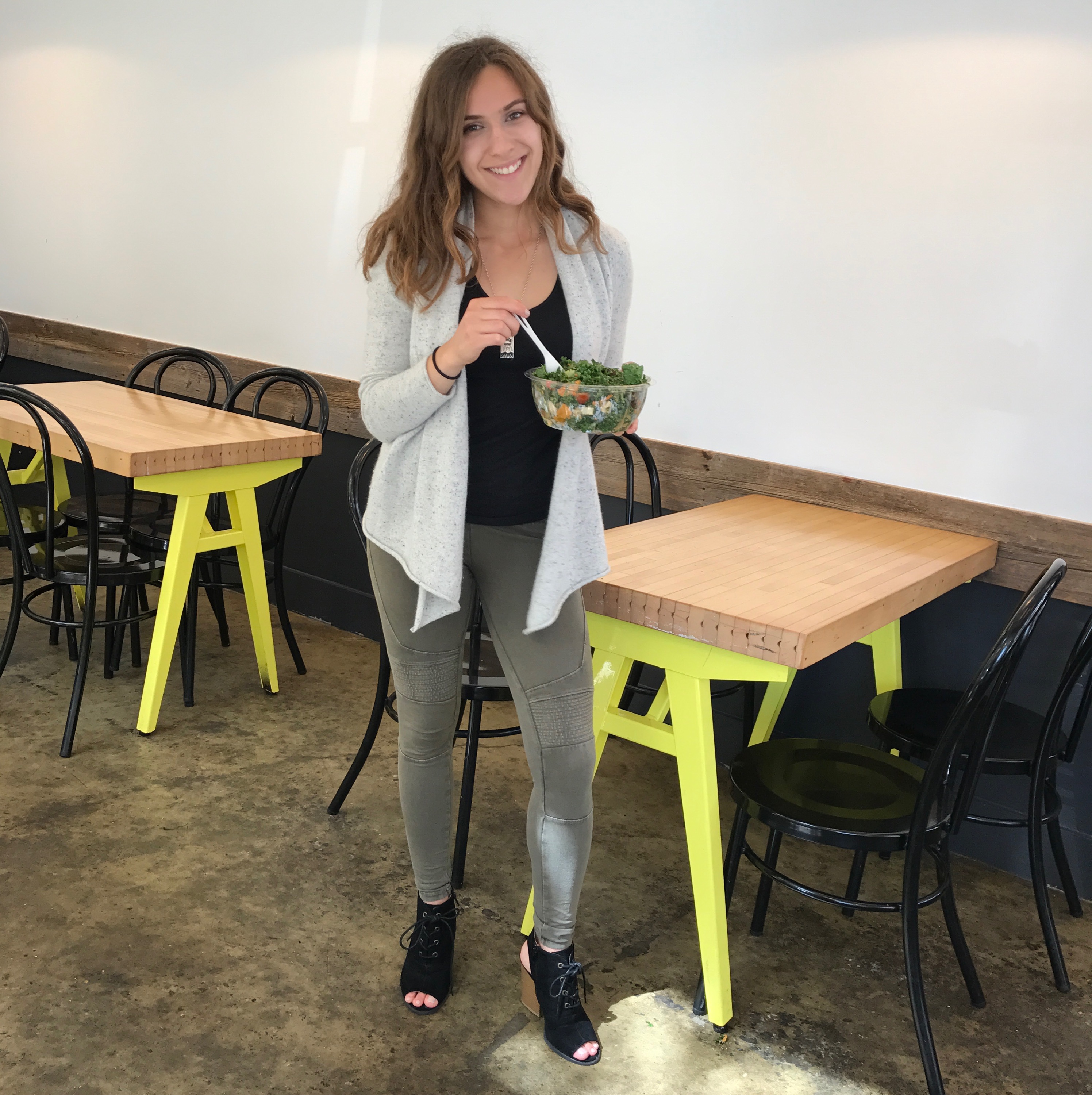 Let's jump into Tuesday's eats!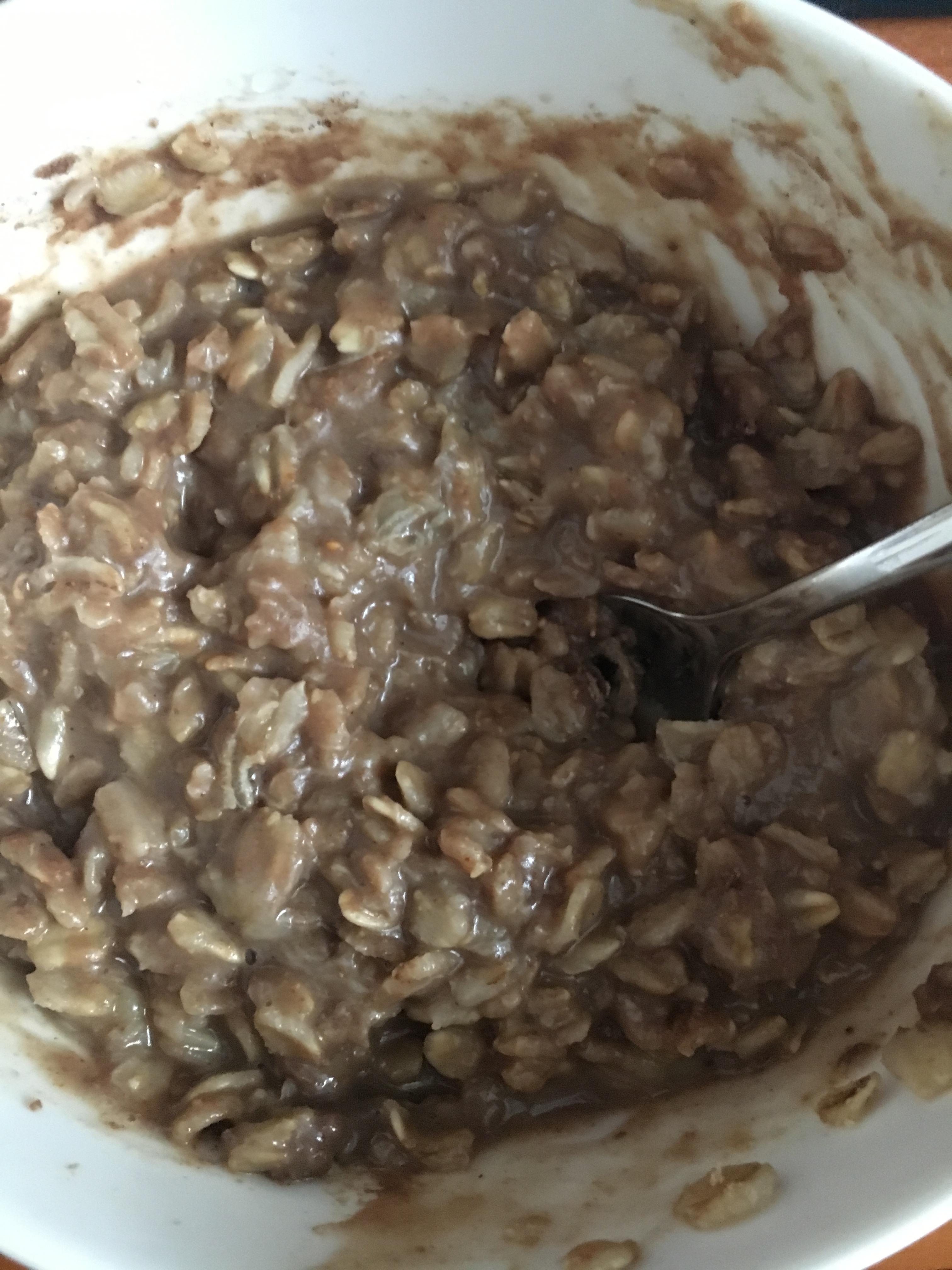 Breakfast was my favorite microwave oatmeal recipe that I created and lived by last semester. It's just 1/3 cup oats, 2/3 cup almond milk, 1/2 banana microwaved for about 2 and a 1/2 minutes. And then I add half a scoop of Vega chocolate protein powder, a splash of vanilla extract, and a nice scoop of peanut butter, and I have a delicious and filling breakfast with minimal effort! This was eaten at about 9am, right before class.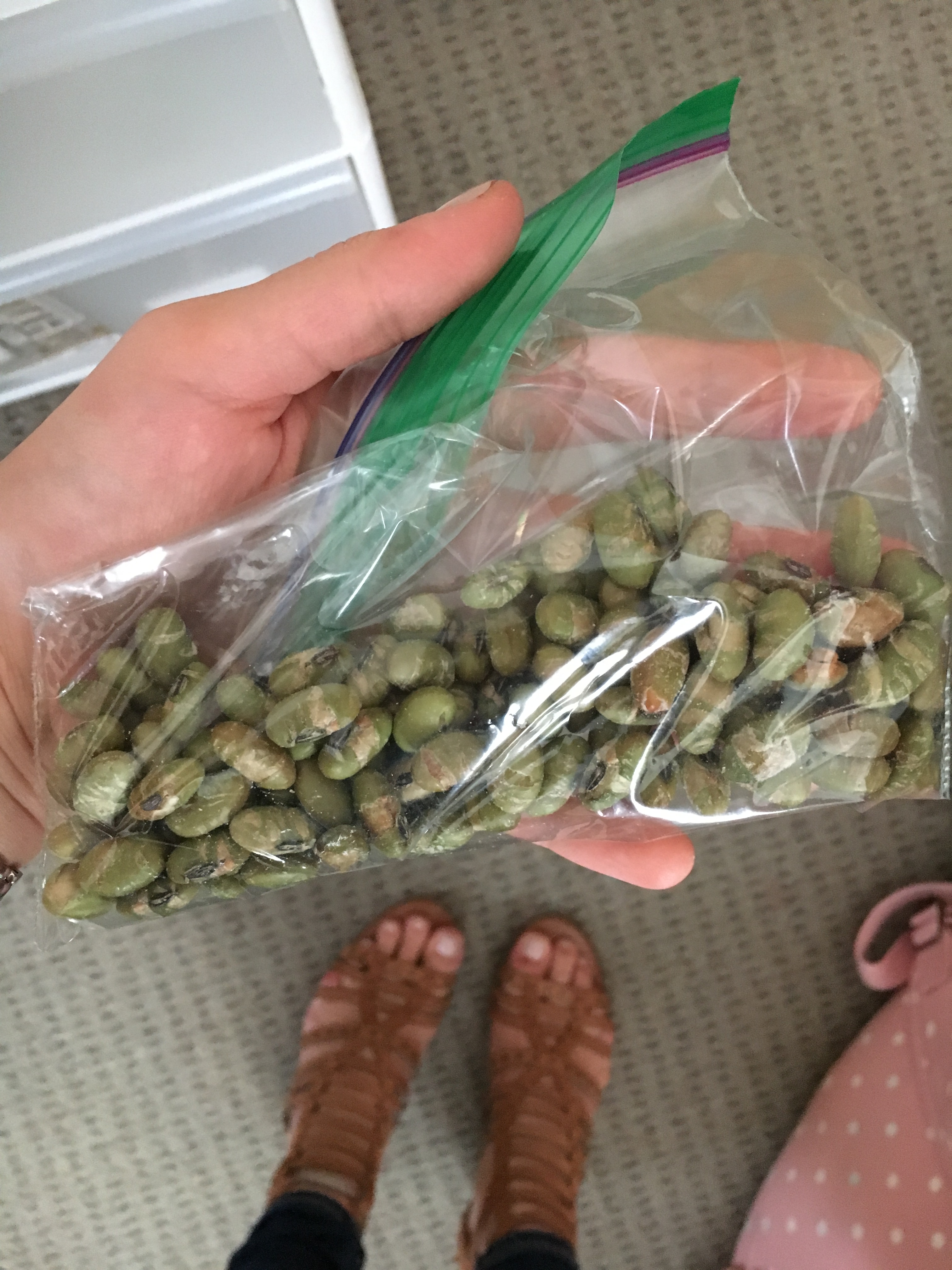 The oatmeal held me over until my 12:30 class, and after some angry noises from my stomach region, I pulled out my dried edamame and proceeded to obnoxiously chomp in my Journalism class. Thank goodness it's not a quiet class, so I didn't feel too bad. I get this stuff at Whole Foods, by the way, in the nuts and seeds aisle, and it makes for a phenomenal snack!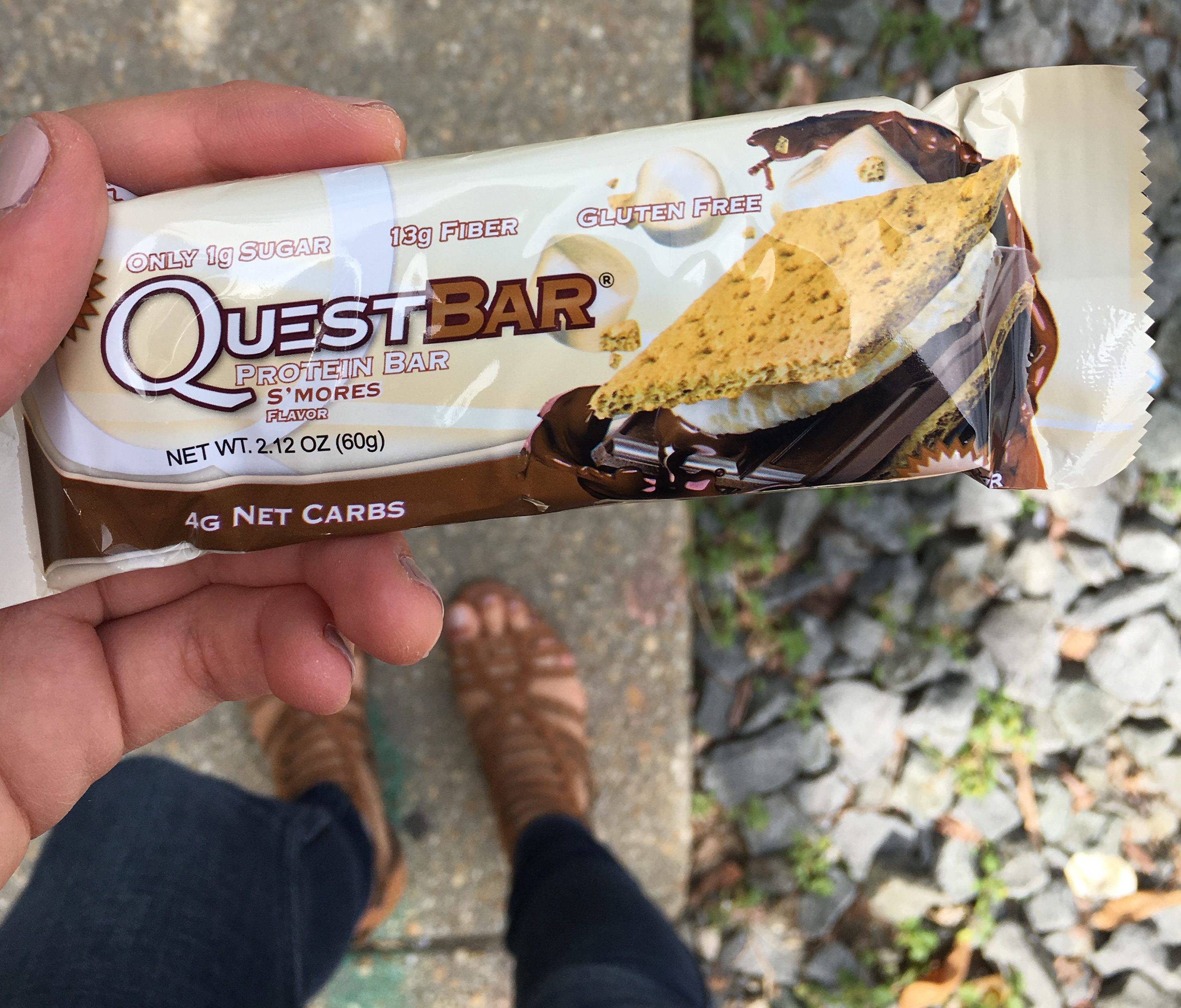 Next up at about 3pm I scarfed down this Quest bar, which is one of my favorite flavors, on my way to work.
I literally did not have a moment to myself until about 5:45 since after work I had a study meeting, but I had to get my friend's gift ready since I was coming over to her room for a mini birthday bash.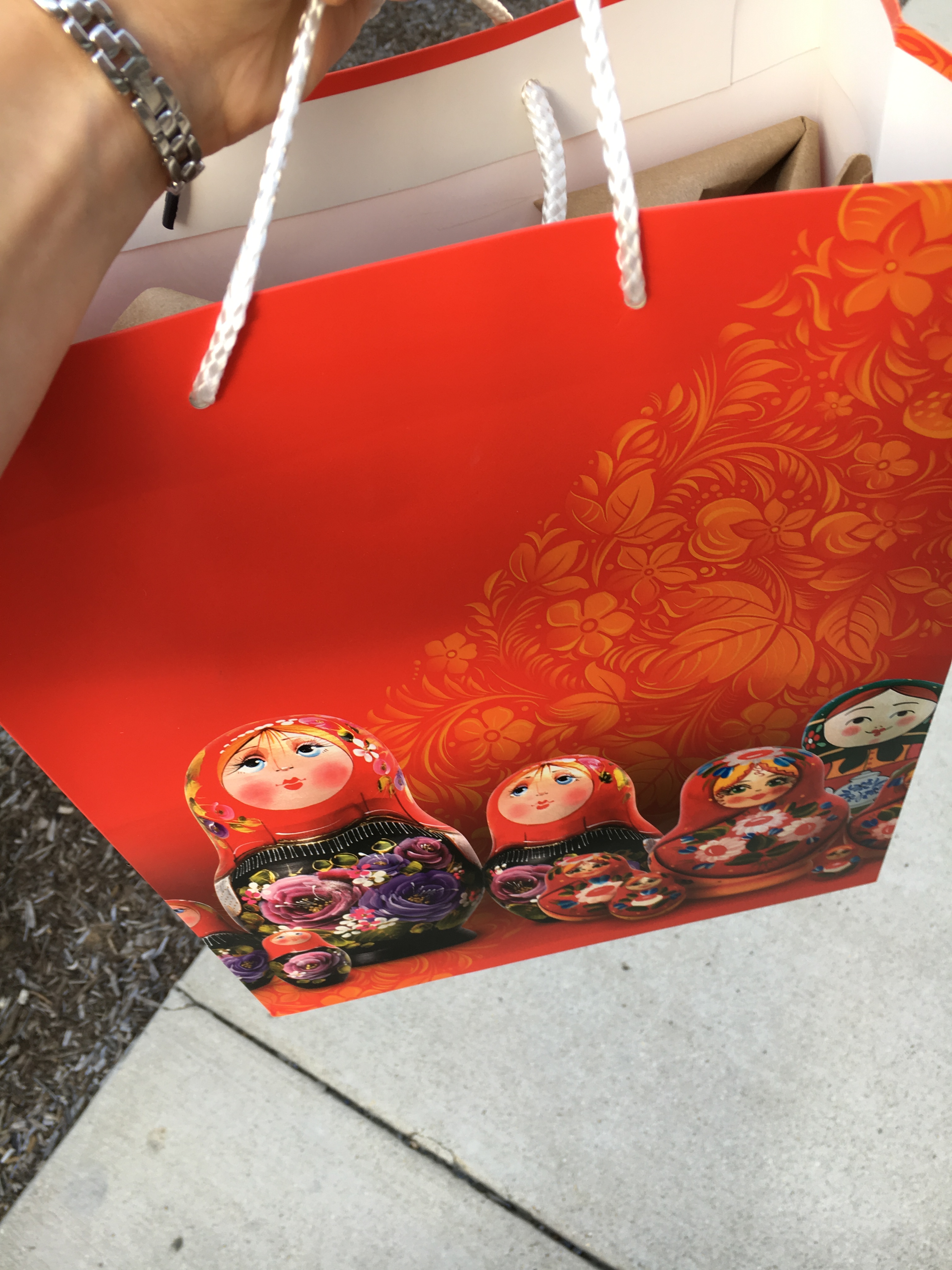 She's really into Russian things 😉
Before I left the room, though, I ate some carrots with hummus because my veggie consumption was SLACKING and I was super hungry.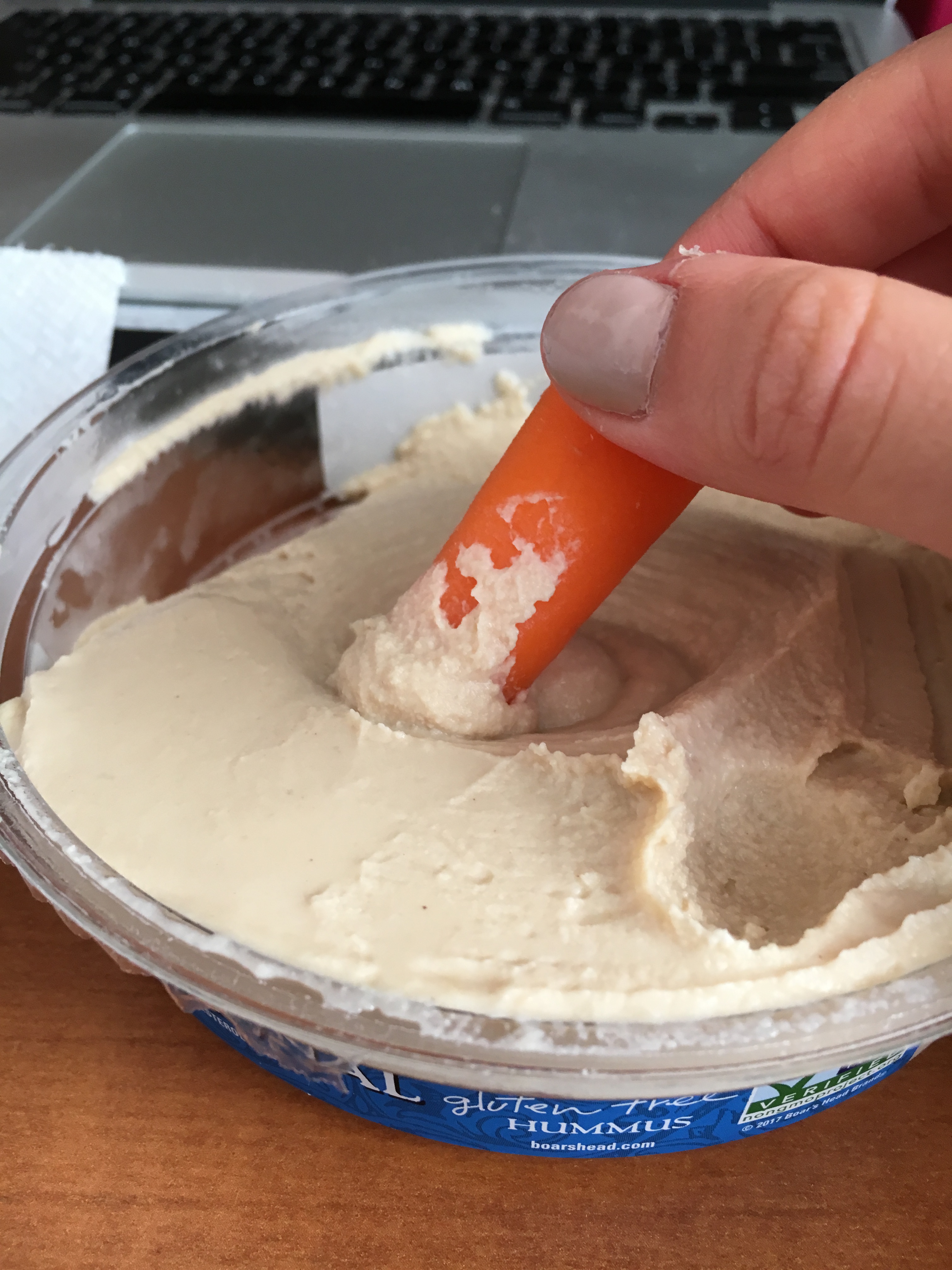 We basically hung out and watched a movie in her room, and we ordered food from her favorite restaurant near campus called Curry and Pie. I mentioned it in this post, but it's the one that fuses Indian food and pizza. We got a few pizza pies, and I had a slice of the veggie curry paneer. It's a pretty small size, but it really filled me up, so I didn't get to try the other flavors they ordered. Good thing they're so close to campus! I also had a bit of the french fry chaat, which is just fries with curry spices and veggies and chutney, and it's super good 🙂
Sorry for the quality; it was dark in the room, since we were watching the movie. Oh and that's Georgetown Bestie in the pic, representing our school oh-so-well. 😀
I did leave some space for a brownie that one of my friends baked in honor of the birthday girl. It was so good! Super gooey, and I could taste the dark chocolate, which I'm all about!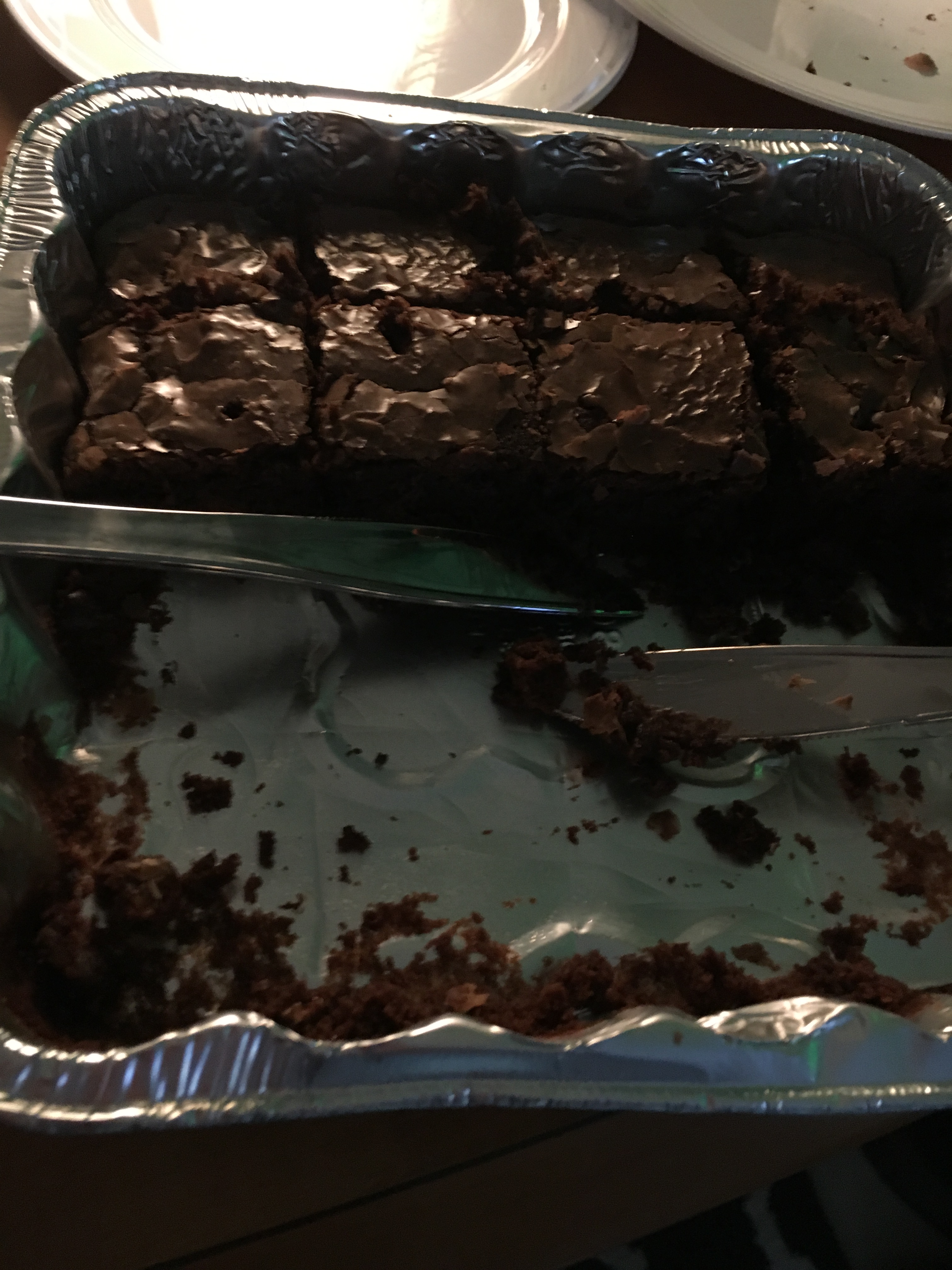 Are you guys more fudgey or more cakey when it comes to brownies? I'm definitely in the fudgey camp!
I capped off the night with my Vanilla Tea with a bit of almond milk, and then I called it a night.
---
Looking back on my eats, this was a pretty weird day. Like I didn't really have lunch, and I ate like half a fruit and a fourth of a vegetable, but you know what?
That's pretty dang uncommon for me, and it all balances out. Tomorrow is a new day, and I'm thinking a salad might be on the agenda. And like actual meals instead of a bunch of snacks, ya know?
Not every day is going to be glamorous or super healthy or super intuitive, but as long as you're being conscious about what's going in your body and what it needs, you'll be just fine.
Be sure to follow me on Instagram where I share a lot of my daily adventures and foods and just fun college stuff on my Stories 🙂
Best thing you ate recently?
Fudgey brownies or cakey?
Dark chocolate or milk chocolate?
Ever snack through your meals?
Linking up with Laura for What I Ate Wednesday!
Share if you liked this post!