Happy Thursday, lovely people! I'm super excited for today's post because it's something I've wanted to put together probably since last year actually.
Starting college was an adjustment in many ways, but one of the things I remember struggling with in particular was breakfast.
See, breakfast is hands-down my favorite meal of the day (anyone else?), and back home, I'd had a great rotation of fun breakfasts that I could quickly make to start the day off on a delicious and healthy note.
But at college I was sort of stumped. Some of the breakfasts still worked, but others were just not feasible. I didn't have the time or the desire to use the stove in the kitchenette or to make elaborate meals for breakfast. It had to be super quick, nutritious and filling enough to fuel my mornings. And of course, delicious.
Over the year, I came across several great recipes (and came up with a few of my own) for perfect dorm-friendly breakfasts that I was excited to eat every day.
I'm also very particular about not repeating the same breakfast twice in one week, unless I happen to really crave it more than once. But I have no problem eating the same rotation of beakfasts every single week. In fact, these are the breakfasts I've eaten basically every week of sophomore year and most weeks of freshman year as well. I include five recipes here, one for each day, so that if you're like me, you can enjoy the variety of having a different breakfast to look forward to every day.
Plus, these breakfasts take up to 5 minutes to prep in the morning, and some of them can be made the night before and require zero effort the day of. Perfect for those zombie days when you can barely figure out how to brush your teeth, let alone prepare a meal.
Without further ado, let's jump into the breakfasts!
Oh right, most of these feature some combo of chocolate and banana, which I really only realized after putting them together. If either of those doesn't vibe with you, you can still use these recipes and just sub something else in!
Overnight Chocolate Protein Cookie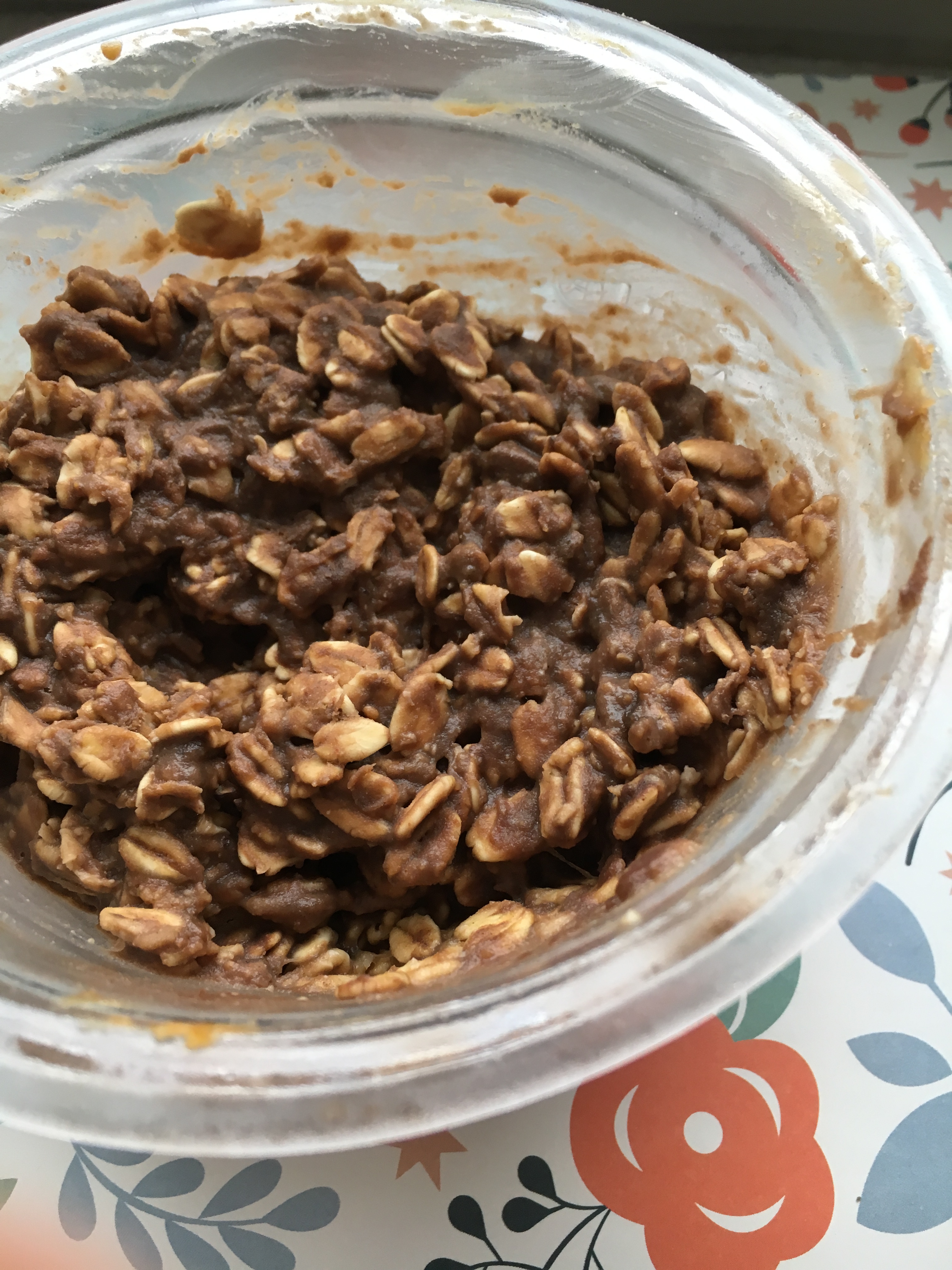 I discovered this recipe in the beginning of last year and totally fell in love with it. Not only is it perfect for lazy mornings because it's prepped the night before, but it packs a nutritious punch and is absolutely delicious. And it feels like you're eating dessert for breakfast, which in my book is always a win.
The recipe comes from The Fitnessista, so you can head over to see it.
I used to always use almond butter as the nut butter of choice, but lately, I've switched to peanut butter, and I've been loving it. Either will work. Or if you like to live life on the edge, you could go for sunflower seed butter or cashew butter. Ooooh, or if you're really a wild one, Justin's chocolate hazelnut butter would be otherworldly. Can't handle.
Chocolate Chia Oat Pudding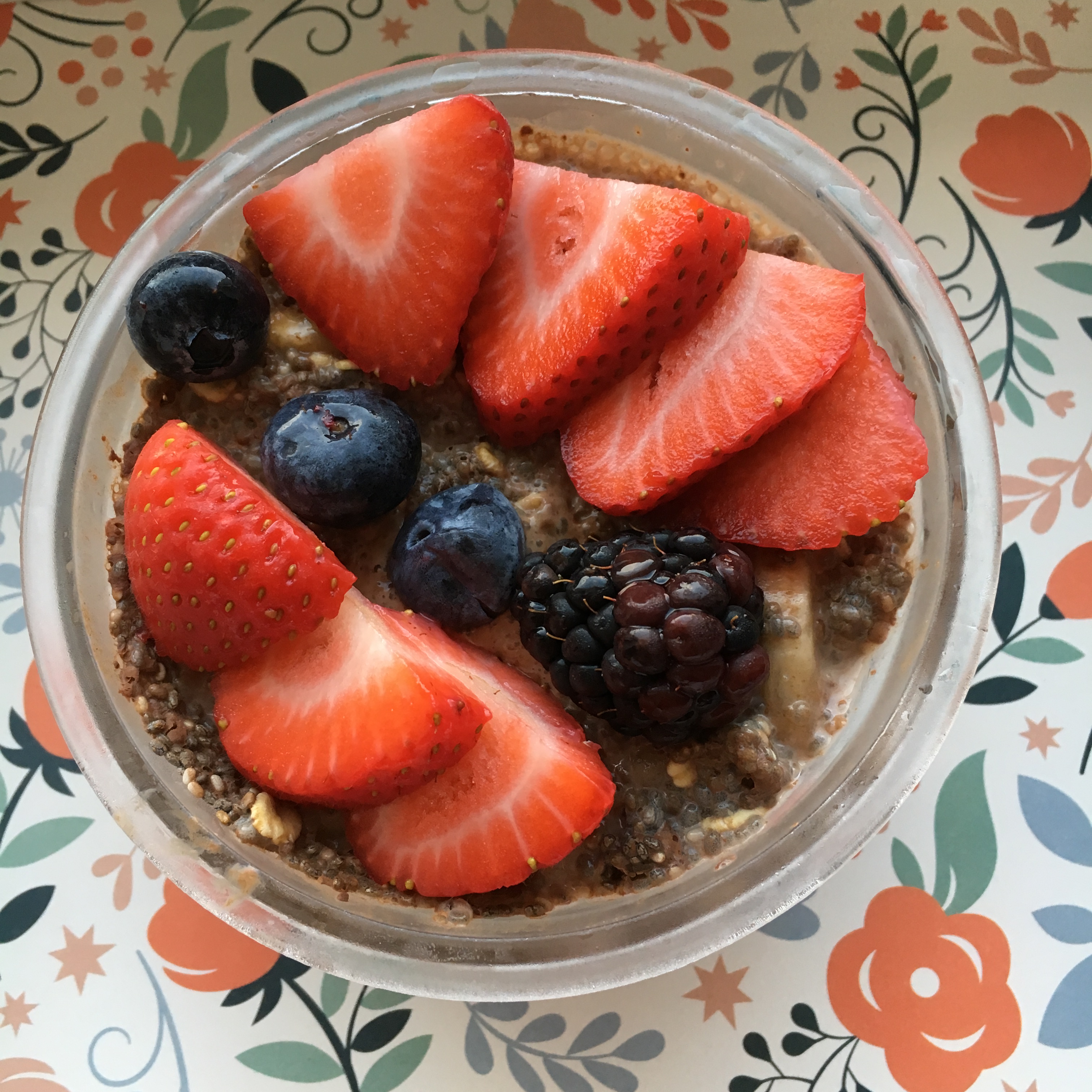 I actually found this recipe on Niomi Smart's Instagram about a year ago and was super intrigued by it. It was basically a fusion of overnight oats and chia pudding, which sounded really good to me because I'm not too big on plain chia pudding but I LOVE overnight oats. I figured putting the two together couldn't possibly be a bad idea.
I remember being like "woah" when I first tried it. I think what sold me was the texture. Plain chia pudding isn't always my jam because it's often pretty gloopy and weird, but the chewiness of the oats totally offsets that in this recipe, and the flavor is wonderful as well.
I don't remember the exact recipe at this point, because I added my own spin to it, but what I do is combine 2 tablespoons of chia seeds, 2 tablespoons rolled oats, ¾ cup unsweetened almond milk, half of a chopped banana, and a heaping spoonful of cacao powder. Then just stick it in the fridge overnight, and when you awake, just top with some berries and some vanilla extract, and enjoy!
Chocolate Banana Protein Oatmeal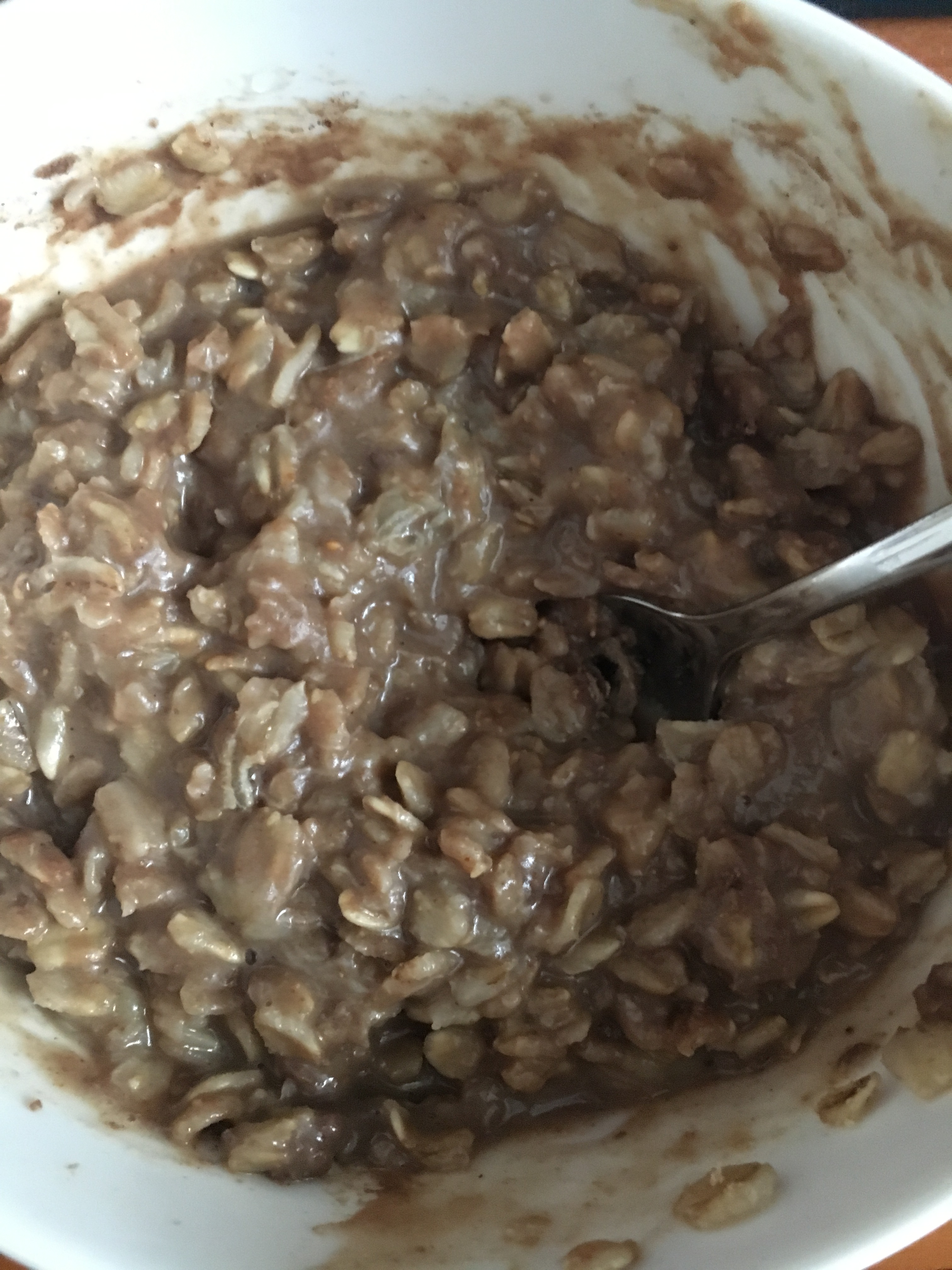 I am VERY particular about my oatmeal, maybe even more so than my coffee. There are very few oatmeal recipes that I actually enjoy, but the ones I do I LOVE. One is the whipped banana stovetop oats that are a staple of my diet whenever I'm at home. But in college, when I really would rather not use the communal stoves, and don't have time to before class anyway, the microwave really comes in handy.
I remember I was really skeptical at first. I've had my fair share of microwave oatmeal, and it is ALWAYS subpar to its stovetop counterpart.
But I think this one morning I was feeling particularly creative, and I somehow combined the perfect proportion of ingredients and made the perfect bowl of microwave oats.
So here's what I do. Combine 1/3 cup rolled oats, ½ cup unsweetened almond milk, ½ a banana finely chopped. Then microwave for 2.5 minutes. Finally add in half a scoop of Vega chocolate smoothie protein powder (or any chocolate protein powder), a teaspoon of maca powder (optional), a spoonful of peanut butter, and a bit of vanilla.
Seriously guys. The texture and flavor of this cannot be beat.
Chocolate Banana Greek Yogurt Bowl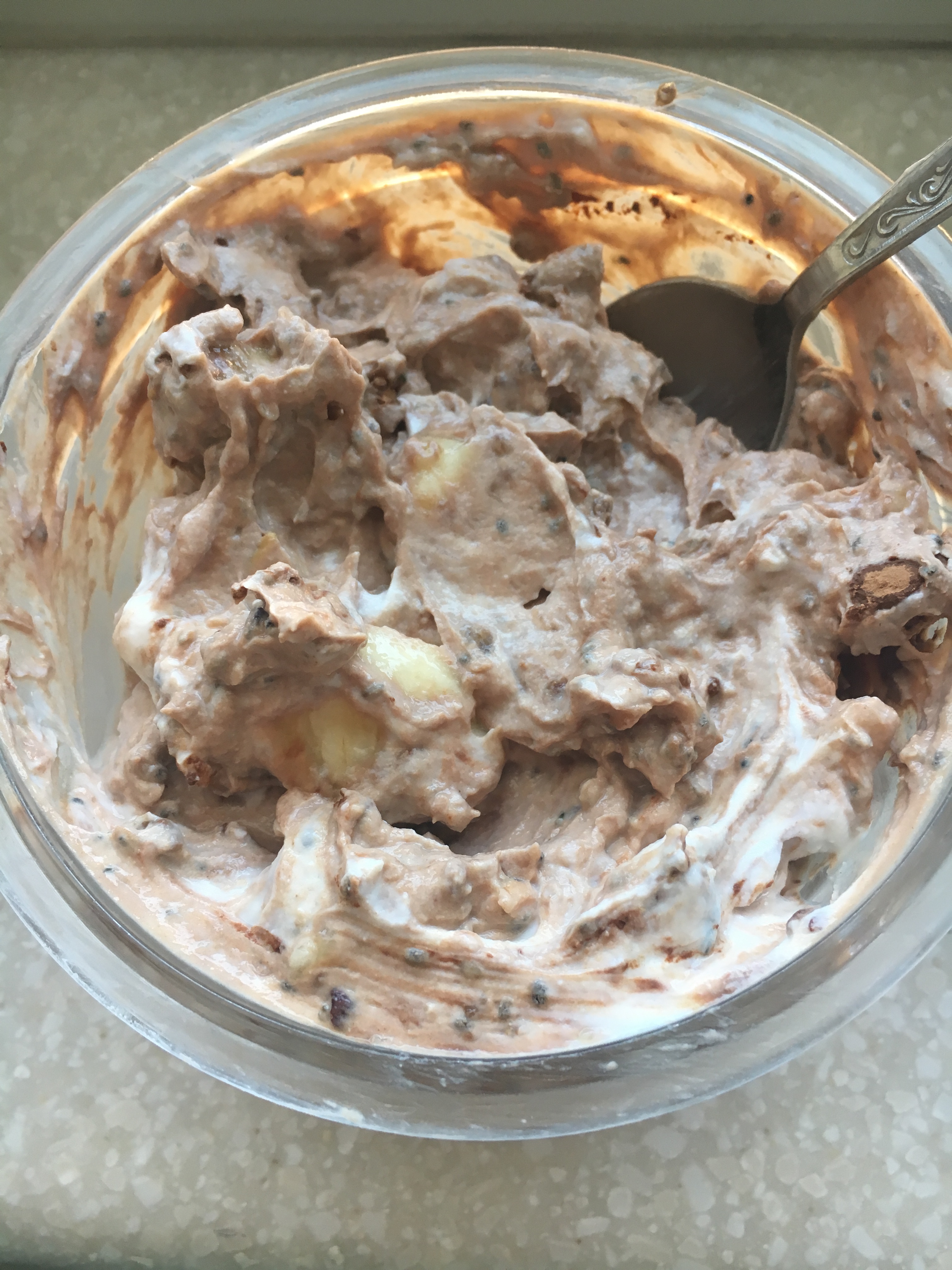 I've talked about this a ton before, but this is one of my go-to quick and easy breakfasts that makes me feel super energized without weighing me down.
I combine an individual container of Fage greek yogurt (best one IMO), 2 tablespoons of granola (switch it up, but usually something chocolate), a teaspoon each of chia seeds and hemp seeds, a heaping spoonful of cacao powder, and a sprinkle of cacao nibs. Chop in half a banana, and you're done! Super easy, and it tastes like dessert! Win!
Overnight Oats in a Jar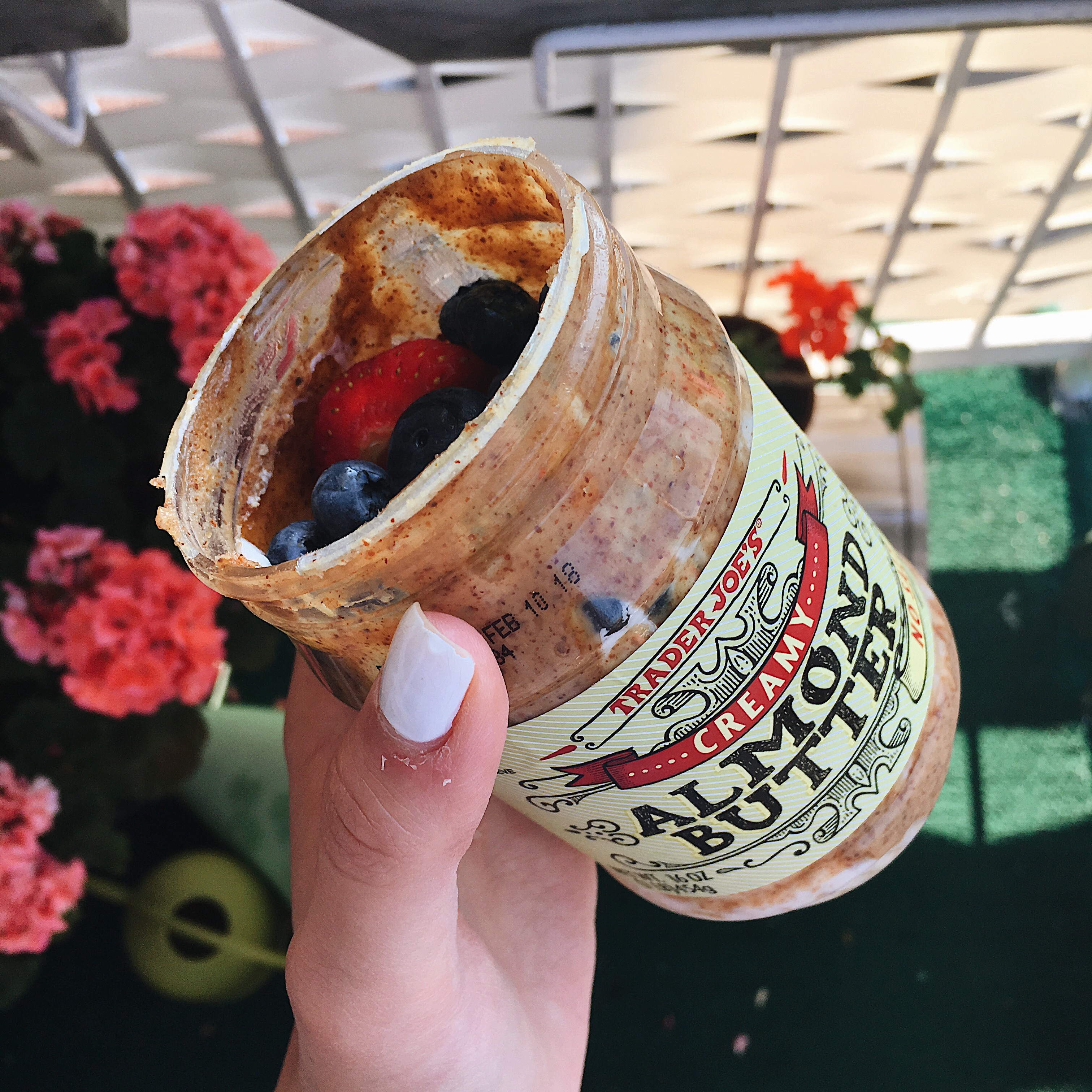 This is once of my absolute favorite breakfasts (like I actually get hype when I go to bed when I know this will be waiting for me in the morning), mostly because it's such a rare treat. See I only ever make this recipe when I have an almost empty nut butter jar to put it into, and that unfortunately happens not very often (I know, slacking). I know I technically could just do it in any container and just put some nut butter in there, but it's just not the same as the satisfaction from getting all those nut butter scrapings off the walls of the jar.
The recipe I always use is 1/3 cup oats, 1/3 cup unsweetened almond milk, half an individual container Fage greek yogurt, and half of a chopped banana. That's it! Mix it all together in the jar, pop into the fridge, and you have a wonderfully delicious breakfast in the morning. Also, topping it with berries actually elevates it to the next level.
Bonus
And just because I know you guys haven't had enough, I'll share a couple bonus breakfasts, which I don't have too often, but they're great in a pinch!
Smoothie Bowl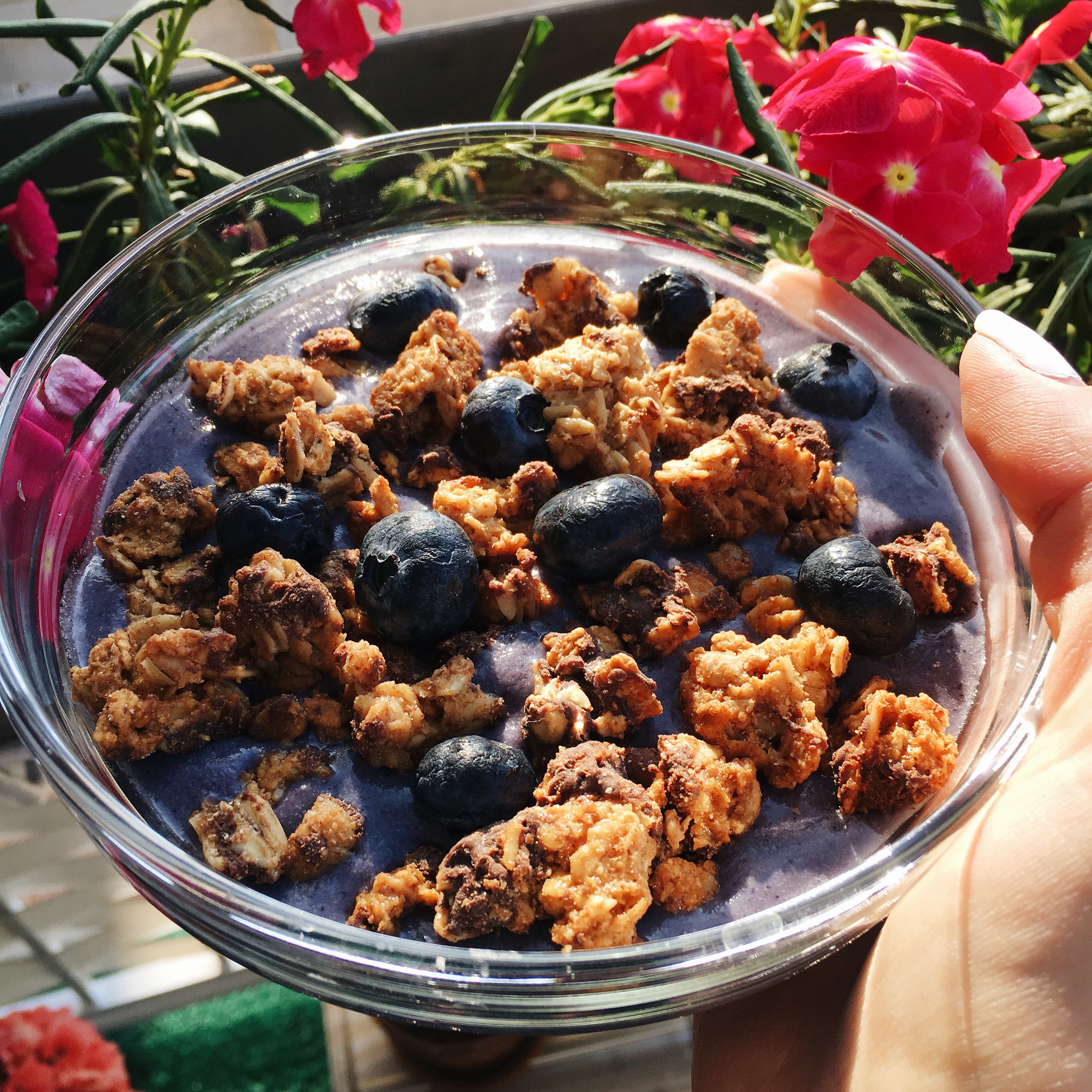 I'll be honest, you guys. In college, I never make smoothie bowls for breakfast just because Roomie is asleep when I'm getting ready, and I probably wouldn't be the best roommate if I cranked up my Nutribullet at 8am. However, I do sometimes make this on weekend mornings, and if you don't have sleeping roommates, this is an awesome prep-ahead option for a quick breakfast. My two favorite smoothie bowl recipes are this one and this one (in college, I replace the avocado with almond butter because I never buy avocado here). I just buy frozen blueberries and spinach and keep them in my little freezer in the room.
Hummusapien did an awesome post about how to prep smoothie bags, so you can literally plop the ingredients in a blender the morning of and have a super quick and easy meal ready in just a minute.
Perfect Bar
I've taken to buying one or two of these every single week, and they're perfect (heh) for those days when I know I want to sleep in an extra 45 minutes because I went to bed a leeeeetle too late the night before. So I just grab a bar and run.
This really isn't my ideal breakfast, but it's delicious, quite nutritious, and actually surprisingly filling. It's a more nutritionally dense bar than many other bars on the market, so it really is a good option as a breakfast, but it's a little higher in sugar than I would prefer (even if it's minimally processed sugar), so I definitely wouldn't eat these daily.
Leftovers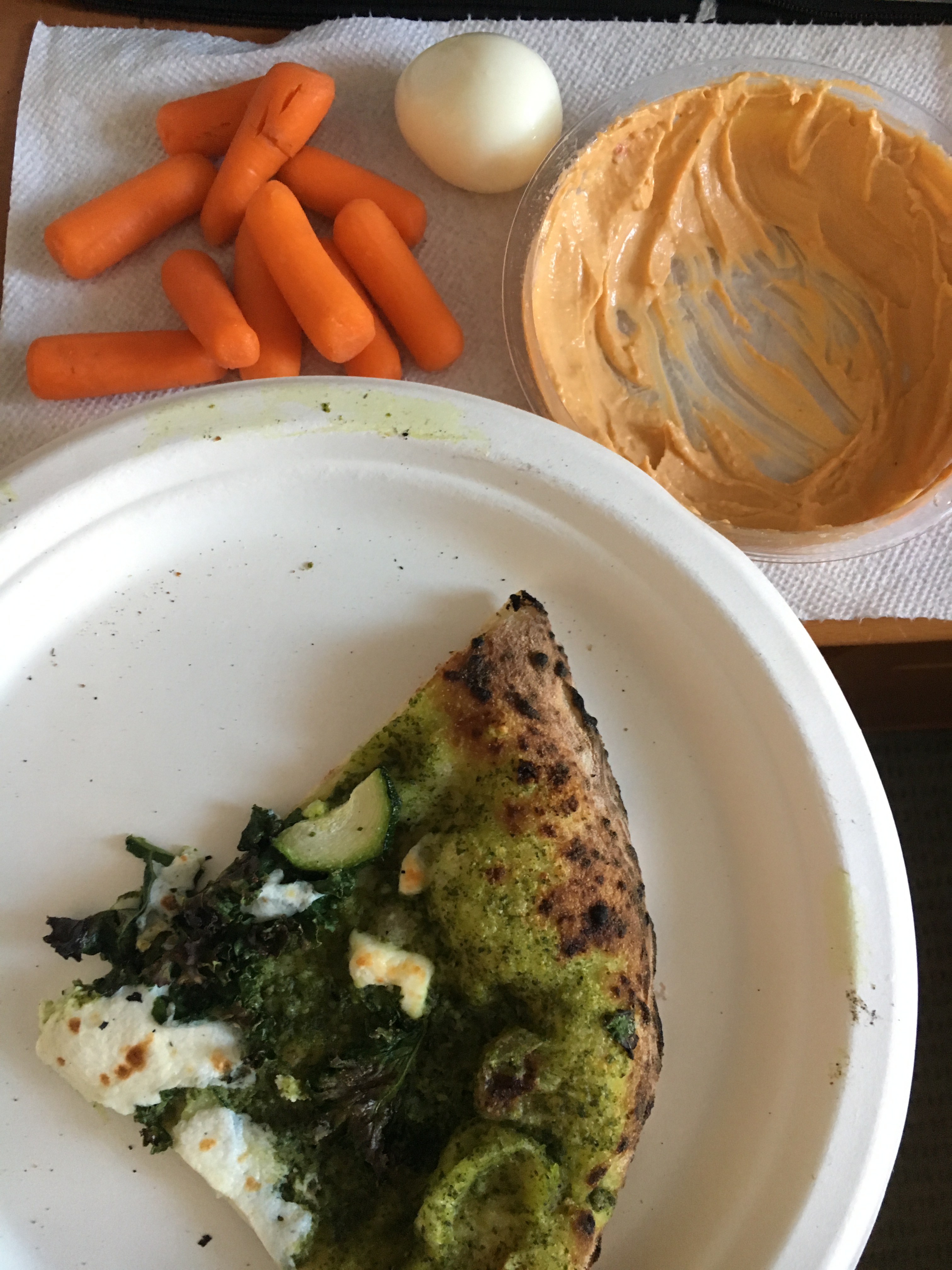 Ah, good old leftovers. Honestly I debated leaving this one out, but then I realized that this is college, and leftovers are something any college student can get behind.
I still remember one of the best breakfasts I had in my room this year was leftover farmer's market pesto pizza, some carrots with Trader Joe's roasted red pepper hummus, and a hardboiled egg of all things (you can get those ready-made from Trader Joe's!).
Don't underestimate the power of leftovers to serve as a great breakfast. Just make sure you're covering all the macronutrients and maybe supplement with a piece of fruit for some vitamins!
And there you have it. An array of different super simple and definitely delish breakfast options to make in your dorm! Obviously if you're not a college kid, these are still awesome options, especially if you leave early for work and don't have time to cook elaborate meals. Please feel free to share this post with anyone who you think may be in need of some breakfast inspiration!
Love you all!
Linking up with Amanda for Thinking Out Loud!
Share if you liked this post!