I'm doing something a little different this week. Today I'm linking up with Meghan to take a look at last week's workouts, recipes, and happenings. P.S. I've got a mini rant at the bottom about what true health means to me, and it's worth a read. Lez go!
Monday
On this day, I babysat for the first half of the day, and then commuted to Union Square to Whole Foods. By the way, follow me on Instagram where I always share grocery hauls on Stories! (#shamelessplug)
And yes I'm that girl who travels for 40 minutes by train just to get my shopping done at Whole Foods.
However, on this day, I had another thing on my agenda which just so happened to be in the area.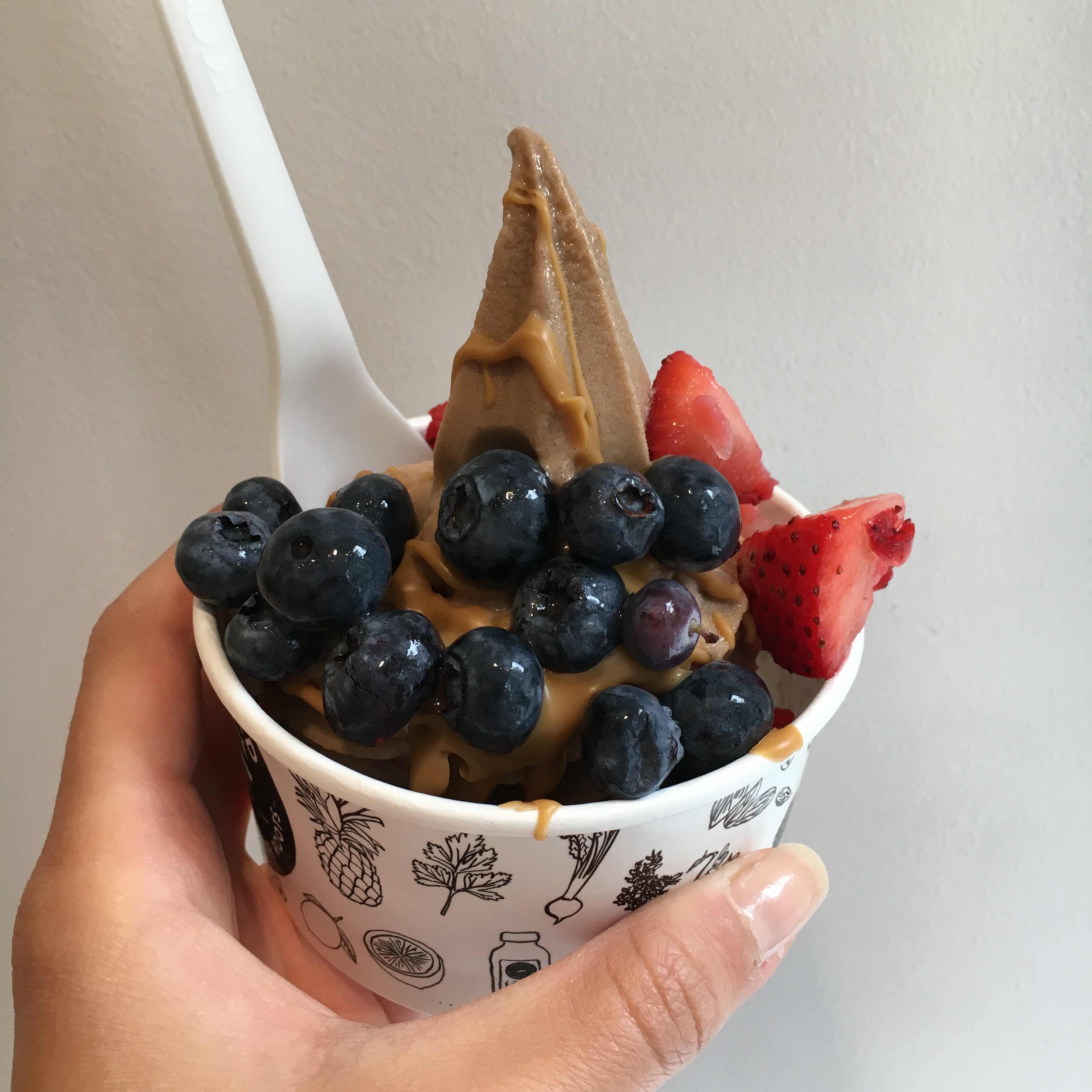 That's right, I finally tried Freeze from Pressed Juicery! And guys, it totally deserves all the hype. I'd been wanting to try it for pretty much the entire summer, and finally was like okay if not now, when? So armed with about 20 pounds of groceries, I got my chocolate Freeze with almond butter drizzle, strawberries, and blueberries and devoured it on a bench in Union Square Park.
It has a pretty interesting flavor, and you can definitely taste the almond base. In full disclosure, this cannot ever pass for ice cream or frozen yogurt, but for what it is, I think it's delicious.  Next time, I'm getting the chocolate drizzle on top.
Workout
I did this Fitness Blender hiit for people who get bored easily. Love this one! There are no repeat exercises, so it flies right by, and I feel like I really go all out on each exercise, more so than when I'm doing one thing for three sets.
I followed it up with this arm toning workout by Rebecca Louise. This workout KILLED my arms. Weirdly enough I wasn't sore the next day, which I guess means my muscles can take more than I thought, but this BURNED. I used 5 pounds, and trust me, it was more than enough!
Tuesday
Not much to update you on in terms of life because I basically just worked with kids all day (babysitting +tutoring). Guys I don't even know who I am anymore; I am NOT usually this big on kids. Maybe it means I'm ready to be a– LOL, jk.
I do, however, have a recipe to share with you from The Real Life Rd. This pumpkin baked oatmeal made an awesome breakfast the day after I made a big batch. I ate it with a scoop of greek yogurt that I had mixed up with some peanut butter and apple butter.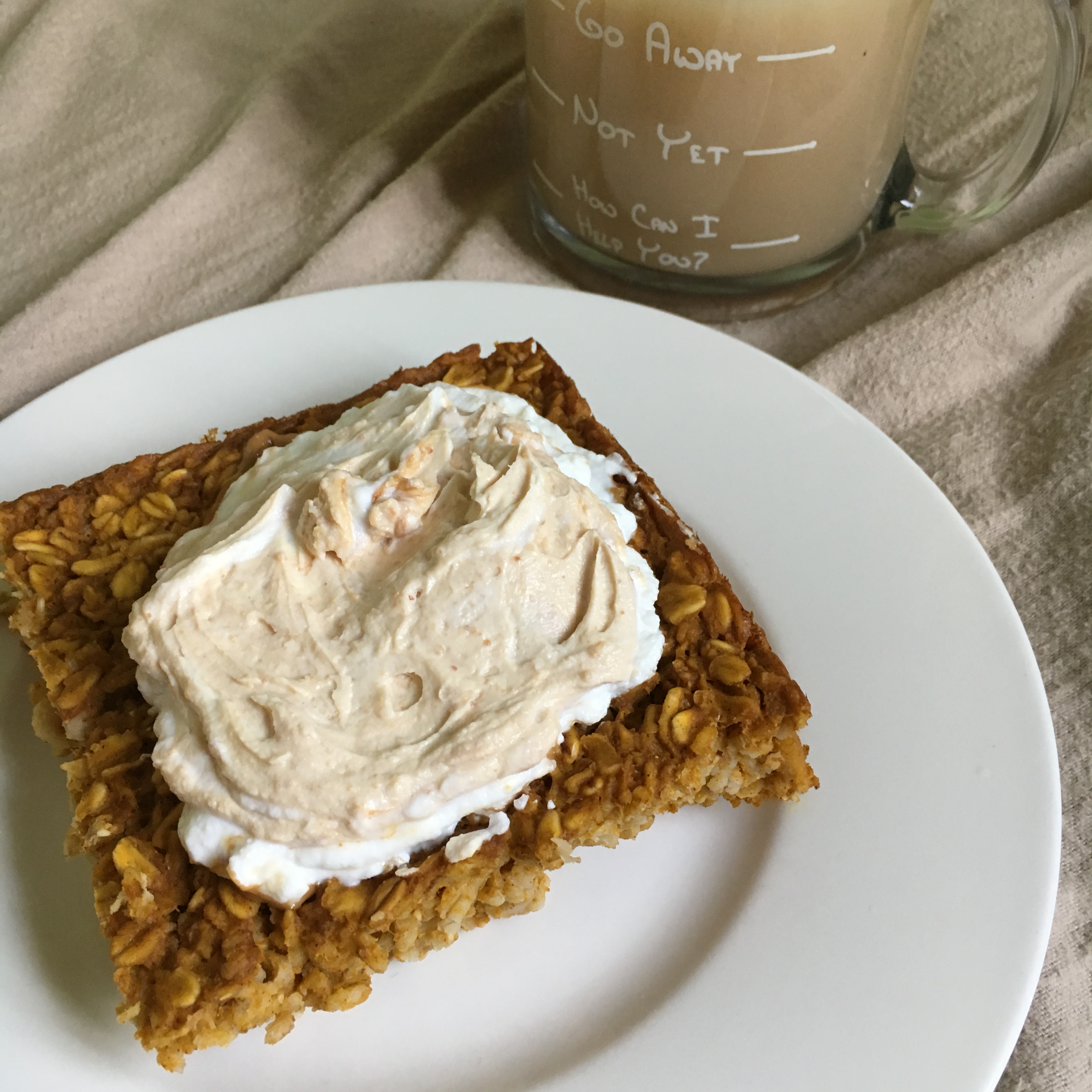 Workout
I've been loving dance workouts for recovery so I did this workout from Body by Simone and finished it with this ab workout. I used a 5 pound dumbbell. I did a couple minutes of planks after to really finish off my core.
Wednesday
I babysat, and then right after that, went to go hang out with a close friend. By the time I came home it was 8pm, I was starving, and the last thing I wanted or needed to do was work out.
These middle-of-the-week rest days are never really on the agenda, but I've found they're quite helpful in helping me revive my energy levels and prevent me from burning out before the week is over.
Plus, I've found that giving myself the freedom to skip a workout during the week has been a great way to make sure I am in tune with my body and not just following a rigid workout plan. Intuitive exercise works much better for my body and my sanity than a rigid schedule that I am terrified to deviate from.

Thursday
Breakfast was this pumpkin pie smoothie because I had an awkward amount of pumpkin left from the pumpkin baked oats. Threw in a bunch of frozen zucchini instead of half the banana because I knew my lunch would be quite carby and veggie-less. I also halved the almond milk and ate the smoothie in bowl form with cacao nibs on top for crunch.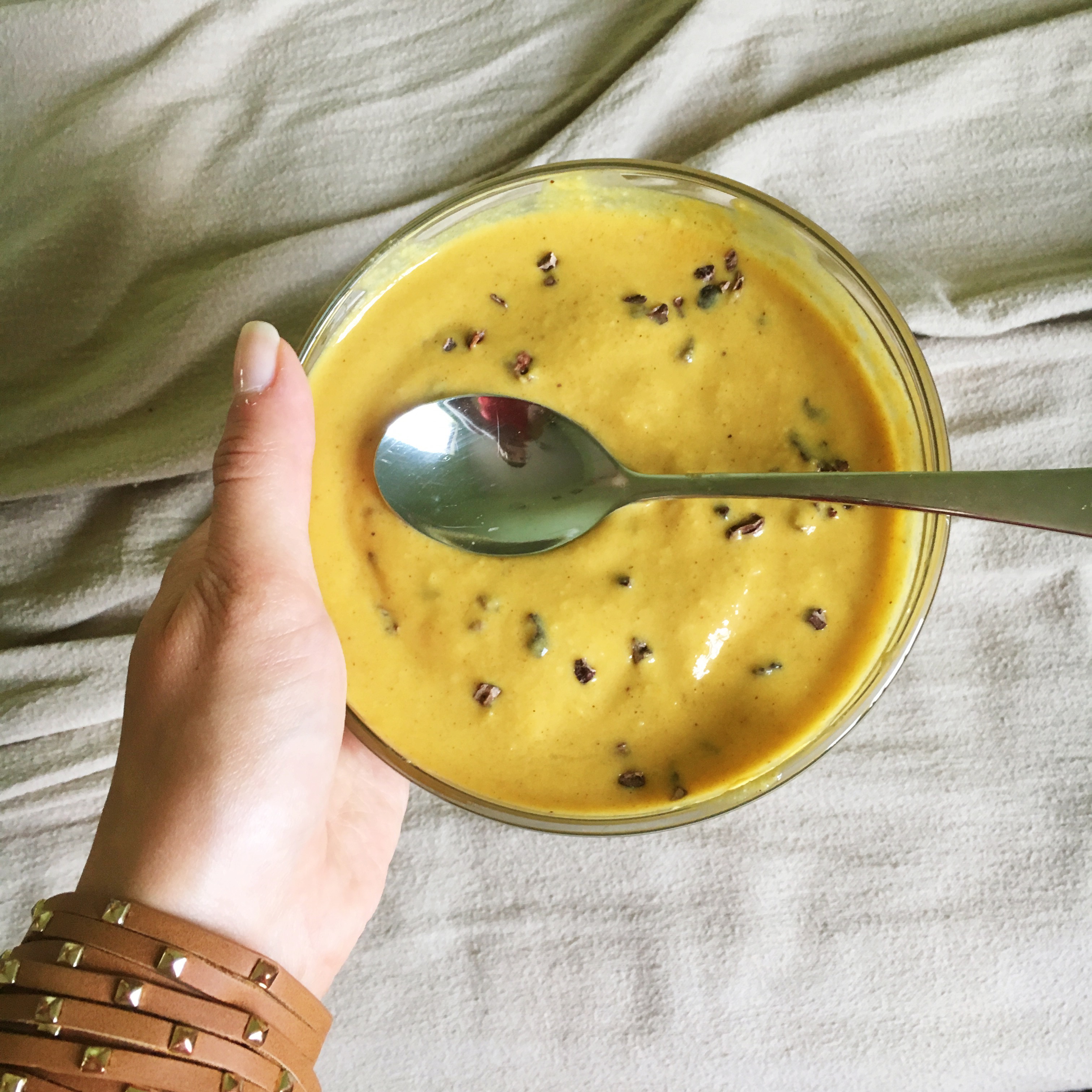 A little note: I think part of intuitive eating is sometimes being aware of what you will be eating later on that day, and planning accordingly. This doesn't mean you can't eat what you want, but you can up the protein or veggies in your meal if you know later in the day you're going out for pasta or bagels. No need to stress or obsess, but just be aware, ya know?
Today was my last day babysitting, which was actually so sad, but I didn't let myself get too down in the dumps because on the agenda was a visit to Alice's Tea Cup with my two best friends. And how can you be sad at a place that is decorated Alice in Wonderland style and serves afternoon tea and the most delightful scones to ever grace the planet?
Workout
A lot of time I get home and the last thing I want to do is a hiit jumping-heavy workout, but I'm still craving a good sweat sesh though. Those days I turn to lifting, Pilates, and short cardio bursts. This routine was a godsend for that.
Friday
This was another impromptu rest day because I had a blood test done, and I don't like to work out after that. This was actually good because my legs were SORE after yesterday's weight sesh.
I went to the beach with my mom in the morning, and instead of swimming, we sat on the rocks overlooking the ocean and just stared at the water.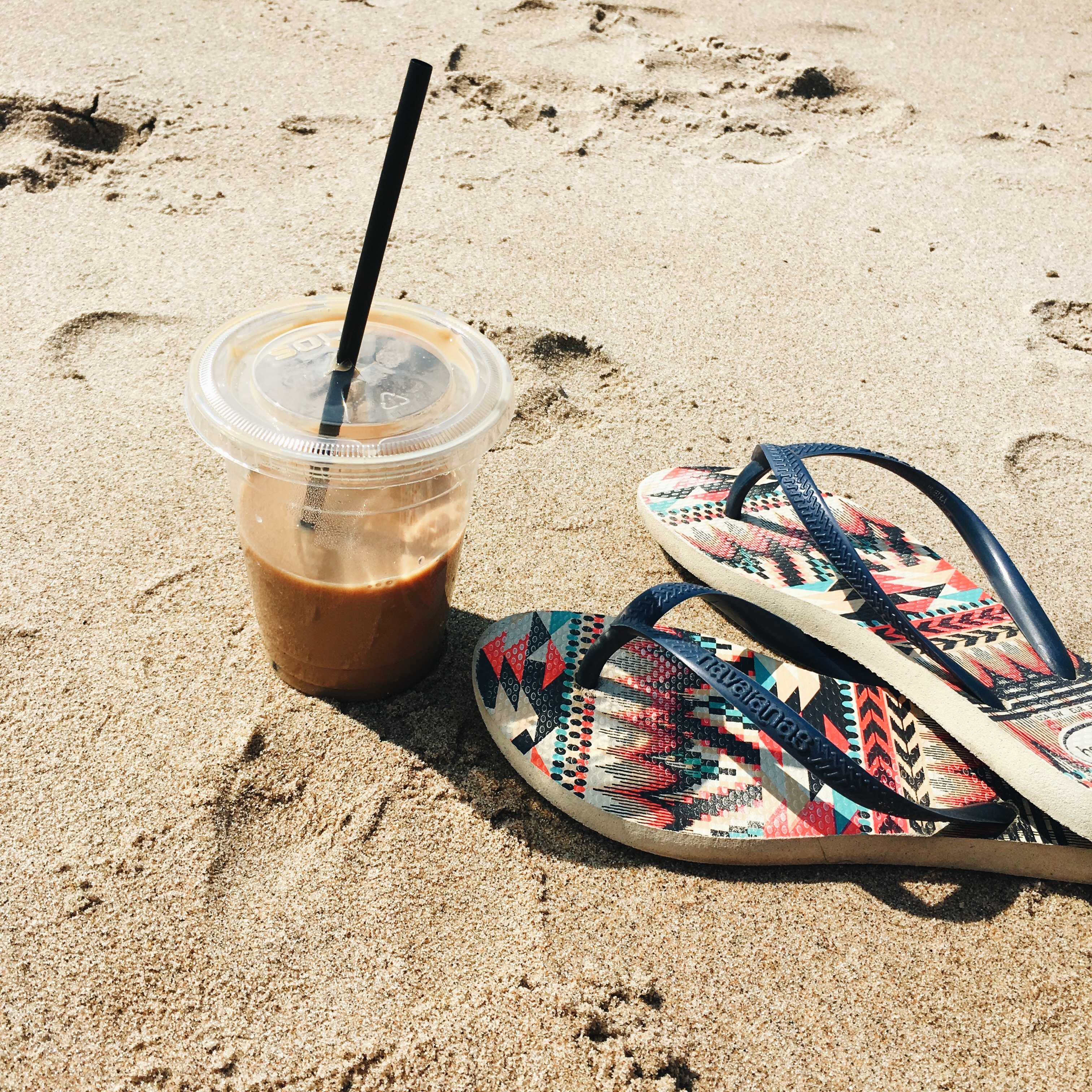 There's something about sitting in the middle of beautiful nature, just watching life in action, that makes all your problems and worries feel so small and insignificant. I felt my college anxiety melt away and my mind enter a state of zen that I hadn't experienced in a while.
I think I've been on my phone so much the past few months (mostly Instagram) that I forgot what it was like to just breathe and be present and not think about my to-do list or what other people are up to. To sit in stillness and not require constant stimulation.
I needed this.
After the beach, breakfast was a crepe stuffed to the brim with speculoos (cookie butter) and banana + soy iced coffee. I haven't had this in AGES, and it was SO satisfying.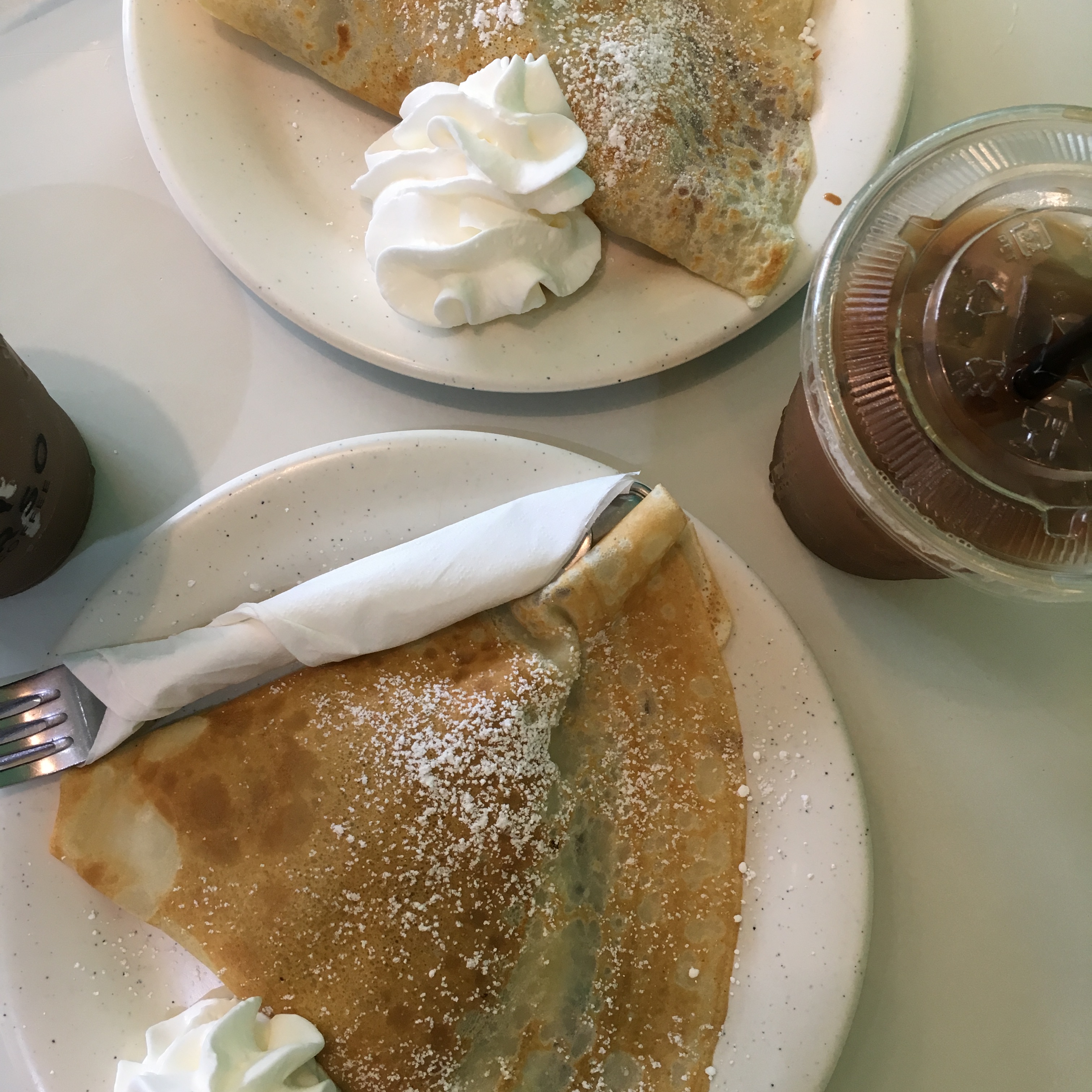 In the evening, I got sushi with my mom and her boyfriend again, except I forgot to take a pic for you guys (#badblogger), but here's one from last week's meal! It looked pretty much identical anyway, so no harm done!
Saturday
Without even meaning to, this week turned into a perfect example of intuitive exercise. So I actually set an alarm so I could work out in the morning, specifically, because I knew I had plans later in the day. When I woke up, my legs were so sore (FROM THURSDAY) that working out was literally the least appealing thing in the world. The plan was actually to do arms, but I could feel that even being in the pushup position would feel really bad on my legs. So I skipped it. And guess what? The world kept turning. 🙂
For breakfast, I made this smoothie bowl, and loaded it up on veggies because I knew my lunch would be lacking in greenery :p Two cups of frozen spinach and a big handful frozen zucchini in this bad boy.
I hung out with my best friend today, the one who goes to Syracuse and not Georgetown, because we will be saying goodbye in less than a week and I'm trying to fit in as much friend time as possible while simultaneously denying the impending goodbye.
We finally tried Russ & Daughters, the OG NYC Jewish bagel shop. Per my favorite Jewish friend's recommendation, I went with an everything bagel with goat cream cheese, lox, and tomato.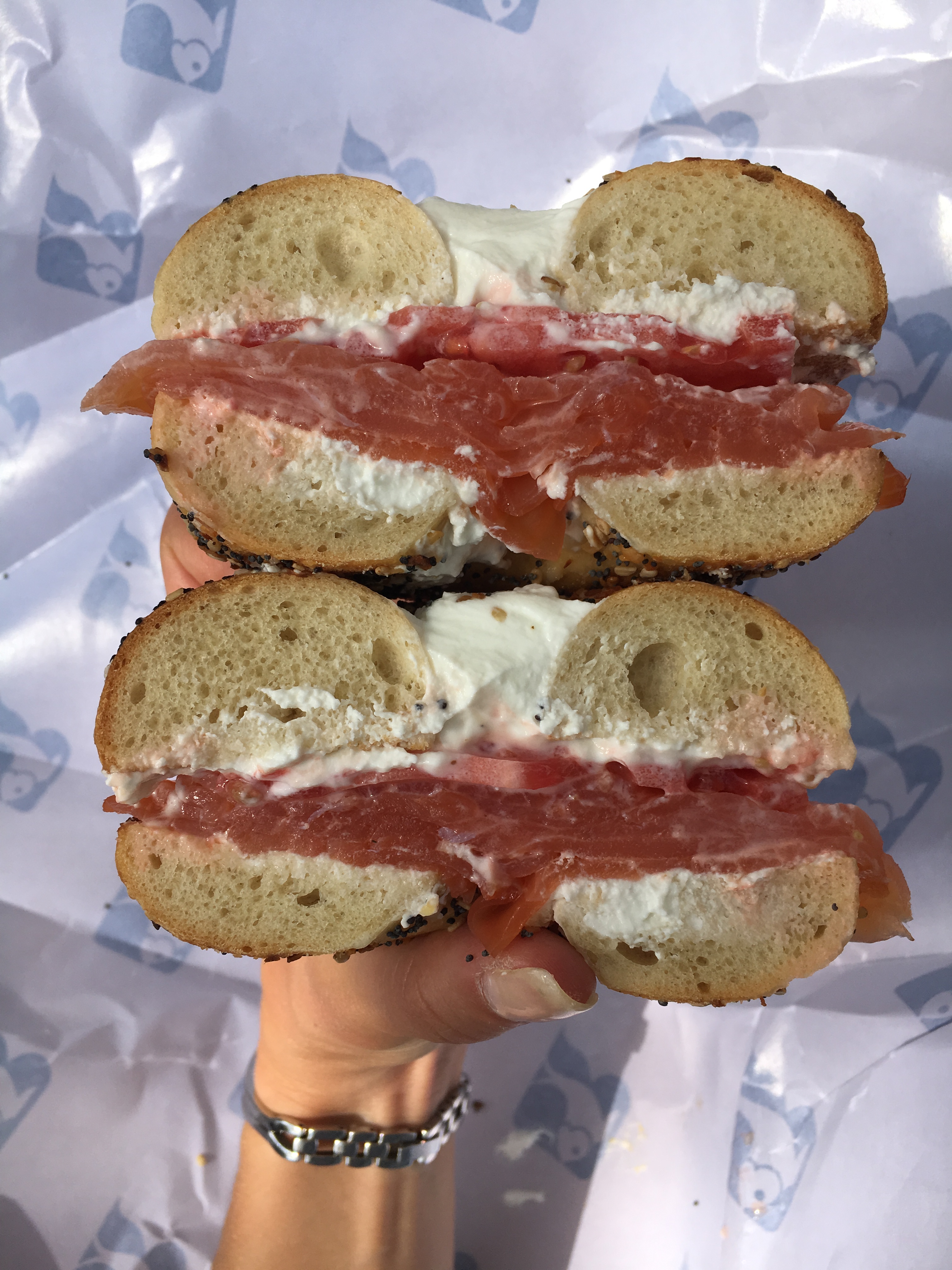 This was…PHENOMENAL! I can't believe I went my whole life without this and was thinking I don't like bagels or cream cheese. First of all, this bagel was so different from all the bready mediocrities I'd had in my past. It was a normal size, instead of ginormous, and just the right amount of soft and dense. I toasted it, which is apparently supposed to be some bagel crime, but I did it anyway.
Also the goat cream cheese changed my life. I am a convert.
I got home and made this spaghetti squash recipe, which totally blew my mind. This was my first time trying spaghetti squash, and I AM A FAN! The sauce made the recipe; it tasted like cheesy tomatoey goodness with not an ounce of cheese.
I added shrimp to this, and I seasoned everything with Everything But The Bagel Seasoning, which took it to the next level.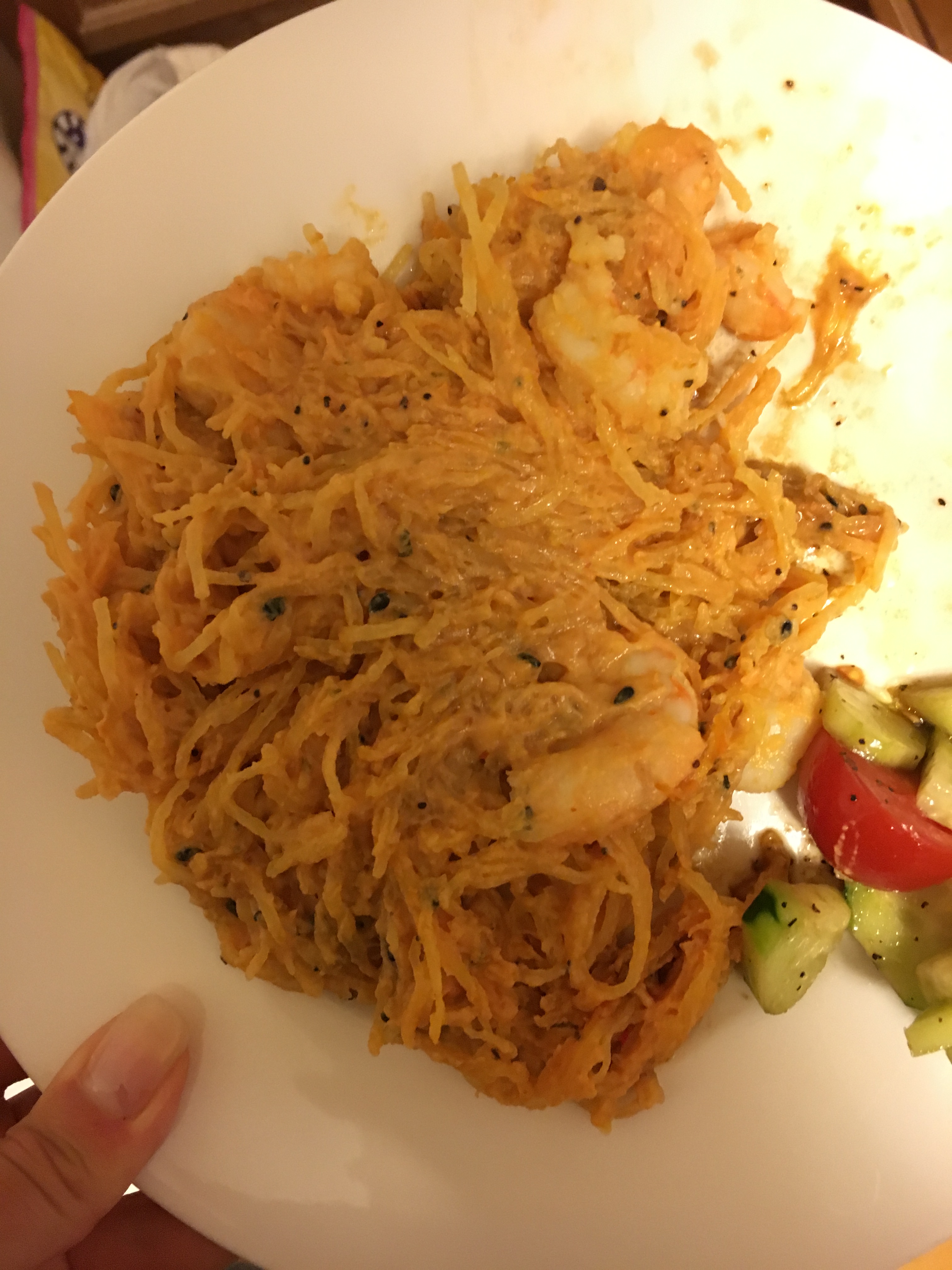 Sunday
Breakfast was this pumpkin baked oatmeal again, except this time I ate only half a serving and paired it with a scoop of greek yogurt, a big glob of sunflower seed butter, and half a sliced banana. Hit the spot.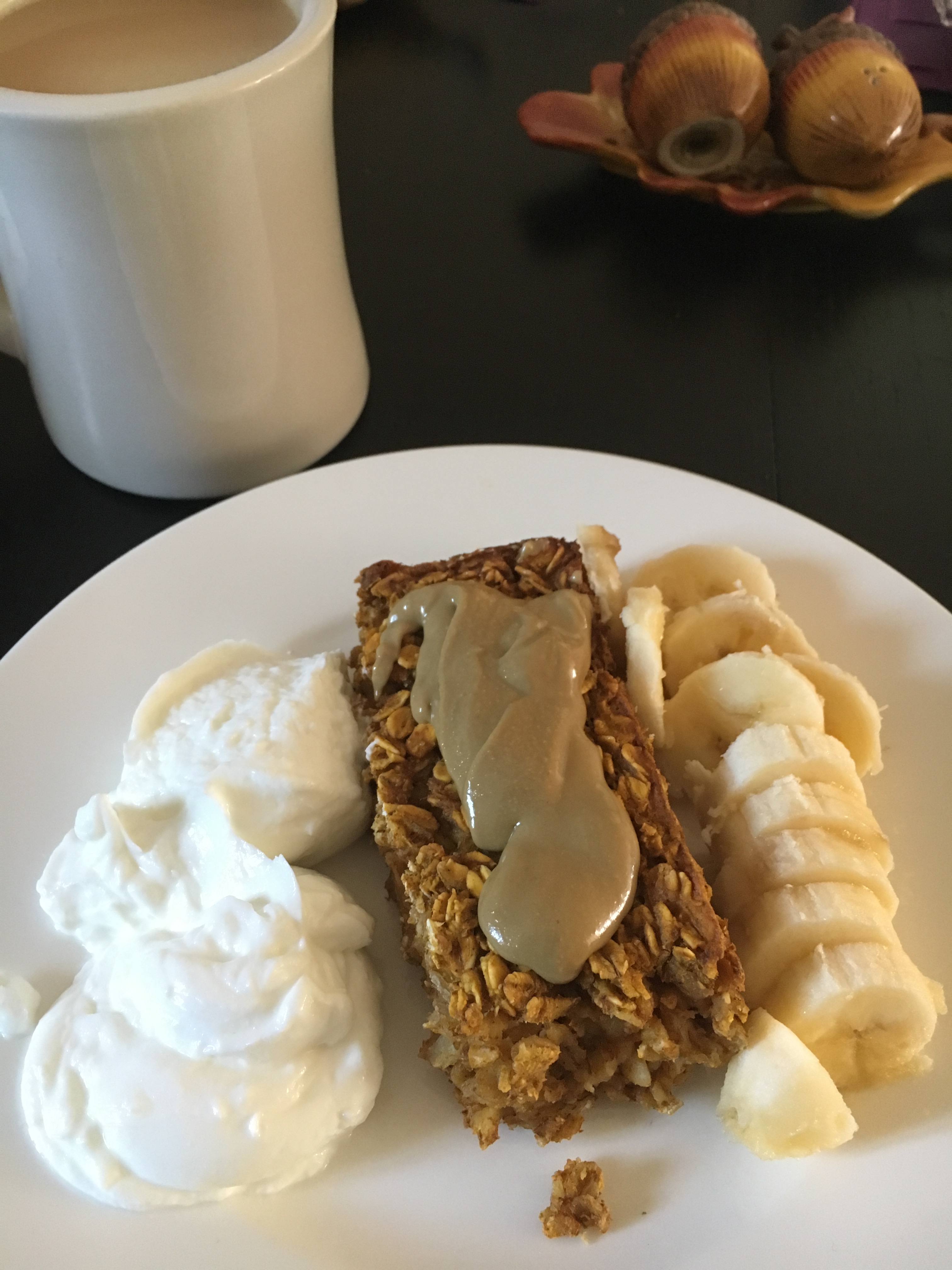 Later I went to Mission Escape Games with some friends, which is a version of Escape the Room. I'd never done Escape The Room, and to make matters even more interesting, this was a pitch-black murder mystery game. I actually really enjoyed it because it felt like I was in some book or movie and could use my imagination to make everything super realistic.
I'm weird that way.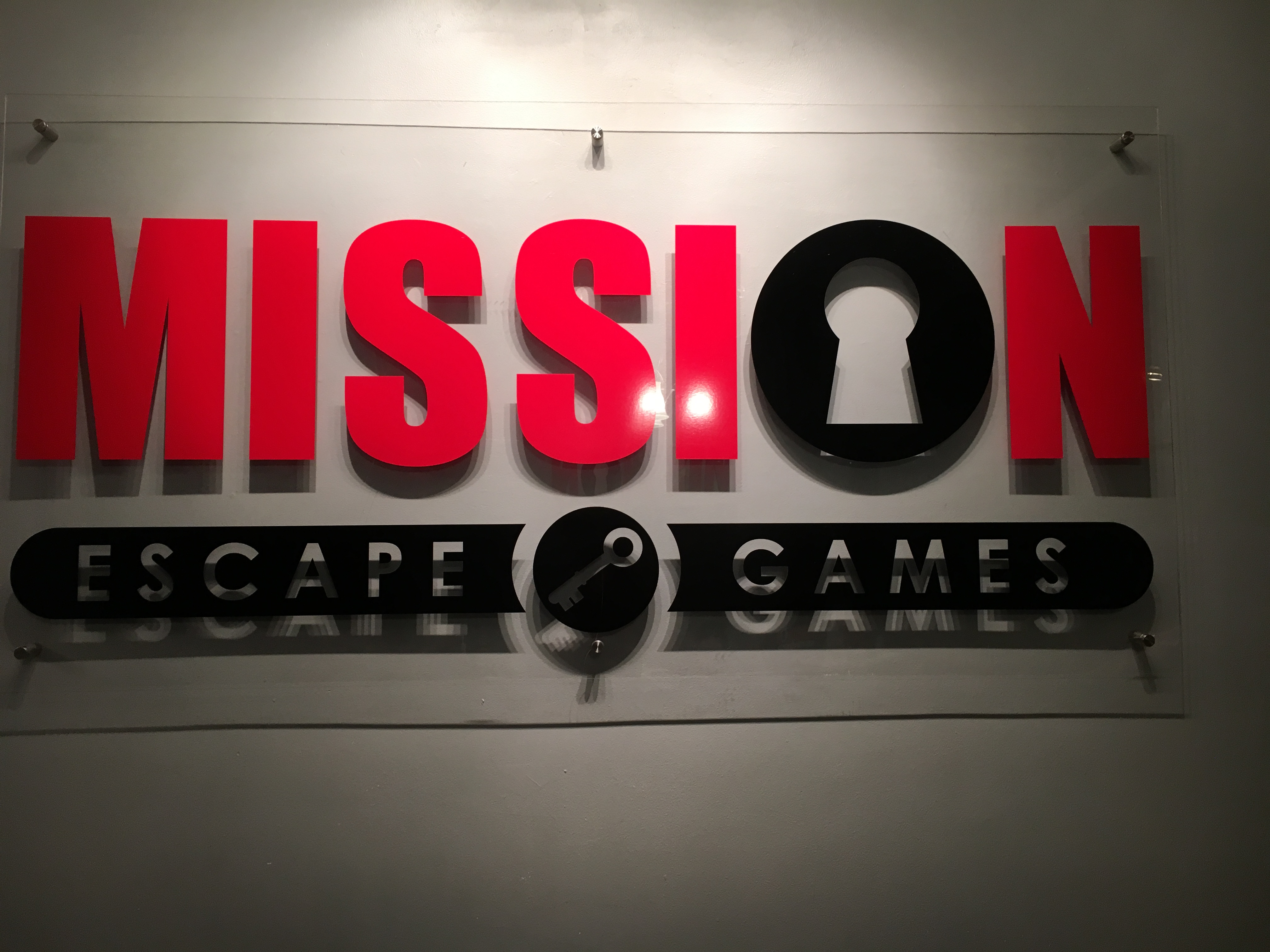 When I got home, I wanted something sweet, so I whipped up this banana bread, except I used just a small handful of chocolate chips because I wasn't feeling too much chocolate. It was absolutely delicious, and my first experience making one of Rachel's recipes definitely didn't disappoint.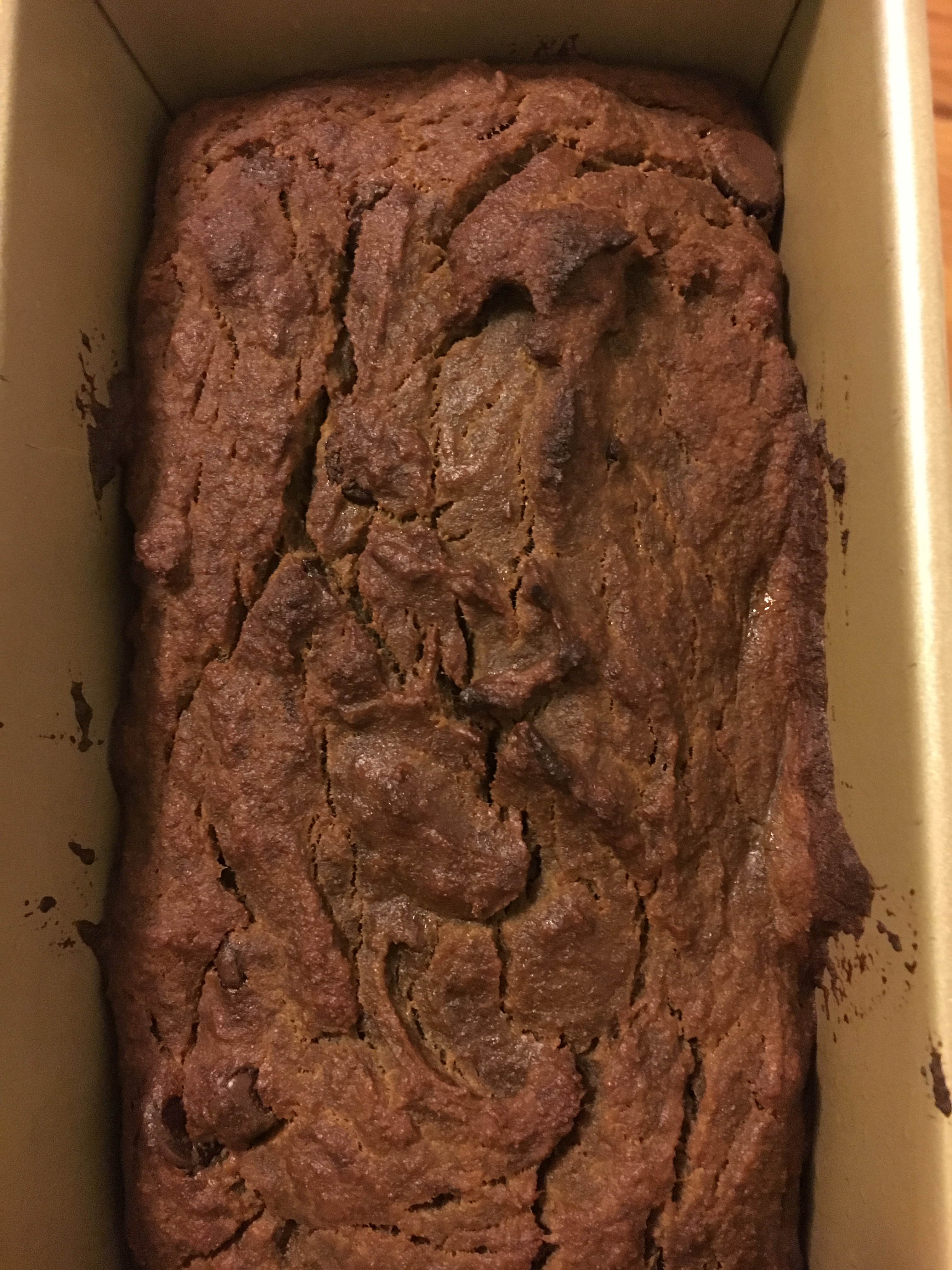 Workout
I did this workout in the morning before breakfast, since I knew I wanted to move my body and wouldn't have time later in the day. By the way, I was STILL sore from Thursday's craziness. I didn't expect that at all, especially with the amount of HIIT I do every week! But it felt good to feel challenged. 🙂
---
That was my week, y'all! I worked out 4 times, ate scones, bagels, but also spaghetti squash and green smoothies. I spent time with friends, worked, and enjoyed being out in nature with family. This is the kind of week that makes me so grateful that I'm at a place in my life where I can give myself complete and total freedom to eat, move, and live intuitively. 
I wasn't afraid to treat myself, but I also made sure that I was fueling my body with the nutrients it needed so it wasn't all just carby sugary goodness.
I gave my bod the sweat sessions it craved, but I wasn't afraid to take a couple extra rest days when I was too sore or when I was too busy living and enjoying summer.
Health is not about eating perfectly and exercising 6 days a week. Health is self-care and proper nutrition, which involves feeding your soul as well as your body. It's moving, but doing so in a way that feels good and in amounts that make sense with your needs and plans that week. It's not about pushing yourself to crazy extremes to achieve perfection, but rather about accepting that all the most beautiful and unforgettable memories happen when you allow yourself to LIVE without rigid schedules or rules.
Wishing you all a truly healthy week filled with salads, cupcakes, hiit, rest days, and lots of belly laughs. <3
Tell me something fun you did last week!
Share if you liked this post!