Happy Monday!!!
I just came back from a weekend away from the Hilltop, and it was actually such a nice change of pace. I was visiting one of my close friends at Swarthmore from Saturday to Sunday, which was super fun, and I managed to get A LOT of work done, so I'm actually pretty proud of myself. Wrote a couple essays, studied for a midterm, started another project… I did some good work, mostly because Swat Friend was quite busy this weekend as well. It was perfect, though, because this coming week I have ALL THE THINGS due, so I think I was able to be much more productive at Swarthmore than I would be here (ironically), and I ended up being much less stressed about all the work.
I'm linking up with Meghan for a Week in Review, but I'll just be showing you my weekend and my workouts from the week. Let's do it!
Friday
Y'all probably know by now that every single Friday is laundry and grocery day. This day I actually went to Trader Joe's instead of Whole Foods and got some staples, like their hummus, almond milk, and produce. TJ's has the BEST unsweetened almond milk and hummus!
Throughout the day, I was getting work done, and in between, I squeezed in a kickbutt kickboxing workout. (See what I did there?)
In the evening, some friends and I went to see the Mr. Georgetown show, which is one of my absolute favorite Georgetown traditions. Basically a bunch of senior boys compete to win the title of Mr. Georgetown by performing different talents and going through a series of tasks. As you can imagine, it's absolutely hilarious and quite raunchy, and very very fun!
Afterward, I had a friend in DC so she came down to chat for a couple hours, until we got tired and called it a night.
Saturday
I was up bright and early to catch my Megabus to Swarthmore. On the bus there, I alternated between doing work and marveling at the beautiful colors outside. The Northeast is truly gorgeous this time of year. I used to feel kinda meh about fall because I love summer, and I don't love the cold, but this year, I've been pretty obsessed with this season. So pretty and cozy.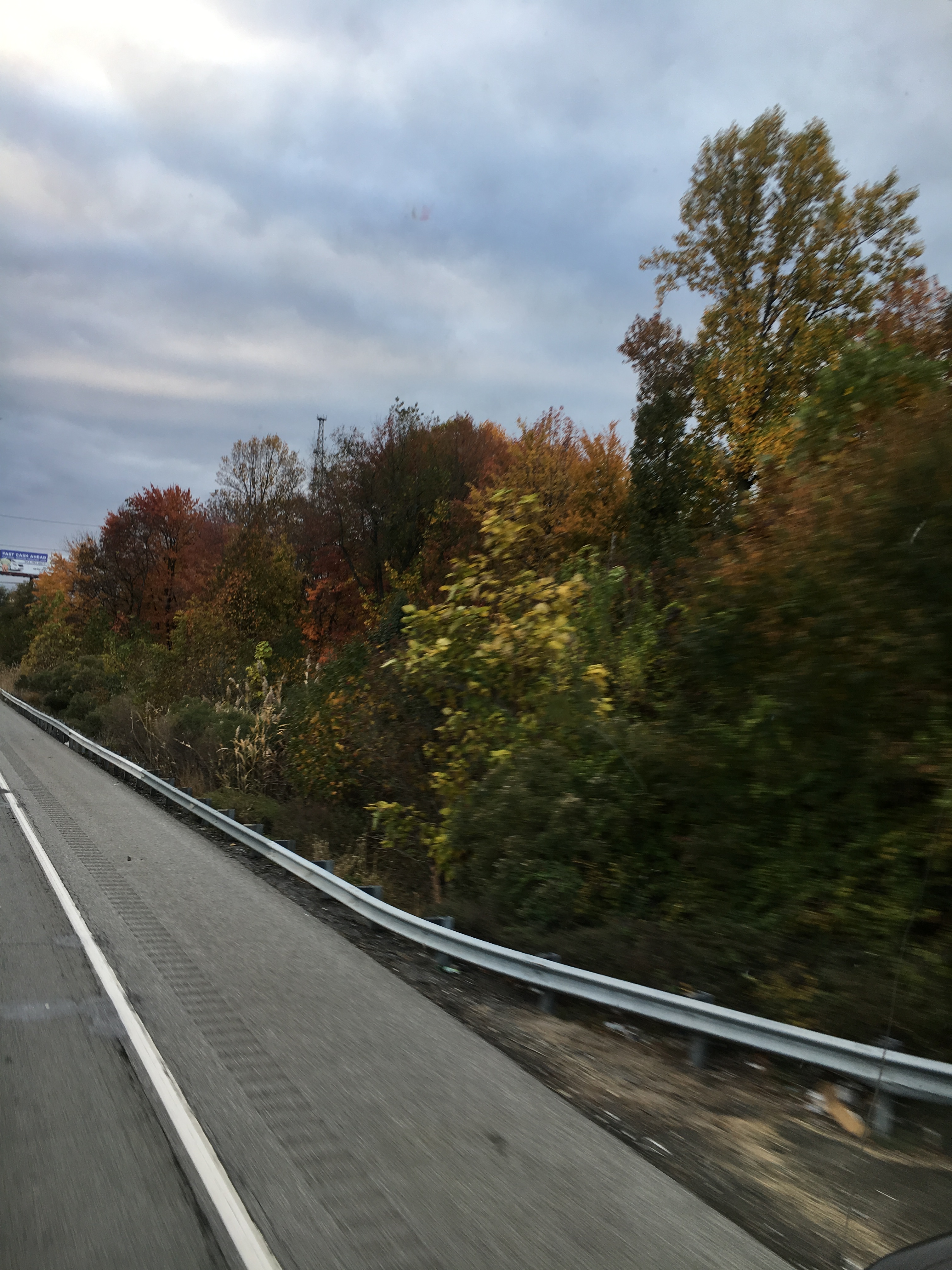 I love how Swarthmore kind of feels like a ski resort, especially the dining hall :p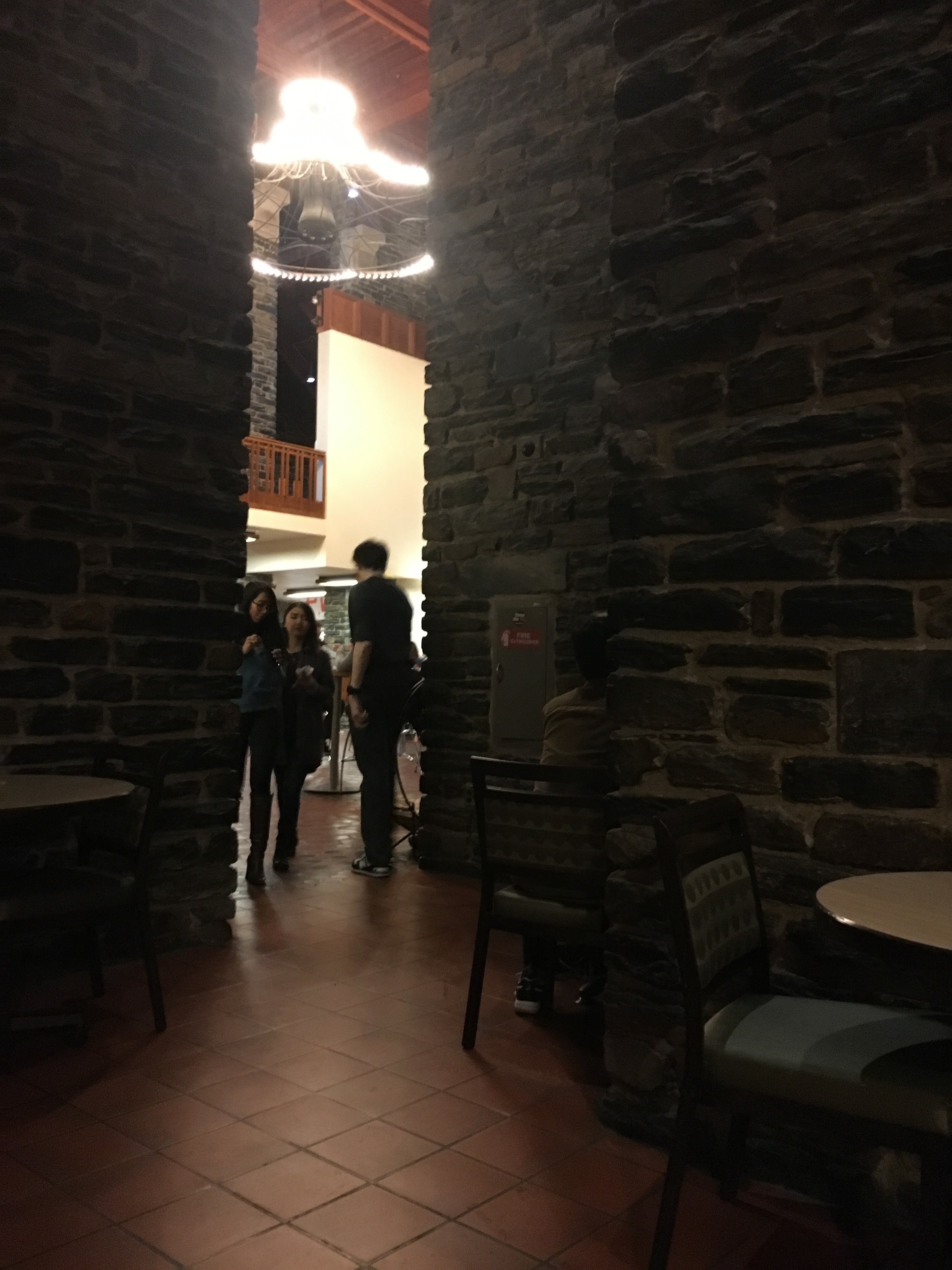 We had dinner in the ski lodge (dining hall), and it was actually quite good. A quinoa sweet potato medley thing, some chicken, and some multicolored green beans.
At night, we were both in the mood for some dancing, so we went out to a couple parties, which was fun as a non-Swattie but also just felt so different from Georgetown. It's so interesting how absolutely different the vibe and the people are at the two schools.
Sunday
Today started off really nice because Swat Friend was working at a nearby coffeeshop all morning, so I set up camp there and was super productive for about 3 hours. I ordered myself an egg-avocado-tomato everything bagel sandwich (yum!) and an almond milk cappuccino for breakfast, and I alternated my homework doing with people watching. By the way, coffeeshops are the BEST for this, especially college town ones. 😉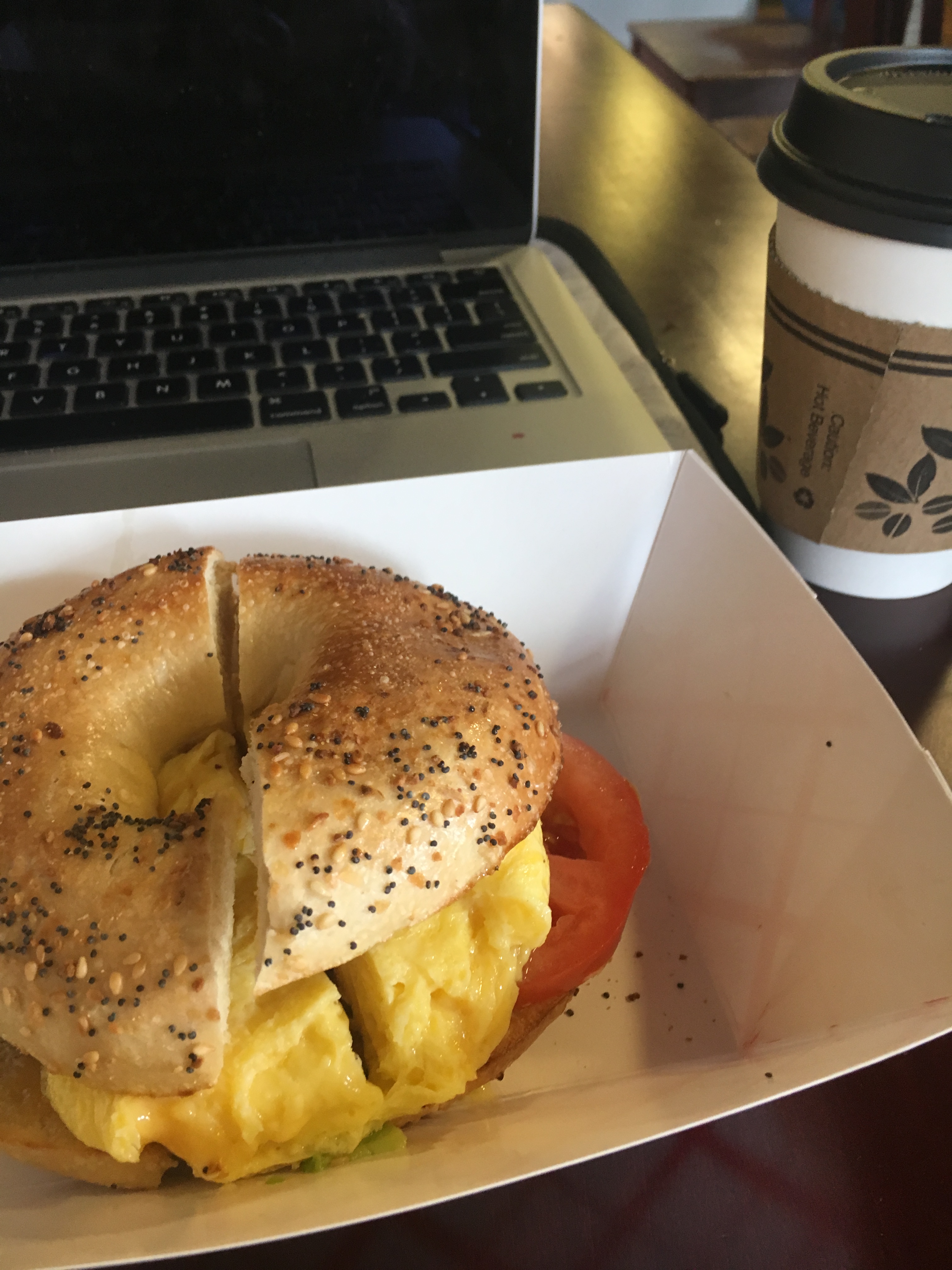 When she was done working, we spent a couple hours just hanging out and talking, and then it was off to the bus for me! So sad that I only had less than 24 hours, but I was quite satisfied with the weekend 🙂
I was in dire need of some raw veggies, so I picked up a salad from the train station that had lettuce, goat cheese, cranberries, roasted squash, and chicken. It was pretty good and satisfied my veg cravings!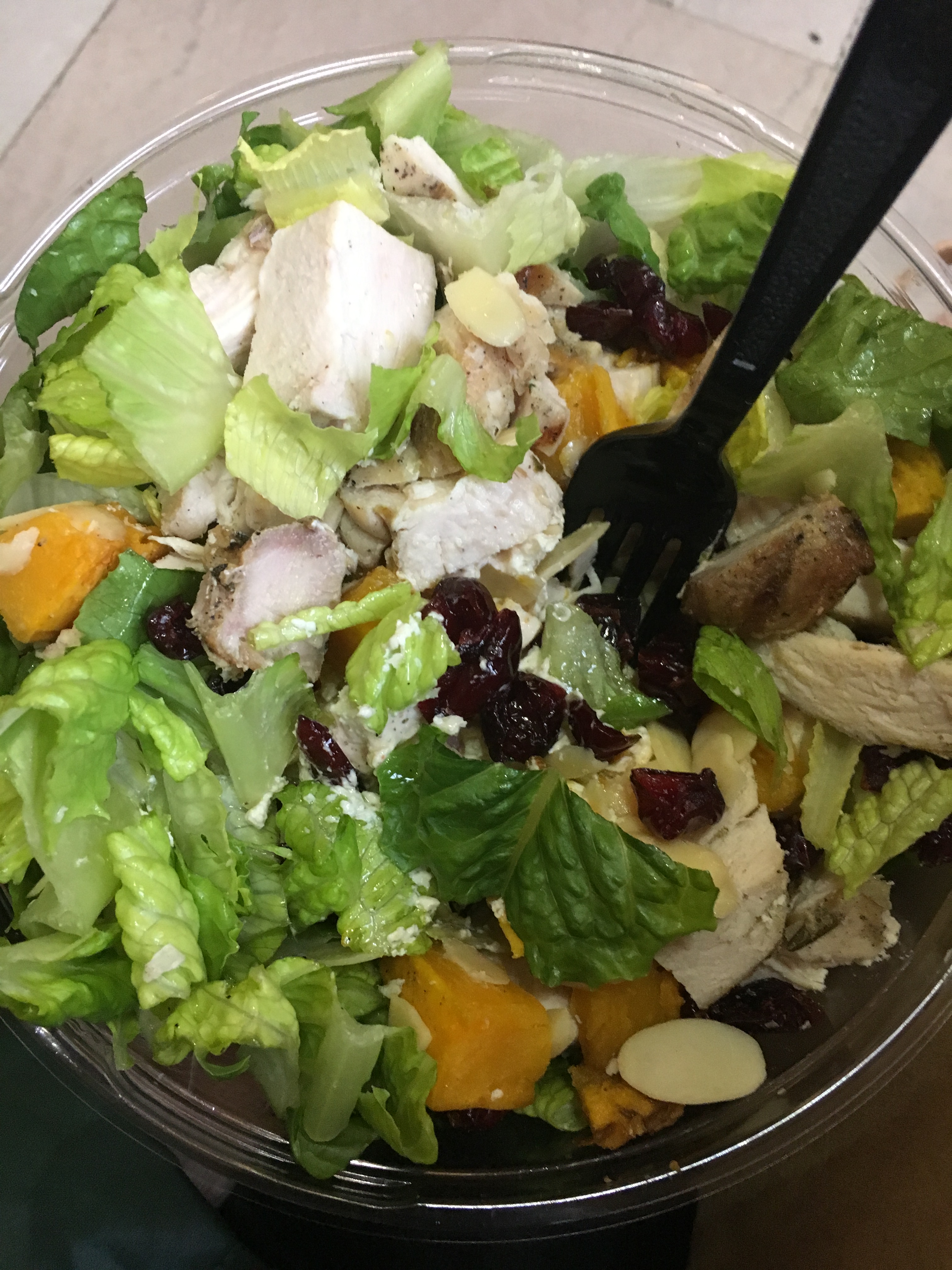 On the bus, I finished my two papers and then when it began to get dark, I listened to music and did that thing where you dramatically stare out the window and pretend you're in a music video. I know you all do this. 😉
And then I got home and finished up the rest of my homework, and then it was off to bed! 😀
And now onto the workouts!
Monday
I did a HIIT routine and an upper body routine. Lately I've been loving starting my week with HIIT and then taking it a little easier the other days because I find my energy levels tend to dwindle as the week goes on.
Tuesday
Roomie and I went to a free PiYo class held at our campus gym. We both expected it to be low-key (Pilates + yoga should be relatively light, right??), and then the instructor started off the class by informing us about all the burpees and squat jumps we would be doing. Roomie and I exchanged looks of utter horror, and she caught us LOL. See I'm all for high intensity workouts, but the previous day had left me pretty dang sore, so I had to modify a couple moves during this workout. It was still pretty fun!
Wednesday
My legs were not happy with me after the double punch I'd thrown at them with the two previous days, so I decided to take a long walk. It was the best decision. I got my fave iced almond milk latte, turned on a podcast, and walked along the Georgetown waterfront. Self-care at its finest 🙂
Thursday
I wasn't feeling high intensity today either, so I chose this low impact and abs workout and then tacked on this core workout as a finisher.
Friday
I was feeling pretty high-energy today and really wanted to get my mind off the homework I was speeding through, so this kickboxing and yoga workout hit the spot.
Saturday and Sunday were spent resting and enjoying my time at Swarthmore. 🙂
Have an awesome week, darlings!
Tell me, what was your most satisfying workout lately? 
How was your weekend?
Share if you liked this post!