Happy Sunday!
I feel like this past week was the first week of summer that really felt like SUMMER, you know? Full of super lazy Netflix sessions and sleeping until 12 and letting a breakfast date that was supposed to be one hour long extend to three because I missed my best friend like crazy. Let me tell you, it was NICE! Exactly what I needed as a little break from the hustle.
But after this week, to be honest, I'm kind of excited to kick my hiney into gear again. I like having some sort of routine, and I like feeling productive. The summer isn't over yet, and I still have goals I want to accomplish.
Learn a few more songs on guitar
Keep working on the blog and on social media
Read at least 3 more books
Keep trying new things with fitness
Cook more
And now that the new week is starting, I am ready to really make the most of the little time I have left in NYC.
It's time to get focused, really set some intentions, and stop letting hours of the days go by as I stare glassy-eyed at episode after episode of Friends (even though that show makes me so dang happy).
Today, I've got a few STELLAR recipes for ya from this past week, and I also decided to include a few links that I loved from some of my favorite blogs.
So instead of a weekly recipe recap, we're going to transition to a bit of a weekly faves from around the web post, if that's cool with you.
Let's jump right in!
For Your Belly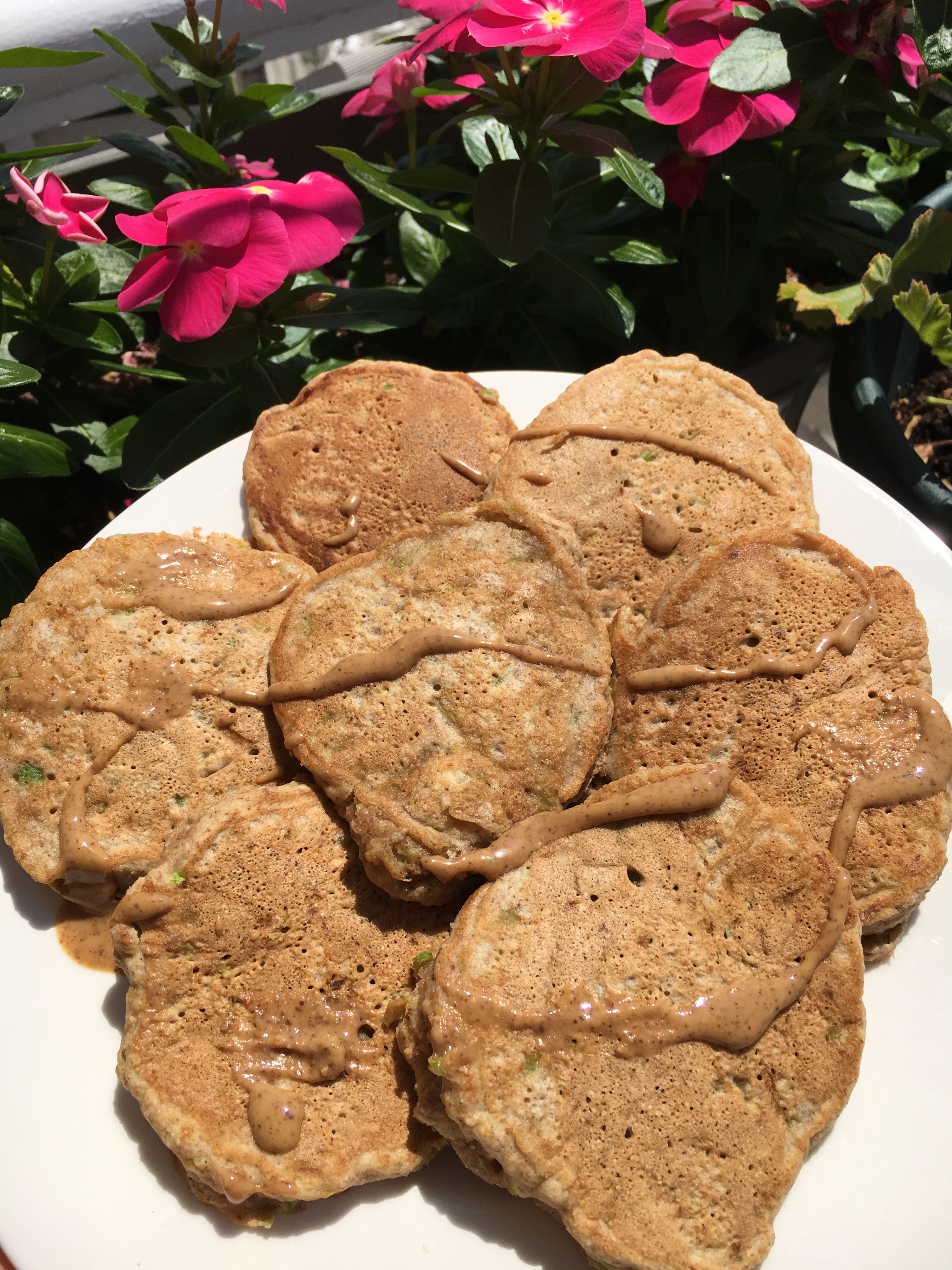 These were, without a doubt, the best pancakes I have ever made. And trust me, that is not something I say lightly. I have made a LOT of pancakes over the years, and this recipe knocked them all out of the ballpark. The only negative is they require a tad more time because you need to grate some zucchini, but trust me when I say, the result is so worth it. Definitely going to be making these again.
So I don't have whole wheat pastry flour, so instead I used half spelt flour and half oat flour (I just ground up some rolled oats in my blender). I'm not even sure how the original was supposed to be, but with these substitutions, the texture was UNREAL.
I topped them with my favorite mixed nut butter from Trader Joe's, and though I didn't feel they needed any maple syrup, my mom loved them with syrup sans nut butter. You do you.
Peach Crisp from The Ambitious Kitchen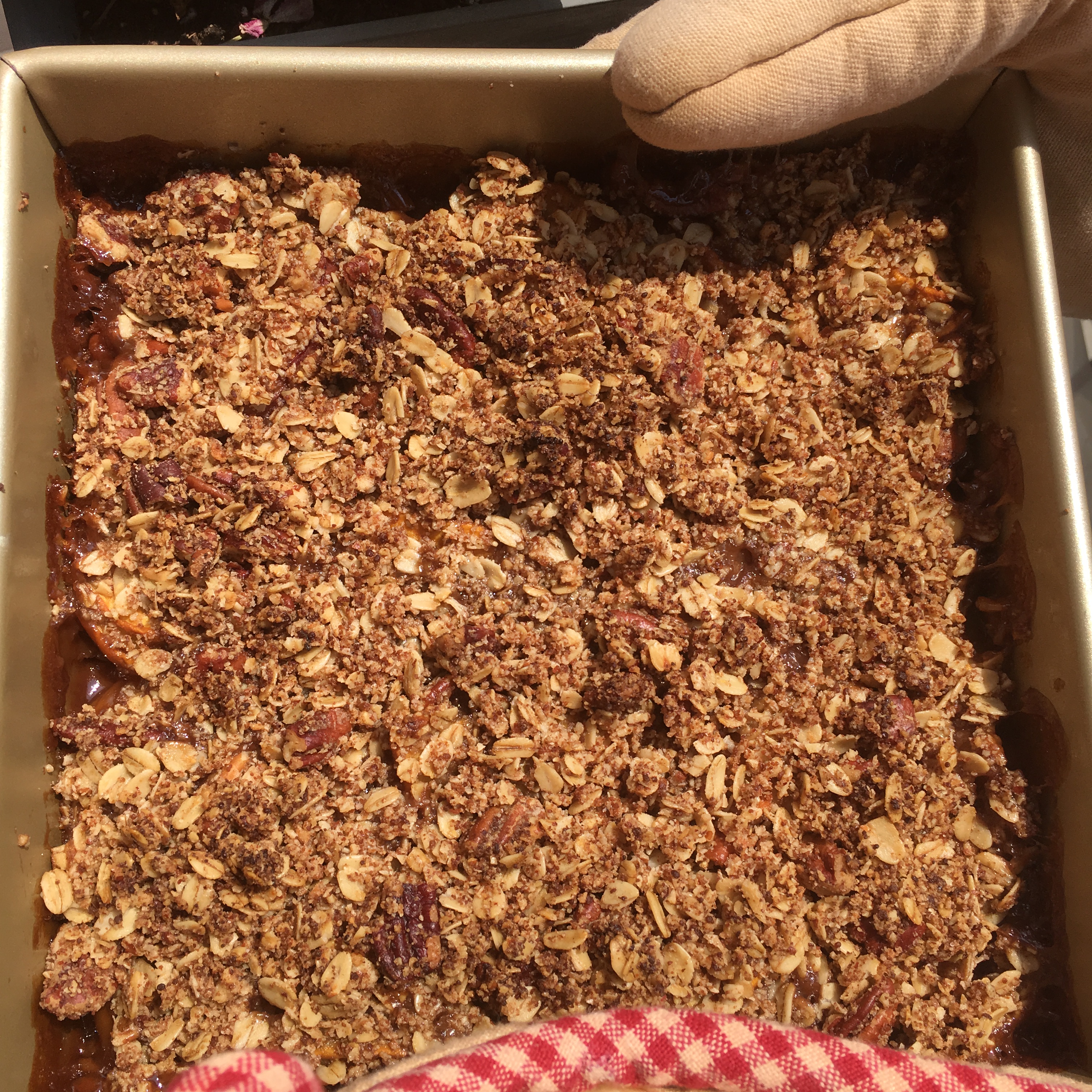 Yes, I'm obsessed with the Ambitious Kitchen. Problem? I can't help it! Monique is so dang talented, and everything I've ever made from her blog totally blew my mind. I made this peach crisp as a result of a peach emergency, where we were stuck with about 10 peaches that were dangerously close to death.
Nicole to the rescue!
I resuscitated them by performing a careful procedure of baking and then devouring. Guys, please make this peach crisp this summer. It is perfection (#friendsreference anyone? Can't stop won't stop.)
Oh, and if you really want to take it to the next level, you HAVE TO eat it with a big ol' spoonful of this ice cream right here, aka crack. Seriously guys, I made so many inappropriate noises while eating this, you don't even know.
Now the recipe also includes a salted caramel sauce that probably is incredible, except your girl isn't a huge fan of salted caramel, so I opted out. But please don't hesitate to make it and tell me if maybe I should give it a shot after all!
This is an old favorite and one I've made tons and tons of times. The way it is written in the recipe is divine as is, but I was feeling creative, so I put my own little twist on it.
I did ½ cup blueberries instead of the full cup and added in ¾ cup riced cauliflower. I also used chocolate protein powder, instead of vanilla, because lezbereal, you can never have too much chocolate.
If you've never had the blueberry chocolate combo in a smoothie, you are missing out, my friend.
This smoothie bowl tastes like sweet, chocolatey perfection while giving you two servings of veggies and a protein punch.
It also makes a fantastic breakfast, lunch, or dinner. SCORE!
For Your Eyes
This awesome workout
I found this website about a month ago after I went to SLT because I was looking for ways to recreate that fantastic ab burn at home without paying extravagant prices. I'm so glad I found this.
I do the exercises from this list about three times a week, mixing and matching based on what I'm feeling, and I add them onto the end of my cardio or Pilates routines for an extra burn. It's been such a great way to freshen up my workouts and challenge myself. I put on some pump-up music, set a timer, and go to town.
This guacamole
Technically for your belly, as well, but this came to my inbox recently, and I've been thinking about making it since. Something tells me you'll see it in an upcoming recipe recap 😉
This post on kitchen essentials
Some of these I own and some of these I desperately covet. Take the milk frother for example. Now I don't necessarily NEED it, but gosh it would be so cool to have frothed milk in my matcha tea. And my nightly herbal teas. Like it would just make the whole tea-drinking experience feel like a celebration, and I'm on board with that.
If anyone wants to get me this as a gift, I would not be opposed. 😉
Don't freak out; I'm not anywhere close to having children. But I have a weird fascination with parenting and different parenting advice, and I also think Lindsay from The Lean Green Bean is an awesome parenting role model. I think this article really is worth a read because it just gives a whole different perspective on tantrums. Or maybe I'm the only non-mother who finds this fascinating? Lemme know.
This post on seeing the good in crappy events and accepting that sometimes, shit happens
Erin is one of my newest blogger crushes because she's so positive but also so real and unfiltered. She tells it like it is, with a hefty dose of humor and grace. Plus her new puppy Donut is beyond adorable.
That's all for today, loves!
May your Sunday be stupendous 🙂
Share if you liked this post!