Ohhh boy, this week. By far THE busiest week I've had so far in sophomore year. Literally every possible thing that could have been due is due this week, as well as different unavoidable events and things I need to take care of. It's been quite a lot to handle, and at times, I've definitely felt like a headless chicken, but then I remember to take a deep B R E A T H.
And then I do something kind for myself to make the stress feel lighter and make me feel more in control again.
On Monday, I was basically working on something the entire day, running from meeting to class to work to my room to study more, and by about 7pm, I was SPENT. But I knew I still had to study for a couple  hours, so I put on my Beats and blasted a Disney playlist from Spotify, and in just a few minutes, I felt reborn. Even Stats felt enjoyable when accompanied by Beauty and the Beast and Hercules. Ahhh, I love Disney so much.
That was just my little reminder to y'all (and to myself) to prioritize self-care, especially in the super stressful and busy times in life. It doesn't have to be something grand or time-consuming, but something as simple as grabbing your favorite iced latte in the morning or listening to your favorite music or podcast or whatever can make a world of difference in your mental well-being.
And now, let's see what I ate on a very busy Monday.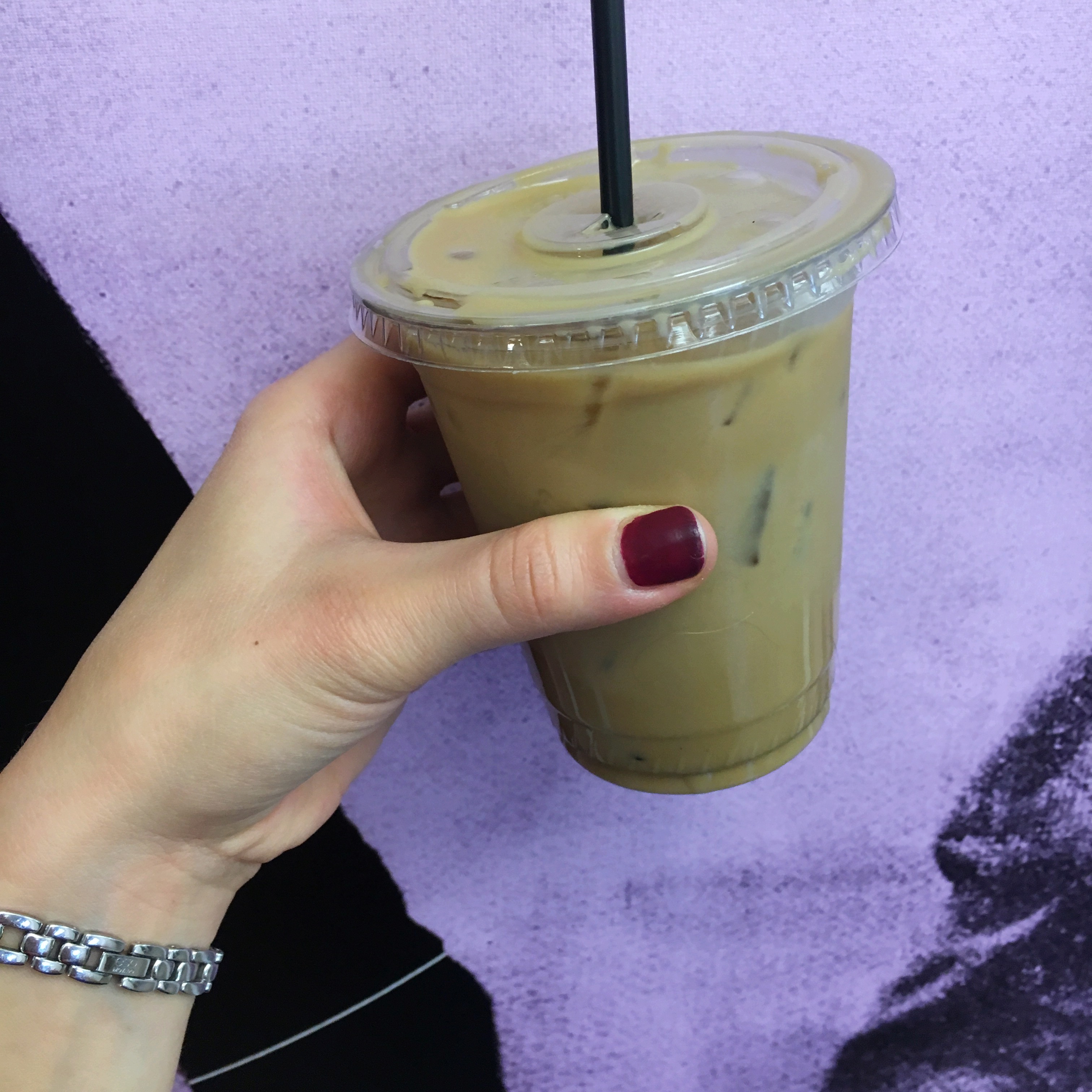 So my friend C and I have a class together Monday morning, and we started this tradition of going to the off-campus coffee shop about 45 minutes before class for coffee and girl-talk. It's the BEST way to ease into the week, and it's just something I look forward to every Monday. Thanks for being awesome, C <3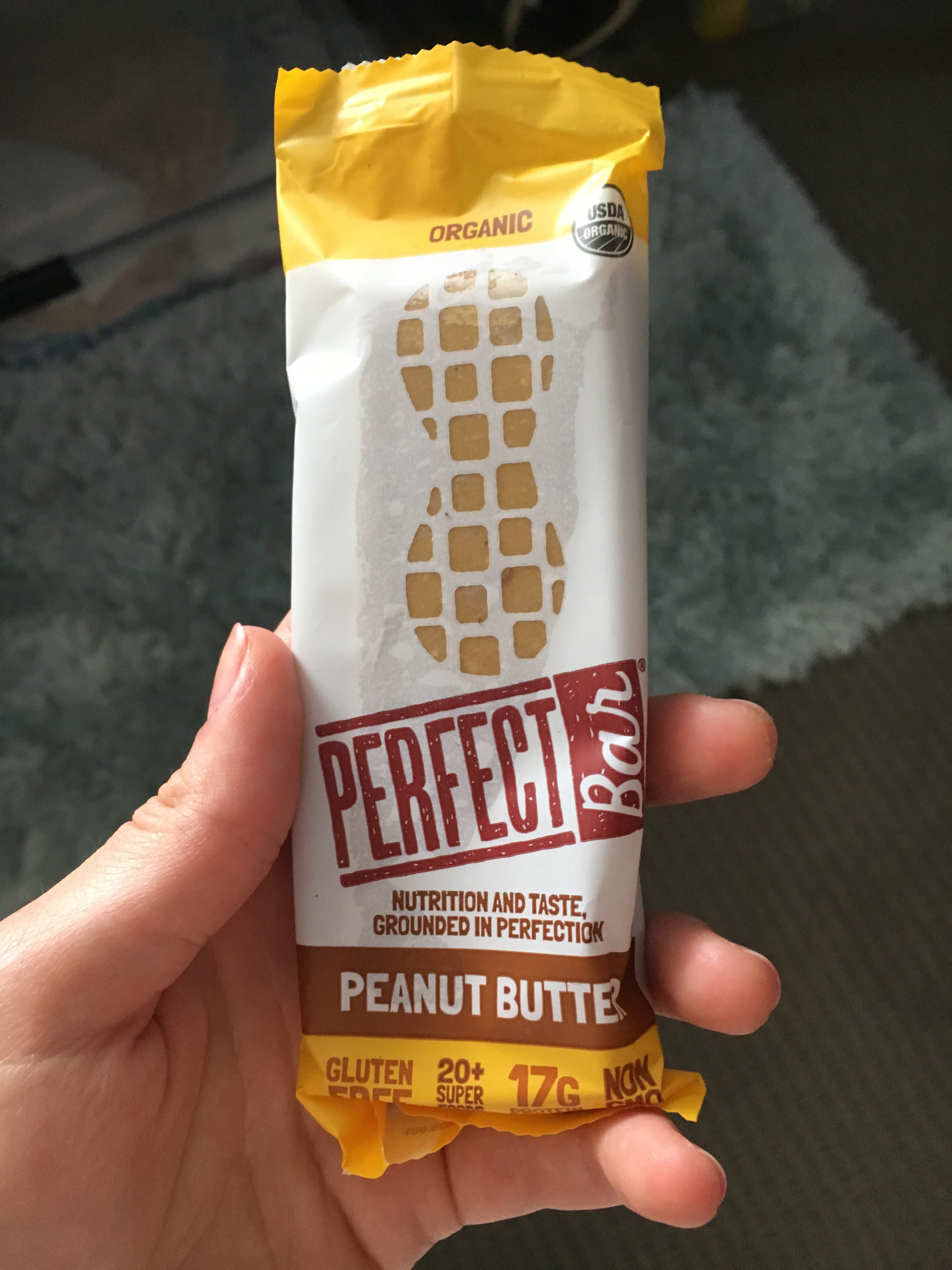 Today I had a soy iced latte. I  also usually grab a Perfect bar to have for breakfast on these Monday coffee dates, since I leave the house earlier and don't have time for a sit-down meal. For these kinds of occasions, Perfect bars are totally perfect (heh).
After class I went to the gym to sweat out my stress (LOL, it worked for a couple hours at least!) and then grabbed a salad from a cafe on campus and brought it to work with me.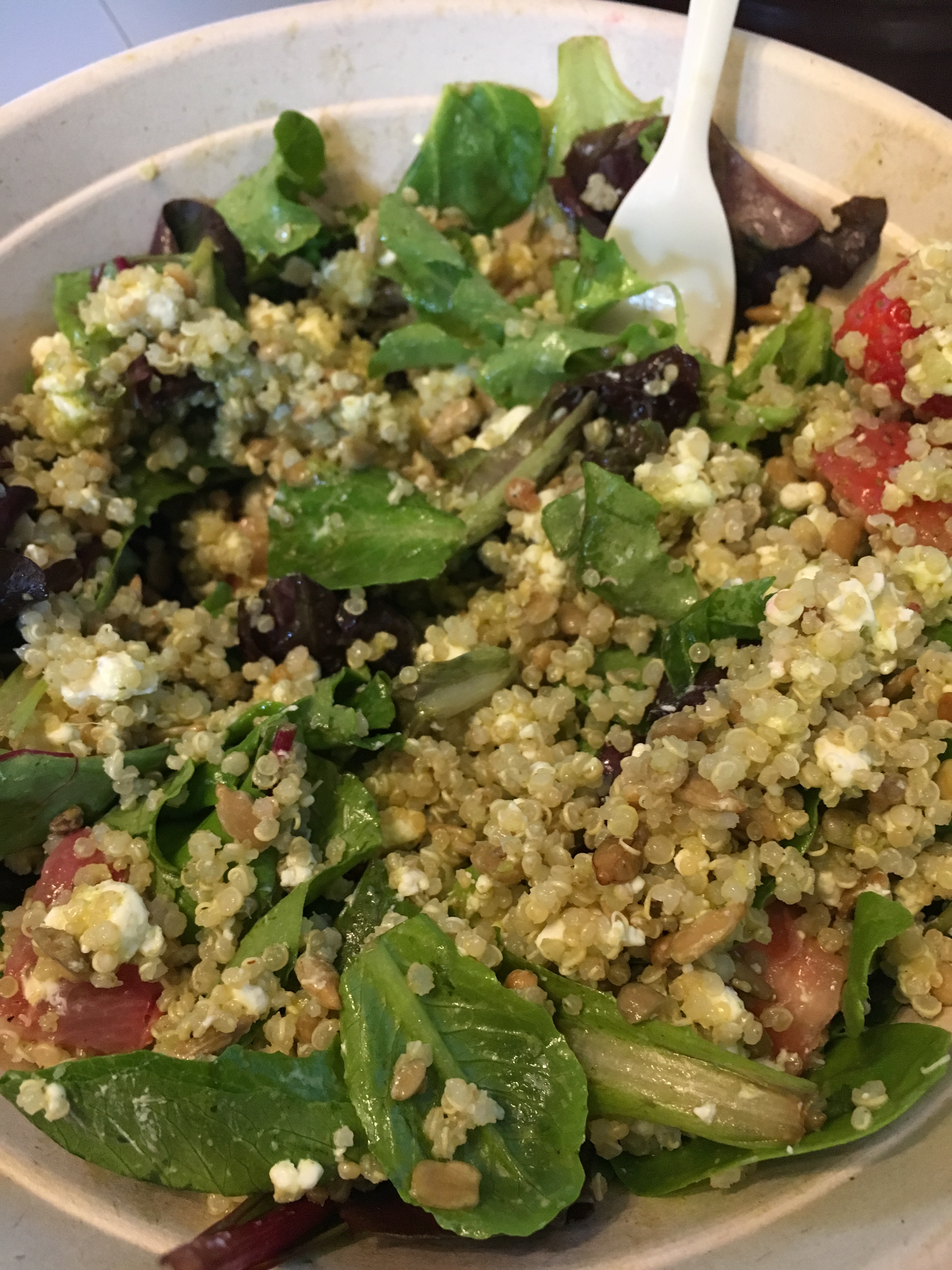 The salad had mixed greens, quinoa, goat cheese, strawberries, sunflower seeds, and a basil vinaigrette. Super good. I actually used to make a salad like this all the time at home, so the nostalgia was real!
After work, I had a meeting and then I cozied up in a nook in a study room and did my reading until I got hungry for dinner.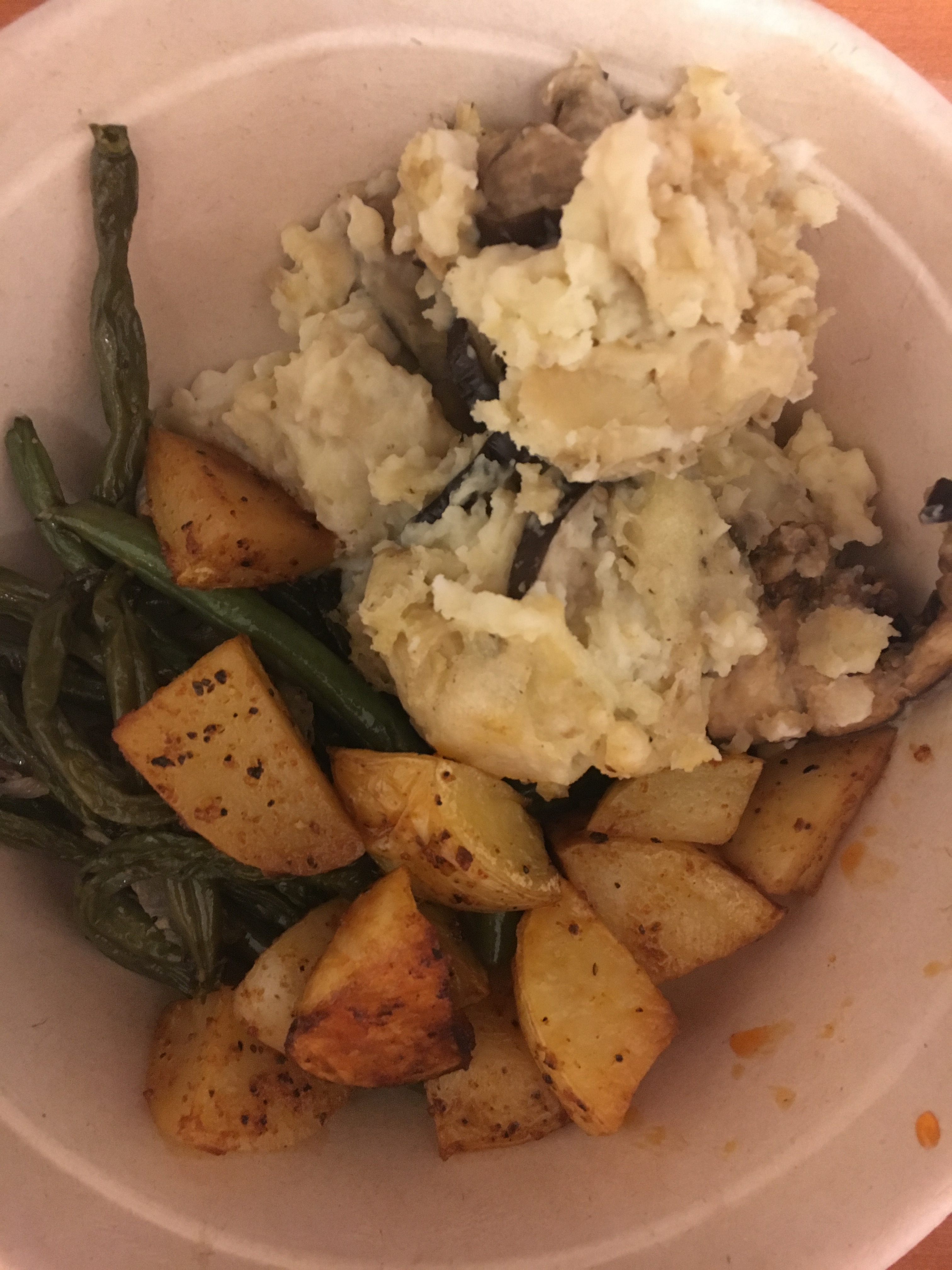 Dinner was this vegan moussaka thing (I know it had eggplant LOL), some roasted potatoes, and roasted green beans. Not bad, not bad.
I wasn't hungry after, but I wanted a little something, so I made myself a matcha tea with a splash of almond milk. So comforting and kinda made me feel like I was in a coffeeshop 😉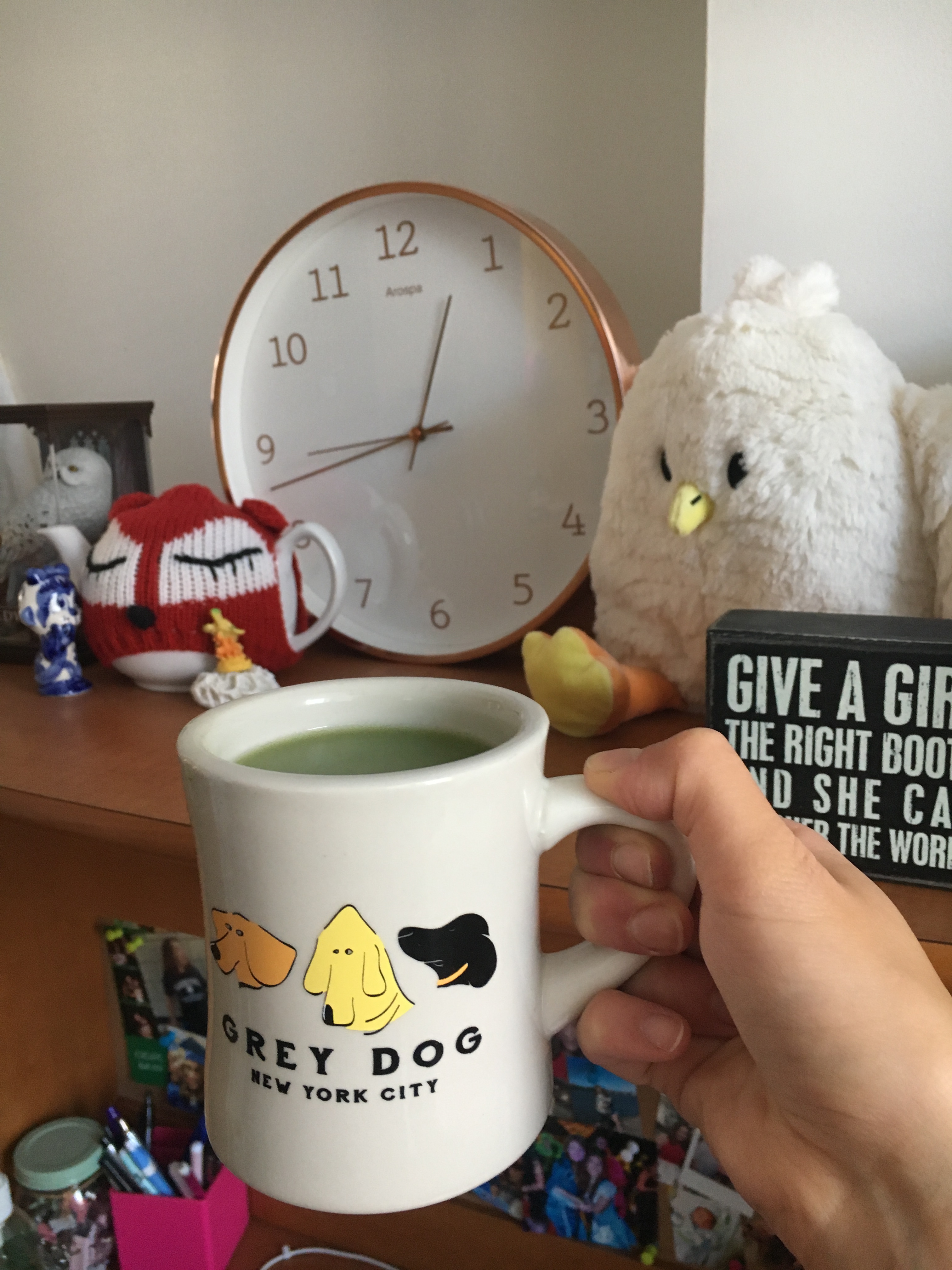 And then I basically worked and worked and worked, with Disney music keeping me company, with a little pause for a study snack somewhere in the middle. I had the best hummus ever with some baby carrots (no, not the other way around :p).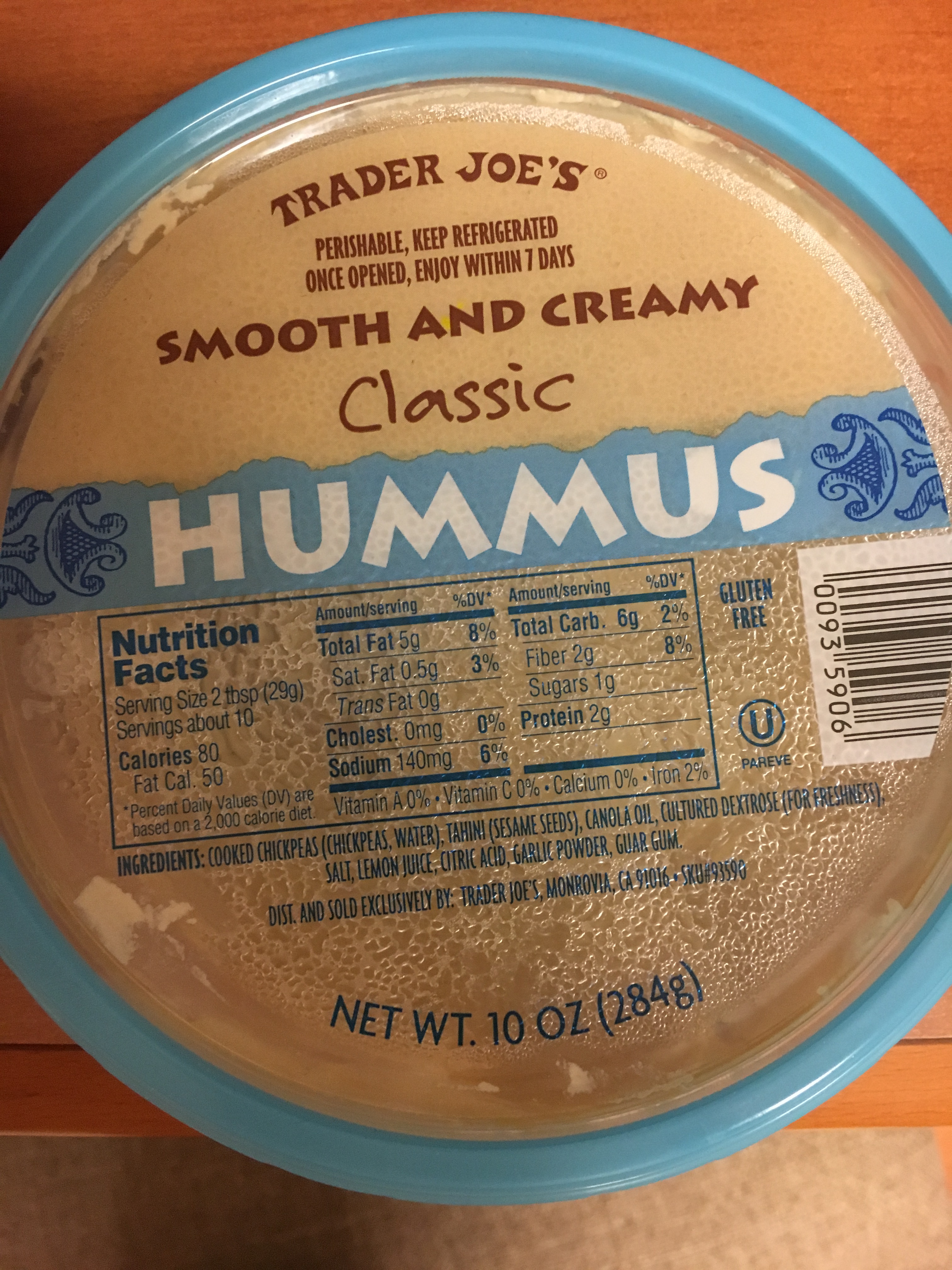 And that was my day! Thanks Laura as always for hosting What I Ate Wednesday!
Disney music- yay or nay?
What's your go-to method of self-care in stressful/busy times?
Share if you liked this post!